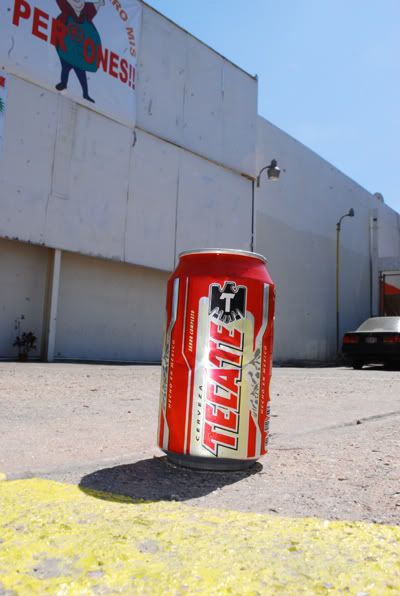 To understand beer culture in Mexico, you first have to understand its lack thereof.
Mexico bows beneath the weight of a historical beer duopoly. Two companies, Grupo Modelo in Mexico City and Monterrey-based Grupo Cuauhtemoc-Moctezuma, dominate the market with a cast that anyone who's ever eaten at Chevy's or On The Border surely already knows, namely Corona, Tecate, Pacifico and Dos Equis. Thanks to these brands, the general international consensus regarding Mexican beer is that it is meant to be consumed in large quantities, preferably in the sun alongside emerald waves or a sand volleyball court, and always requires shoving a lime wedge down the bottle to enhance its taste.
What's more, in Mexico commercial liquor licenses aren't purchased directly from the government but rather secondhand from Modelo or Cuauhtemoc-Moctezuma, which then forbids bars and restaurants to sell anything but their family of brands. It's usually easy to tell who sold out to whom, as more than half of an establishment's sign is usually either a Tecate (Cuauhtemoc) or Corona (Modelo) advertisement, as is quite often the entire side of the building, too. So whether at the grocery store or out on the town, you'll always find an ample supply but minimal variety.
But just across the border, San Diego is home to some of the world's favorite craft beers, including Stone Brewing, Ballast Point, Green Flash and Karl Strauss. The list goes on and on, so much that in 2009 Men's Journal named the city the beer capital of the U.S.
It was only a matter of time before that growing objection to the mass-produced likes of Budweiser, Coors and friends, arguably concentrated in San Diego, would begin to seep its way under the wall and into Baja.
Looking to remove the lime from the beer aficionado's mindset, so to speak, Turista Libre teamed up with
San Diego Beer Blog
last Saturday for a visit to the headquarters of TJ's namesake brew, Cerveza Tijuana, and two local independent newcomers that are on the rise, Insurgente and Zesde. Also on the itinerary: a visit to The Beer Box, an artisan beer boutique in Zona Rio. And a taco stop at Los Perrones, a taquería that bears a striking resemblance to Turista Libre's trusty cheese wagon.
Stop numero uno: Cervecería Tijuana on Boulevard Fundadores just south of downtown. Makers of the town's staple grog, it's commonly referred to as TJ Beer. Built in the 1990s, the brewery compound includes a cozy tavern-restaurant with another smaller bar upstairs where I remember witnessing an extremely earsplitting jam session by Tijuana rock legend
Javier Batiz
on my first visit some four years ago.
Tours are free by request if you come before 1:30 p.m., so the herd arrived in time for one of the brewers to lead us around the floor and explain the brewing process in -- surprise, Virginia! -- English. If you've ever toured a brewery, the setup will look pretty familiar. Aside from the prerequisite homage to the Virgin of Guadalupe hanging near the entrance, that is.
TJ's roster includes six brews, all of which take cue from German and Czech lagers: Morena Dark Lager, Guera Pilsner, Bronca Pilsner, Brava Dark Lager, Bufadora Bock, TJ Light Lager.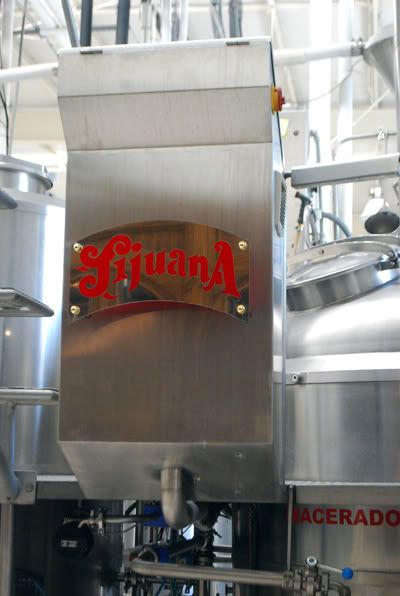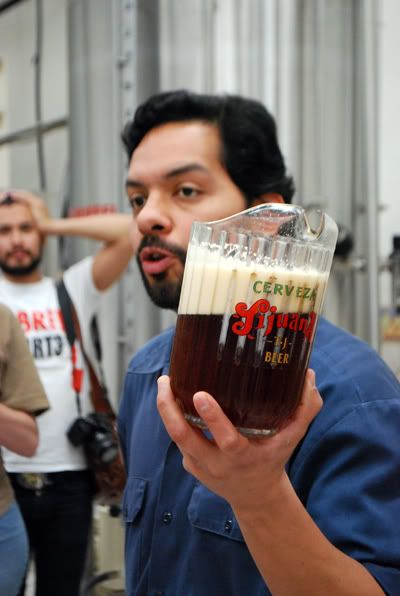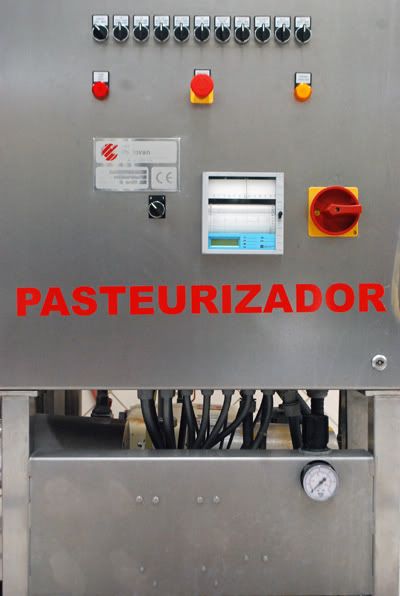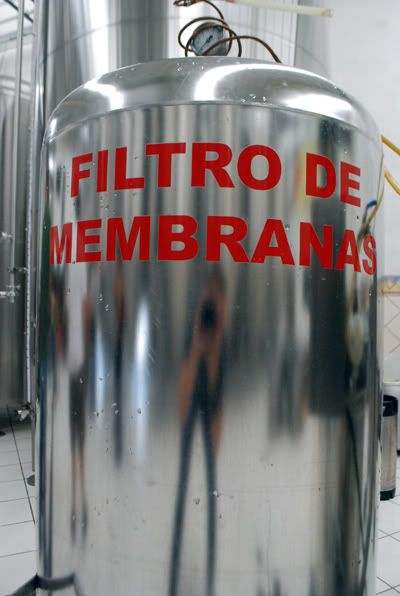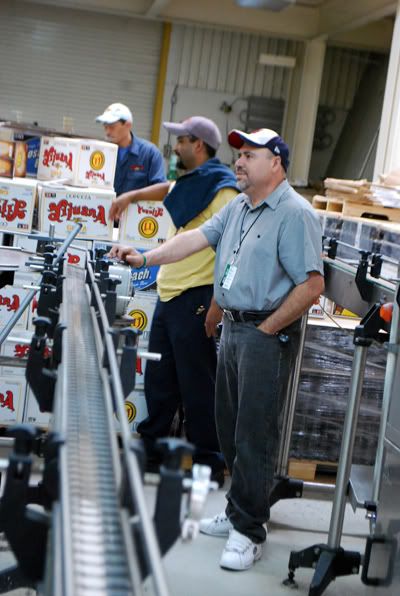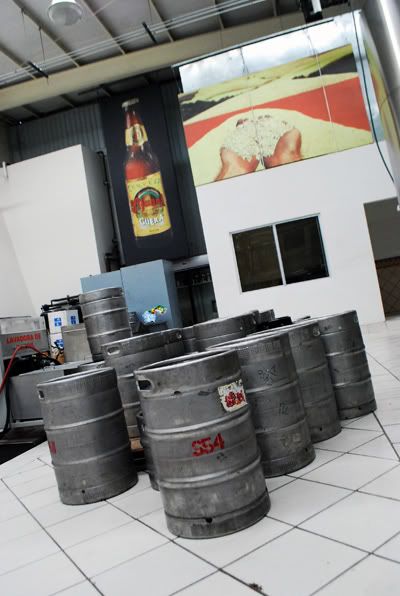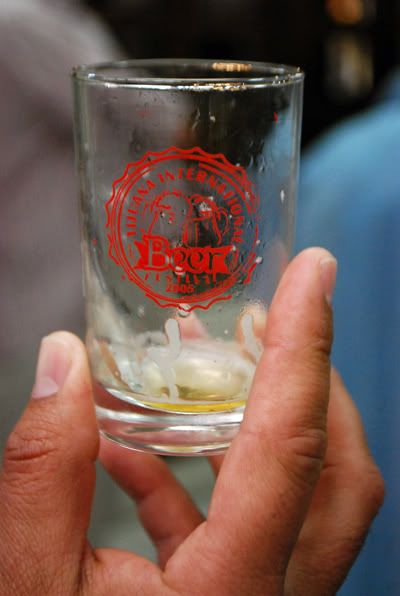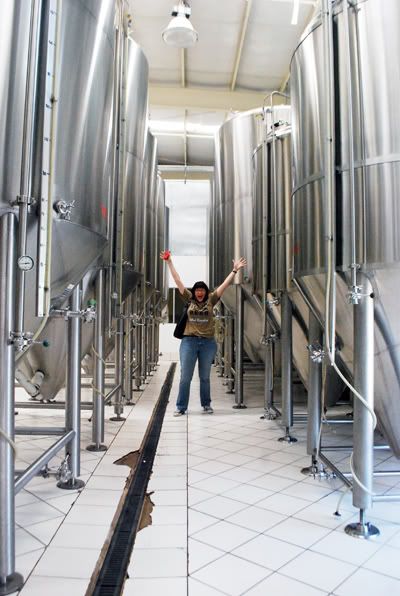 SD Beer Blog verdict:
"All were good examples of their style, perfect for warm days and long drinking sessions, but maybe a little light for the palates of those used to American craft beer. No one seemed to have complaints though, and Bufadora and Brava seemed to be the most favored among those I talked to."
A quick run to the gift shop for I Heart TJ Beer shirts and we were back on the bus.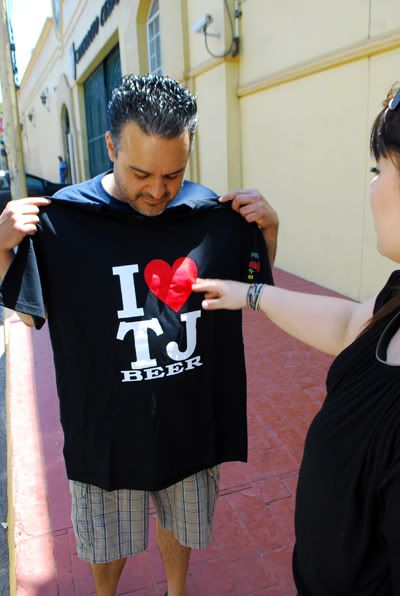 Turista Libre's preferred mode of transportation has always been a rented calafia, which is Baja Californian your basic public bus. The chariot of the people, it's the most authentic way to transverse the city. Any American will immediately notice that in Tijuana, as in many Mexican cities, they're actually retired school buses that have been exported from the U.S. But they've undergone paint jobs leaving them usually anything but yellow and extreme detailing that includes a booming soundsystem, no fewer than four or five grotesquely suggestive decals, a small plush army hanging from the front mirrors and colored neon mood lighting for after dark.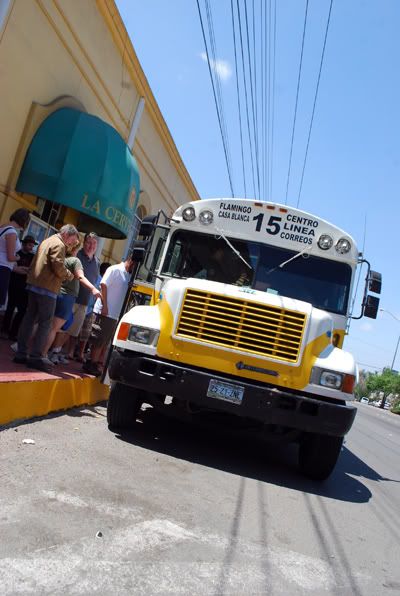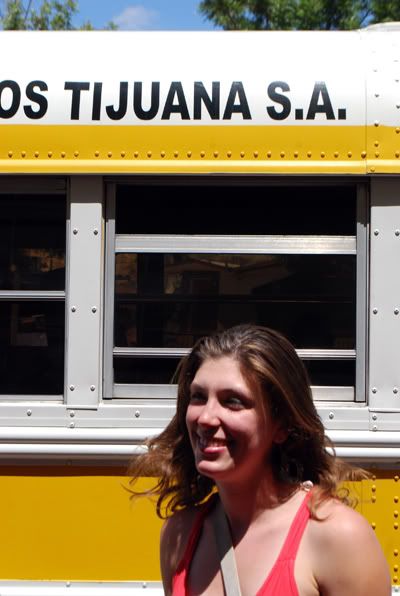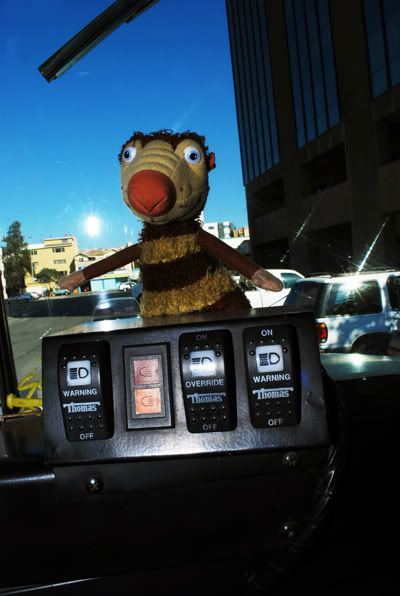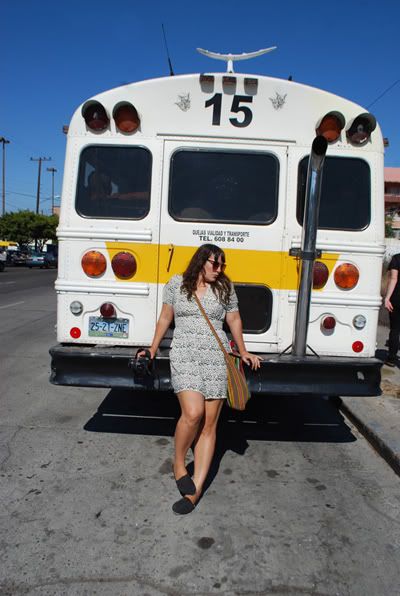 But what happens to a retired American school bus after it completes its calafia duty and re-retires in Tijuana? If it's lucky, it becomes a taquería like
Tacos Los Perrones
, where we headed for lunch after Cervecería TJ.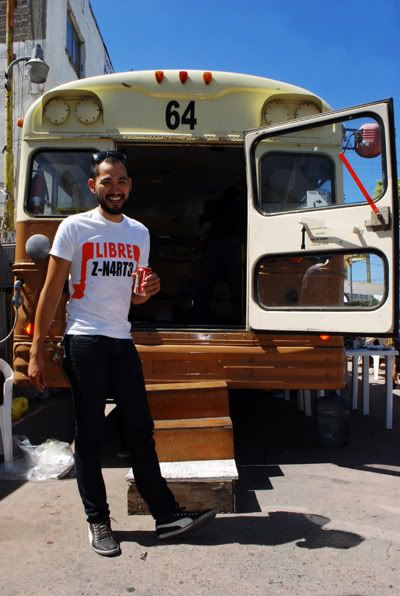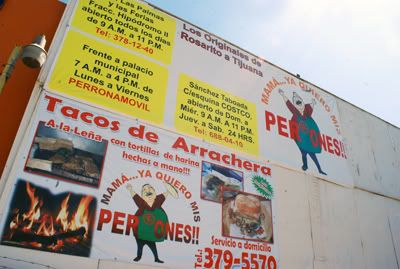 Housed in a beached bus that's anchored in a vacant lot on the edge of downtown at Revolucion and 10th Street, it's one of several Perrones locations, including the original in Rosarito. They're famous for their hefty carne asada tacos, heavy with beef that's been cooked in its juice and wrapped in an oversized flour tortilla with cheese, beans, tomato, onion and guacamole. A single dose usually fills you up.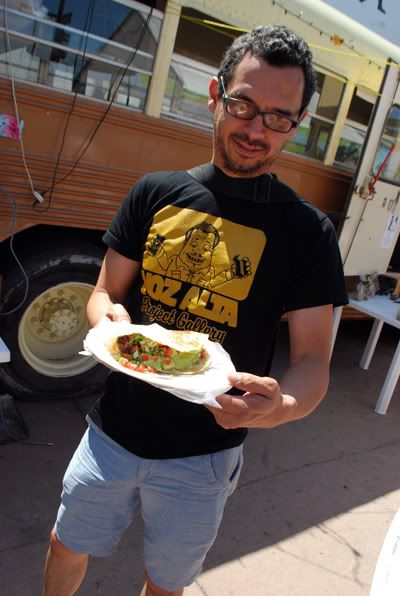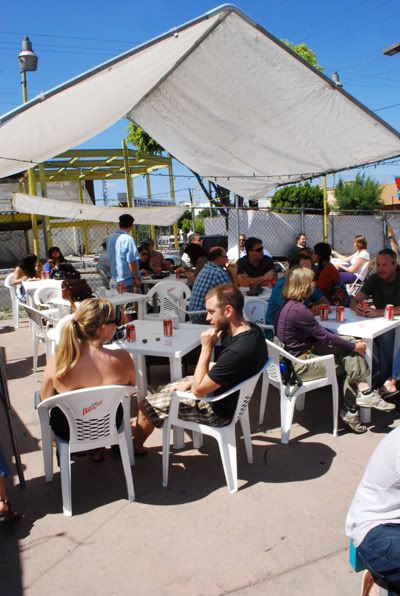 With a spacious lot and awnings, it's ideal for a sunny afternoon with 40 or so of your closest friends. Music coming from a TV -- available for purchase for 750 pesos, according to the handwritten price tag -- filled the air while the turistas cleared their palates with a clandestine round of Tecate (oh, the hypocrisy) from the Calimax across the street and patiently held out for their food. Forty tacos take time. Gracias a chef Luis and kin for hauling out the spare tables and chairs.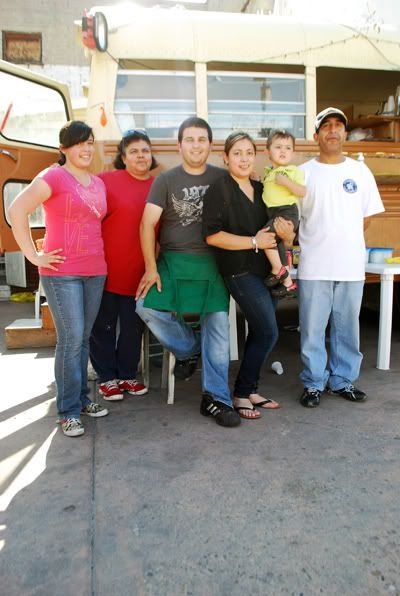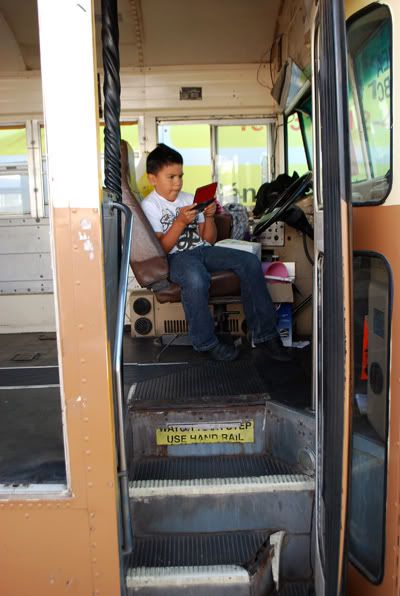 Next up was
Cervecería Insurgente
in the food court at swanky Via Corporativo, the first LEED-certified structure in northwestern Mexico.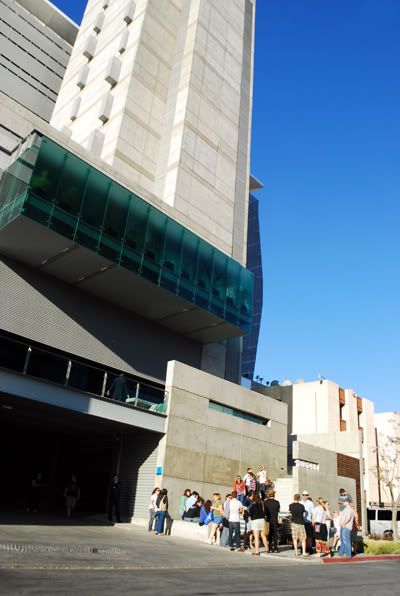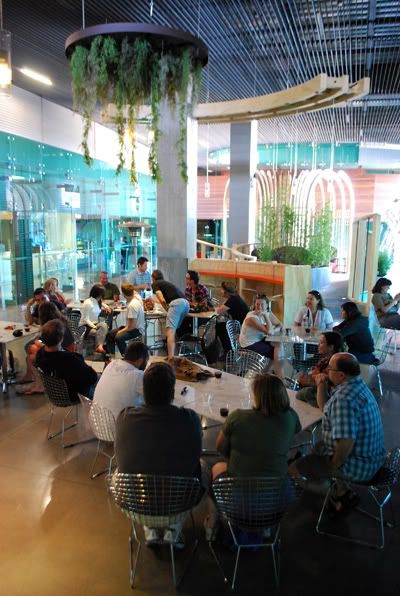 Run by brothers Damian and Ivan Morales, the upstart home brewery's
mission statement
is more of a manifesto that celebrates the spirit of revolutionaries, vowing to liberate the people from the tyranny of bland, mass-produced beer (that means you, Tecate, Corona, Sol, Dos Equis, Modelo, Pacifico and so on).
New brewers they may be, but their IPA, brown and stout recently won first, second and third place at the Baja Beer Fest in Ensenada. They're for sale in Tijuana at Tasca Bar downtown on Sixth Street between Revolucion and Constitucion and Tasca Boutique on Boulevard Agua Caliente just west of the old bullring.
On the menu today: Tiniebla witbier, Insurgente Brown and La Lupulosa, or "The Hoppy One."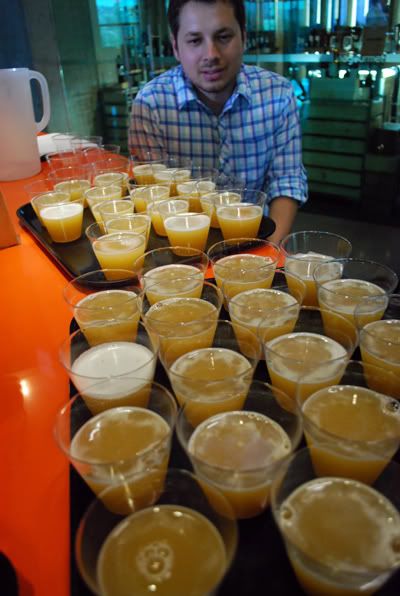 SD Beer Blog verdict:
"
Tiniebla
, their Belgian-style wit was well spiced with coriander and orange peel, making for nice citrusy and creamy beer.
Insurgente Brown
, a 5 percent ABV Brown ale was a bit flat and didn't stand out as much to me, but many people liked it and purchased bottles to take home that the brewers assured us were properly carbonated. Insurgente's third offering, an IPA called
La Lupulosa
meaning 'The Hoppy One' made up for any complaints about the previous beer. Brewed with five hops (Cascade, Centennial, Nelson, Warrior and Amarillo) La Lupulosa had a great aroma and flavor with a bitter punch to the taste buds. This is the kind of beer that those used to drinking Mexican lagers will need to work their way up to, but it easily pleased many of us used to hoppy West Coast style IPA's."
After the tasting the group headed to the rooftop terrace to take in some fresh air and the views of the surrounding urban sprawl. In a city with a limited number of skyrises and even more limited access to their roofs, seeing Tijuana from above is no doubt a rare spectacle.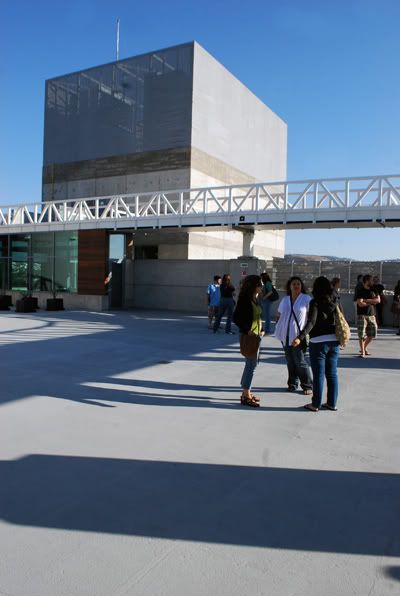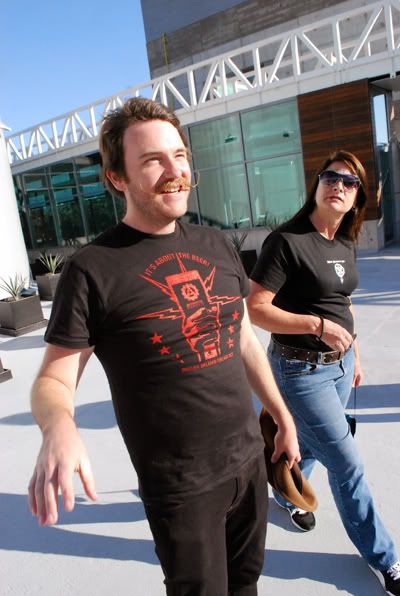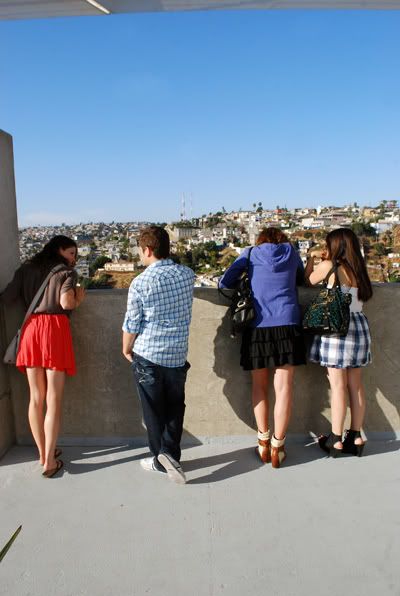 Down the road at
The Beer Box
, also in Zona Rio, owner Edgar Martinez was waiting to give us the rundown on Tijuana's first artisan beer boutique. The small shop, located in a plaza at
Sanchez Taboada and Boulevard Abelardo Rodriguez
, cornered the local craft beer market after opening some two years ago, followed by competitors such as
Beer City
in Villa Las Lomas and
Tasca Boutique
in La Cacho. Bookcases stocked with room-temperature bottles for sale fill the walls, and Martinez usually has some sort of regional brew on tap in the back. But encouraged by the sip-while-you-shop policy, most of the turistas deadheaded for the coolers for bottles of Baja Brewing Co., Guadalajara-brewed Minerva and Mexicali's Cucapa. Outside on the sidewalk some regular in a straw fedora was grilling tuna steaks, and in accordance to Mexican custom, happily shared.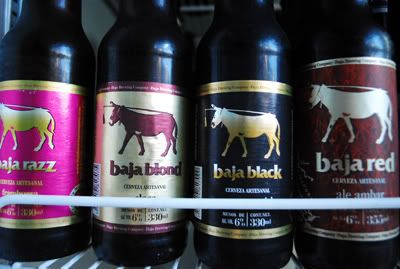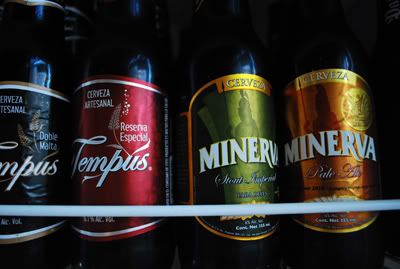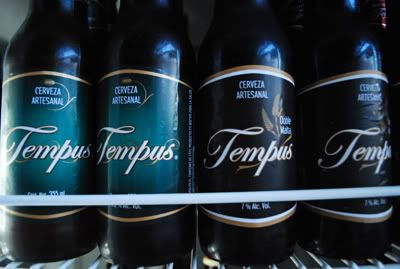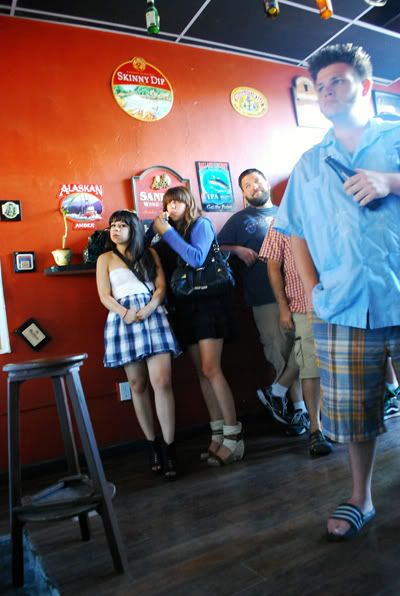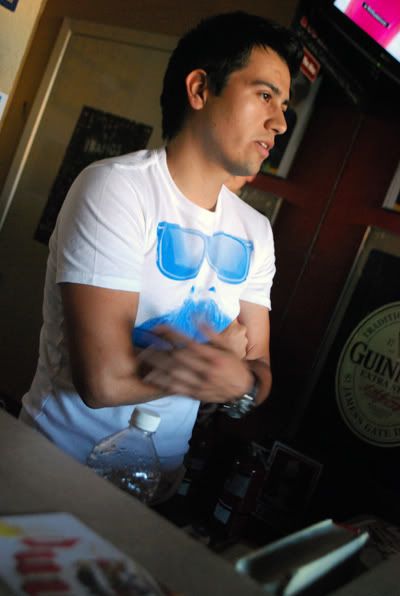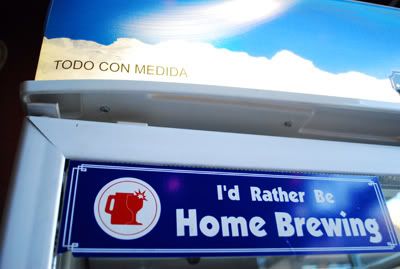 Last on the day's lineup was
Cervezería Zesde
, which sells its beer at
La Chupiteria
, one of downtown's many staple hipster watering holes that line Sixth Street. The name is appropriate; "zesde" is Dutch for sixth.
A trio comprised of Alan Castorena, Juan Pablo Muro and Enrique Seamanduras, the oldest of the three is only 20 years old, which ironically makes the makers of Cerveza Zesde too young to even step foot into most bars north of the border.
Inspired after a beer pilgrimage around Europe, they took a crash course in home brewing and later joined the Craft Brewers Association of Baja California, a government-backed effort to compete against the Cuauhtemoc-Modelo beer duopoly. They've been brewing for only six months but their roster touts seven beers, three of which were on the menu today: Das Falco IPA, Vanilla Sky Stout and Strawberry Fields Ale.
The place already looked and sounded like a late-night afterparty when we rolled up at 8. Alan muted the DJ as he introduced each beer, but the tasting quickly, inevitably revved its way into a full-blown dance party.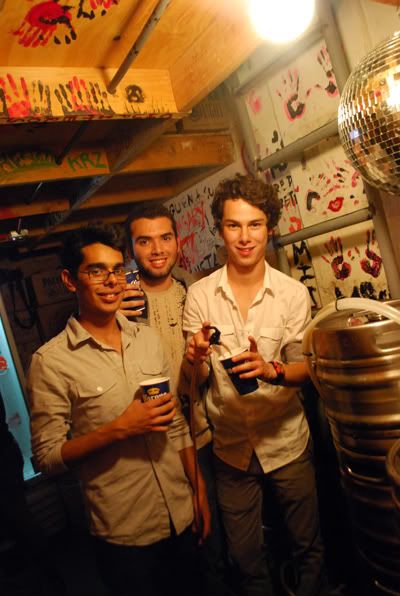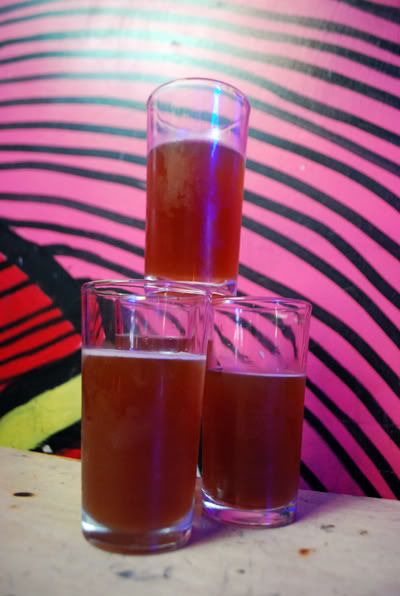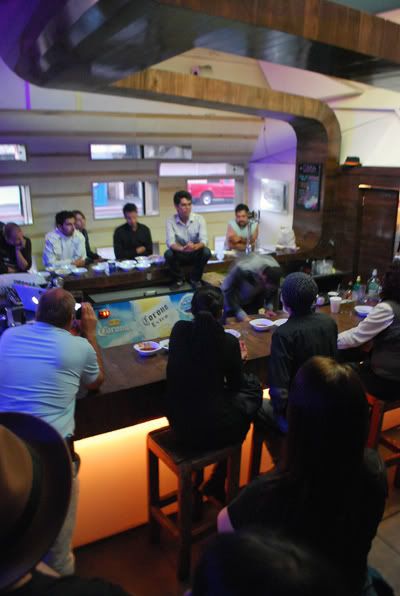 SD Beer Blog verdict:
"Das Falco IPA had plenty of bitterness, but not much flavor to balance things out. Their next two beers, Vanilla Sky Stout and Strawberry Fields Ale, were better. The stout had plenty of chocolate and vanilla sweetness with roasted malt to balance things out while the strawberry ale had a strawberry sweetness that wasn't overpowering (although it did get a bit too sweet for me as it warmed up)."
An hour later, Turista Libre was back on the bus, now bathed in red neon and headed for the border, bringing "Get That Lime Outta My Beer" Day to an end with an impromptu Paulina Rubio-Los Tigres del Norte singalong in our loudest, most coherent Spanish possible.
¡Salud!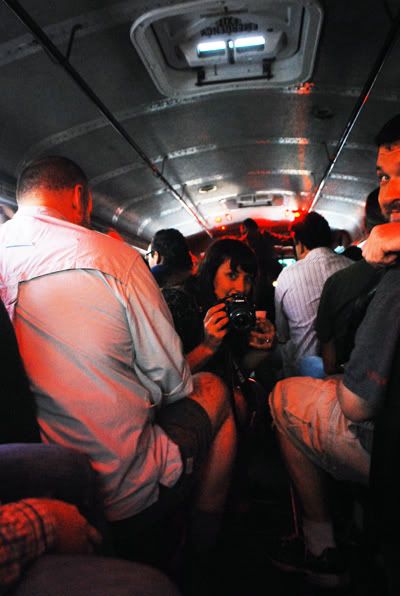 More photos.
More photos.
More photos.
More photos.
More photos.
More photos.
More photos.
More photos.
More photos.
More photos.
More photos.
More photos.
More photos.