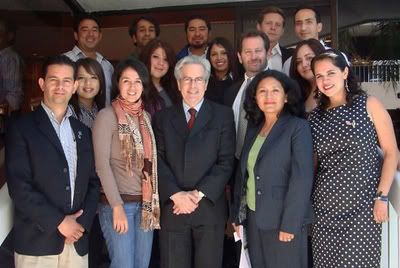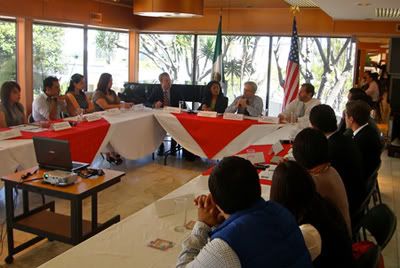 U.S. Assistant Secretary of State for Western Hemisphere Affairs Arturo Valenzuela and Deputy Assistant Secretary for Public Diplomacy Fabiola Rodriguez-Ciampoli met with 10 local youth NGOs during their visit to Tijuana on Monday.
The meeting, held at the U.S. consulate general's home, was organized by
Reacciona Tijuana
, which was kind enough to include Turista Libre on the invite list.
Also present were Junior Chamber International, Jovenes Unidos Por La Sociedad, Grupo Ecologista de Tijuana, Rotaract, Pacto Por La Paz, Club De Niños y Niñas, Tijuana Calidad de Vida and Fundacion Que Transforma.
Each of us had a few minutes to tell about our respective orgs and the role they play in working to improve Tijuana.
Here's the release that RT ran on its website:
On April 4, 2011, during U.S. Secretary of State Dr. Arturo Valenzuela's visit to Tijuana, we had the pleasure of coordinating a meeting with youth NGOs. The goal: to present the projects we're working on, explain our perspective on the challenges of living Tijuana today and share strategies that are being implemented. More than 10 organizations were present each exposing its particularity, but all agreeing that we must continue to build the social fabric to achieve a sense of belonging and community.
We all agreed that our work plans, focusing on issues like the environment, protection of vulnerable groups, improving community life through art and sport, are part of an ideal strategy to prevent some of the challenges facing the city as such violence.
No doubt it was an honor to be invited to be part of the Assistant Secretary of State's approach, especially because the last time he was assistant secretary was six years ago and this was the first time a representative of this department has showed interest in meeting with leaders of youth organizations in Tijuana.
We are true believers that civil society must be organized and coordinated with the government to implement effective strategies and projects before the city issues a detached way. The main protagonist is the city and the people who inhabit it.