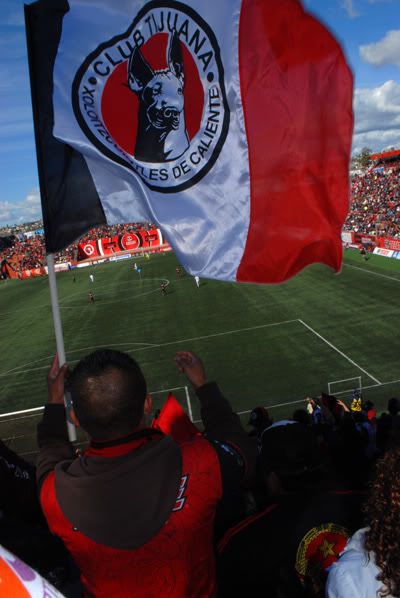 February's installment of Turista Libre took the group to Estadio Caliente, home of Tijuana's pro soccer team,
Club Tijuana Xoloitzcuintles de Caliente
. It was a day of Tecate girls, Tostilocos, Big Gulp beers
rimmed with chamoy and chile
, hooligans tijuaneros, gringos on Televisa, Mexican hairless dogs on parade, a tie game with Veracruz's Albinegros de Orizaba, tacos at Taqueria Los Albaniles and a caguama cooldown at Bar Turistico.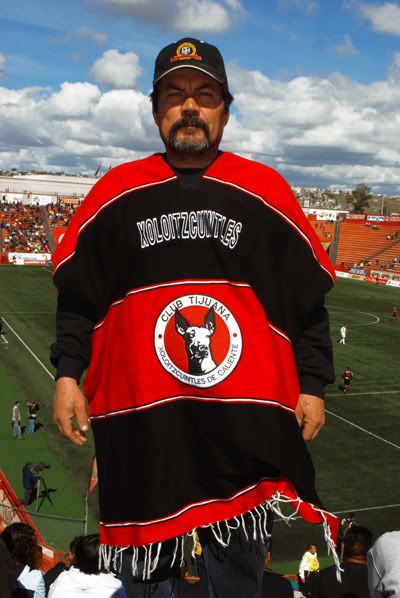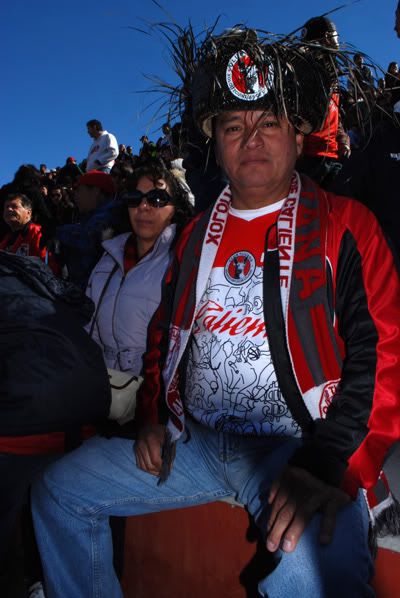 Fun facts: Xoloitzcuintles is pronounced something along the lines of "choh-loh-eats-queen-tlays.
" The team became the Apertura 2010 champions after defeating Veracruz 3-0 in a two-legged series. Their mascot is an ancient Mexican breed of dog that looks like the red-eyed devil mutt from "Ghostbusters." They sometimes haul a mechanical bull out onto the middle of the field for the half-time show. You can see the hills of San Ysidro from your seat.
Kickoff happened in Estadio Caliente next to the casino at 1 p.m.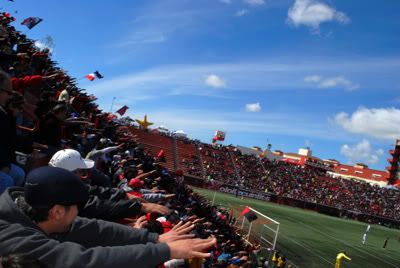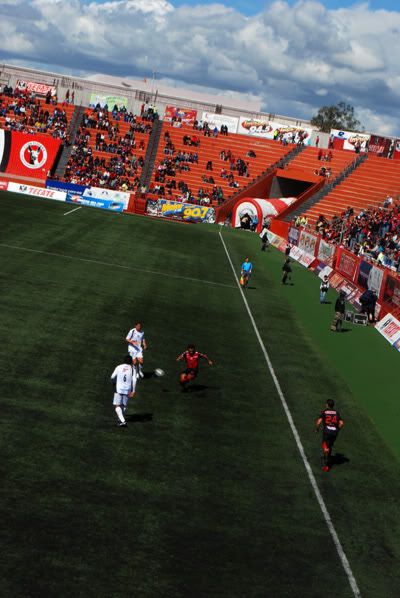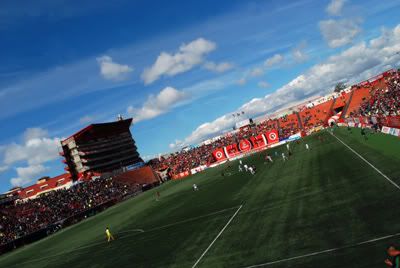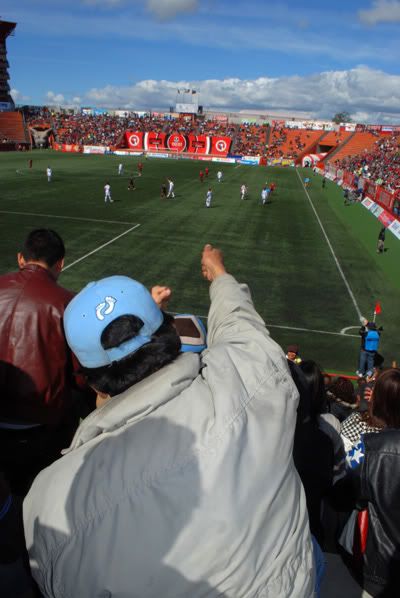 On the menu of Latin American stadium food: Styrofoam plates of carne seca, celery stalks bobbing in cups of Clamato, churritos doused in hot sauce, double cervezas, full-sized bags of Tostitos and their ever-strange bastard cousin, the regionally famous
Tostilocos
.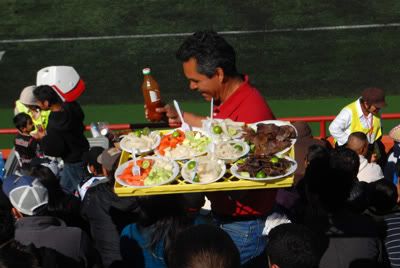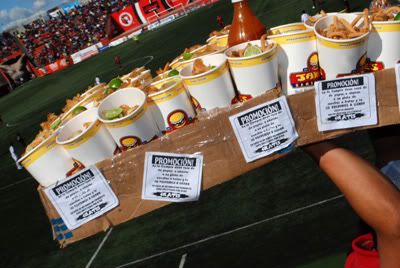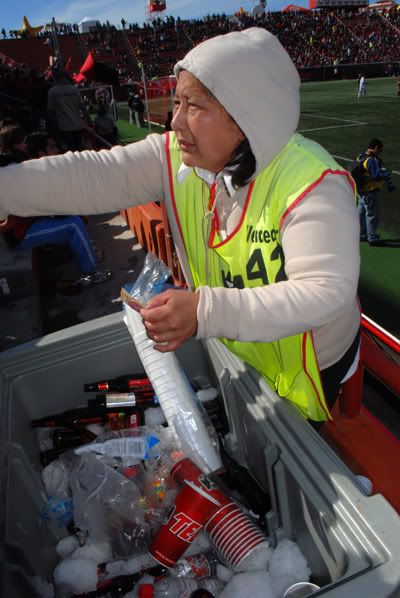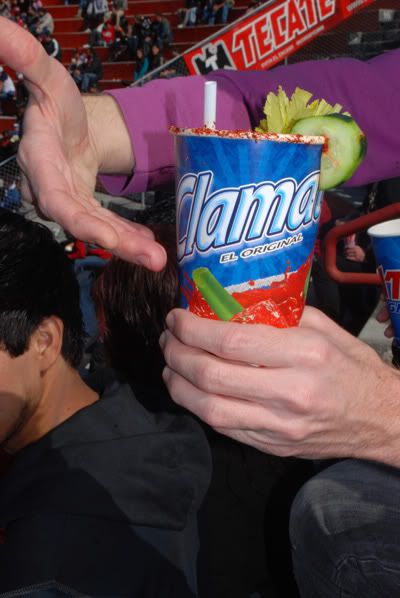 By halftime we had talked our way into becoming honorary hooligans, better known in Tijuana as
La Masakre
, who let us into their chainlink-fenced VIP section behind the goalpost on two conditions. That everyone be wearing red and black, official Xolos colors (which we all were save for one lavender-jacketed guy who wound up borrowing someone's hoodie). And no sitting allowed. Instead, that we scream, jump, chant songs that went something like this:
"Yoooooo soy de Tijuas! Ole ole ole! Ole ole ola! Ole ole ole! Cada dia te quiero mas!"
The air was full of cheap weed, incessant drums, flying beer, norteño slurs and a binational comradery that the average foreigner rarely experiences when visiting Tijuana. One that only comes when he fearlessly dives into an authentic opportunity to experience
the city, and in turn be welcomed by it, as if he had lived here his entire life. As a local, alongside locals.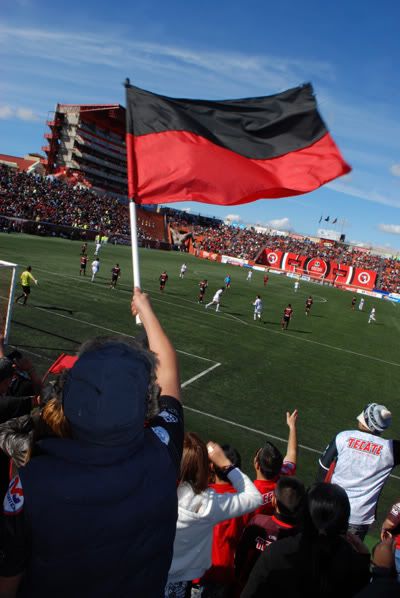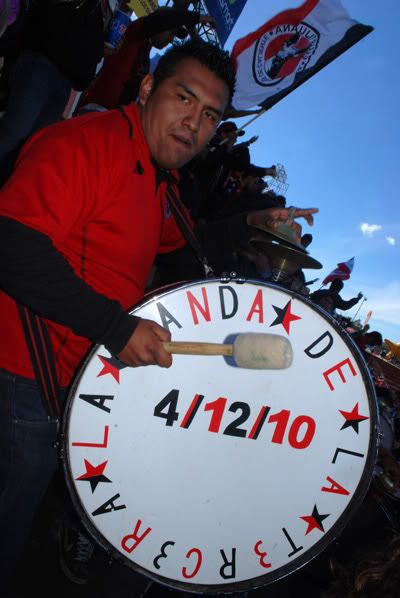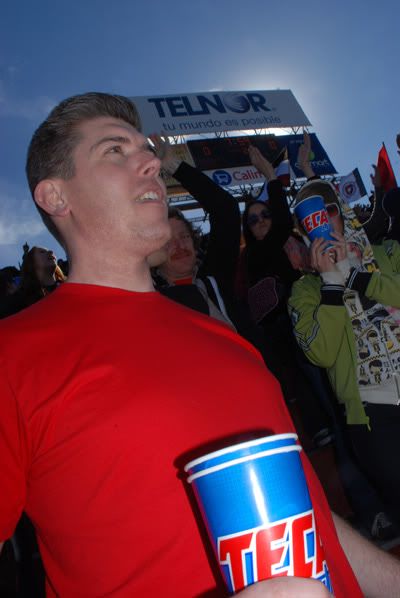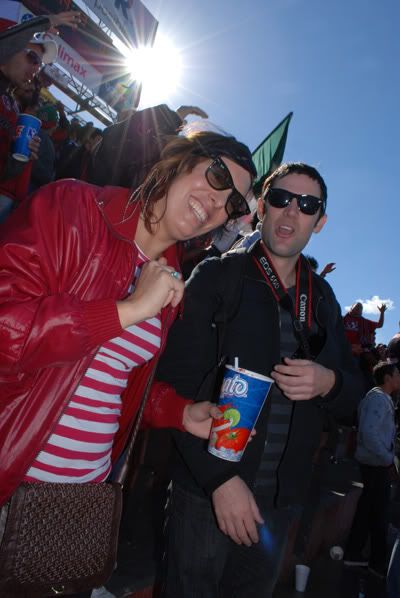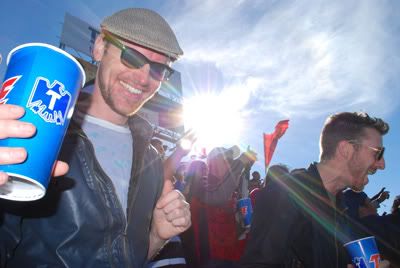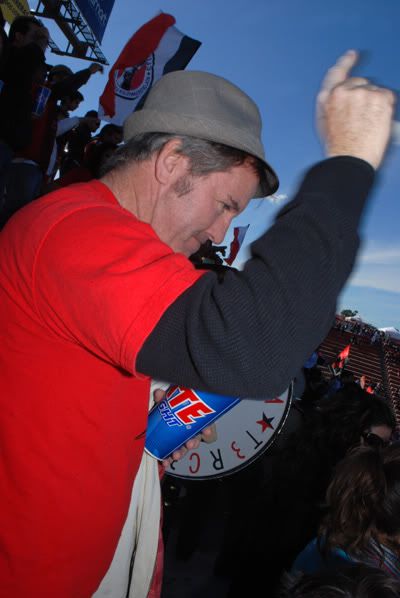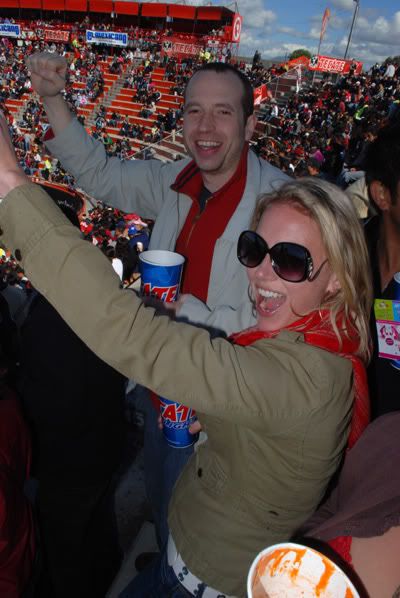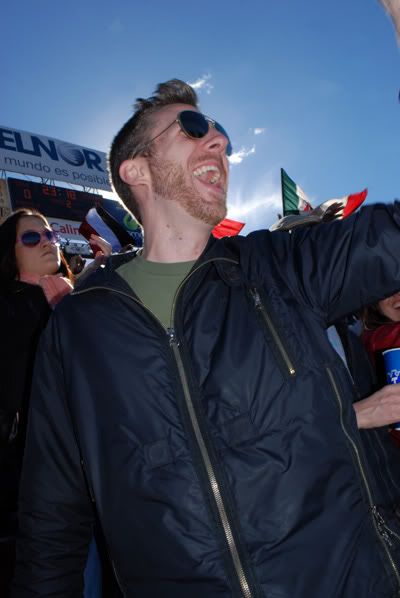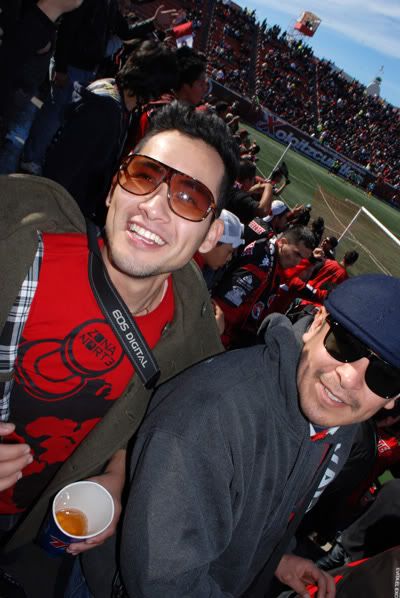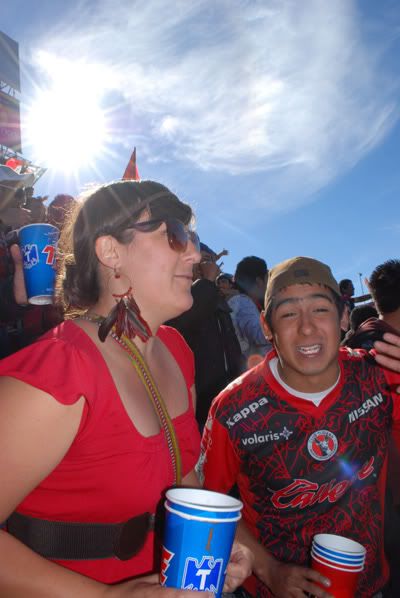 And speaking of halftime, the show is a total sexed-up Disneyland take on an advert insert. Caliente girls in short shorts led actual Xoloitzcuintles around the stadium, followed by the satellite TV girls in bodysuits, followed by the telephone company girls. Then came the pawn shop girl, mascot in hand, followed by the cable company mascots, the Dominos man, the Nissan cat, the meat store pig and the kids' museum space robot who bore a striking resemblance to Bender. (Notice the cop with his lunch bag tied to his belt.)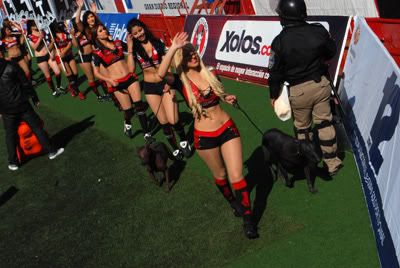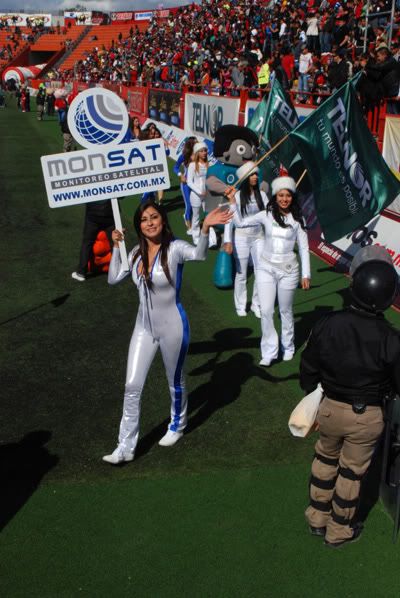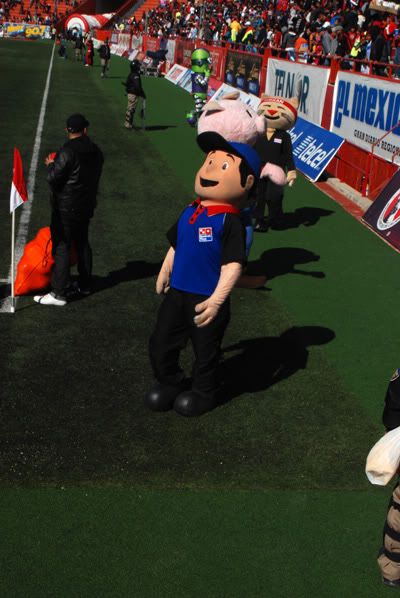 We'd already met the Tecate girls and the cell phone company girls out by the front gates.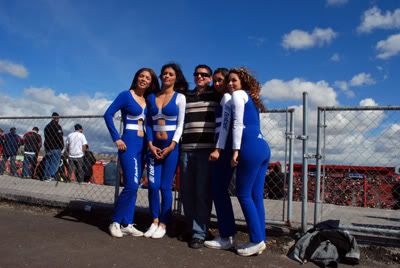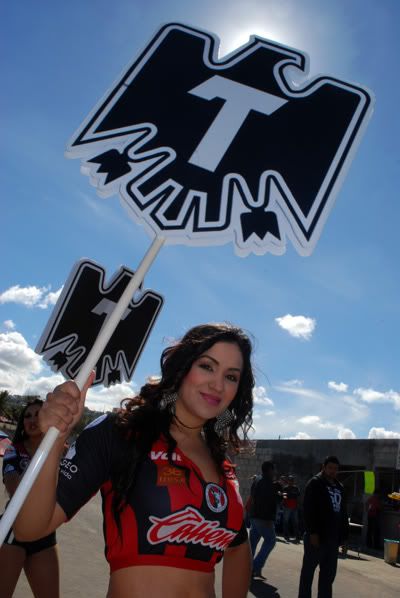 Ninety minutes fly by when you're having fun, and so
before we knew it
the game had come to a goalless end. On the way out, after passing the danceparty happening in front of a live norteña band, a Televisa camera crew bombarded us (or did we bombard them?), and the turistas recounted in their best Spanish their take on the game for the 6 o'clock local news. A rare interview, for sure. (If you care for the actual play-by-play, which
by now
you've probably gathered isn't going to happen here, throw this into Google translator.)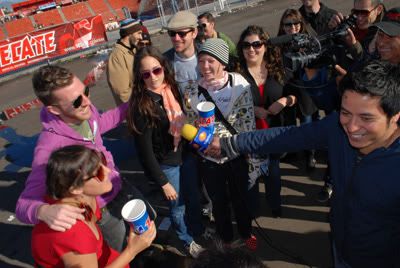 Then it was on to Taqueria Los Albaniles downtown on Second Street between Cristobal Colon and Mutualismo for carne asada tacos, birria and chiles rellenos. Like all good taquerias, the place doubles as a car wash. The jukebox was sadly out sick but the claw game was looking like the mother of all piñatas and across the empty parking lot cholo employees passed the slow afternoon by mastering their bench press.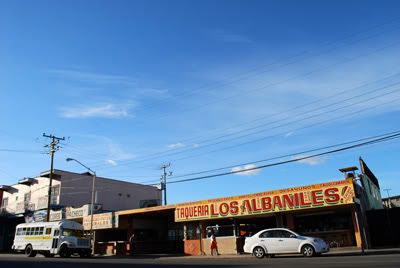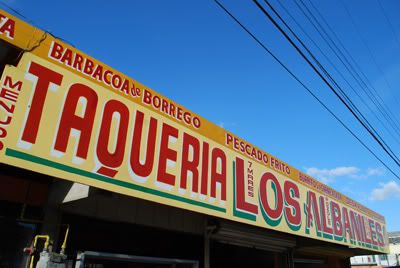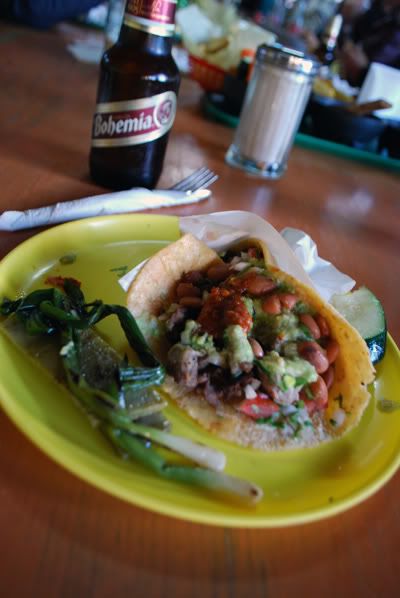 The Sunday Funday wound to a close at Bar Turistico, a favorite dive among TJ college kids that's under the arch in Plaza Santa Cecilia. Victoria caguamas go for 35 pesos and a Virgen de Guadalupe shrine, complete with candle, keeps constant guard of the spare propane tanks in the back. We shoved 50 pesos into the jukebox and let Paulina Rubio roar. Old-school Paulina Rubio, of course.