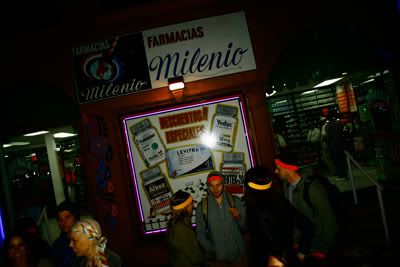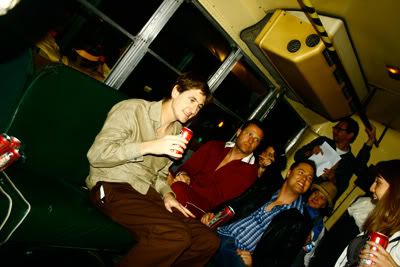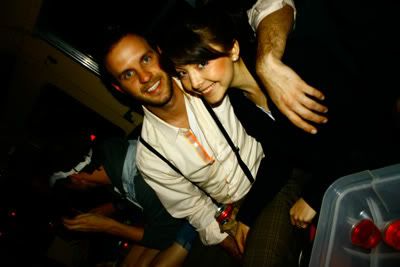 It's no surprise that Tijuana must constantly strive to crawl out of its international rap as the septic tank of tourist destinations. But it is a surprise that those efforts rarely include pointing the few tourists who cross the border these days in the direction of recreational activities technically within the city limits that have nothing to do with excessive booze and smut. Or letting them know that they're even an option.
Maybe that's because up until very recently, before the dawn of the tourism industry's atomic winter, that Tijuana had been too busy shoving tequila bottles down foreigners' throats to think the gabachos would be into something other than getting shitfaced and naked while visiting Mexico for the day.
The bowling alley. The video arcade. The children's museum. The park. The water park. The roller rink. Places so common to most cities that they're usually taken for granted. These, too, exist in Tijuana. Surprise!
Ask anyone in town over the age of 25 about
Patines de Plata
, or Silver Skates, and chances are they'll respond with a wide grin. The sort of grin inspired by something you love but nevertheless had all but forgotten about.
In operation since 1977, the city's lone rollerpista continues to hold tight to its reputation as an iconic hub of nostalgic, albeit sweaty, fun. Originally downtown toward the southern end of Avenida Revolucion, it's since moved 20 minutes east to Boulevard Insurgentes, past the Otay border crossing.
On Fridays '70s, '80s and '90s music fuels the crowd, along with fog machines, laser beams, strobe lights and a huge piñata hanging where the disco ball should be. And so it was on a Friday that Turista Libre took to the rink.
Just after sunset some 35 turistas met up at the usual spot just south of the San Ysidro pedestrian crossing in Colonia Federal. Costumes had been heavily encouraged and although not required, the majority of the group came in some sort of roller-appropriate attire shoved under their street clothes. Five or so pairs of red short shorts, three sets of electric blue tights, a Dior chenille tracksuit sans shirt, a black leather bomber with "I am the Hoff" scribbled on the back in silver paint, a few side ponytails and plenty of headbands and tubesocks. Even the lone German had pinned a yellow paper lightning bolt to her red shirt and was calling herself the Flash.
Once en route a tub of complimentary Jello shots worked its way around the bus while everyone signed their release forms, compensation for Patines de Plata being a dry establishment despite the neon Coors Light signs all over the food court. It makes sense, really, given that everyone's wobbling around on wheels. More sense than the restrooms being upstairs, at least.
On the agenda were two hours of skating to yesteryear
hits both in English and español.
Wheeled shoe options included both rollerblades and the old-school quad variety; most turistas went retro with the latter.
There's little to recount once laces were tied and everyone took to the floor; it's a story that tells itself. A few people trains came and went. The roller ref kept an especially close eye out for any and all rusty rollergringas. Even though it was retro night the DJ couldn't keep from playing Shakira's "Loca Por Mi Tigre." We made it to closing time with only one sprained wrist.
Later came lomo sandwiches at Tortas Johnny on downtown Sixth Street. Then, a libation cooldown at
La Chupiteria
, the newest Sexta haunt at Sixth and Constitucion, where the bathrooms are blacklit and
Guero
has been playing a lot of
Bottin
lately.
And even though all that came after having to ditch the bus and walk 15 minutes from where we met in Federal to downtown because our driver accidentally pulled into the borderline and the cops were too culero to let him do what anyone else in that situation would do and throw it into reverse, it was, without a doubt, Turista Libre at its most feliz. The group -- several packs of friends connected if even only as Turista Libre acquaintances, strangers essentially -- dove into a communal but far-shelved memory of bliss that most hadn't touched since the '70s, '80s or '90s: rollerskating. In Tijuana, of all places.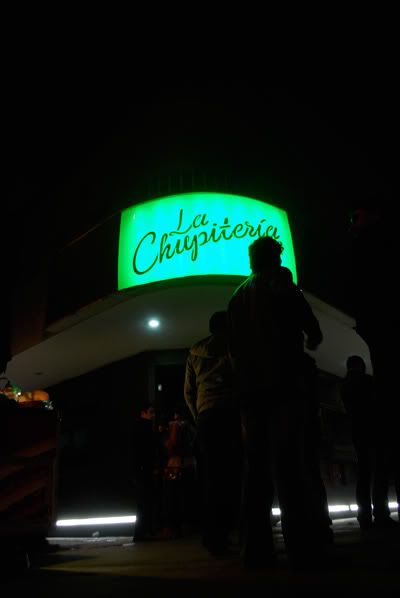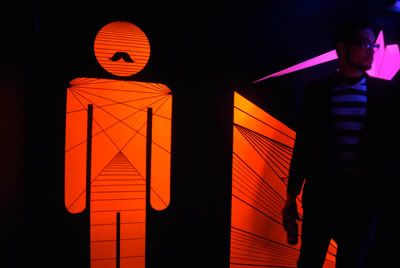 Patines de Plata photos by Jorge Ledezma,
Zona Narte
.