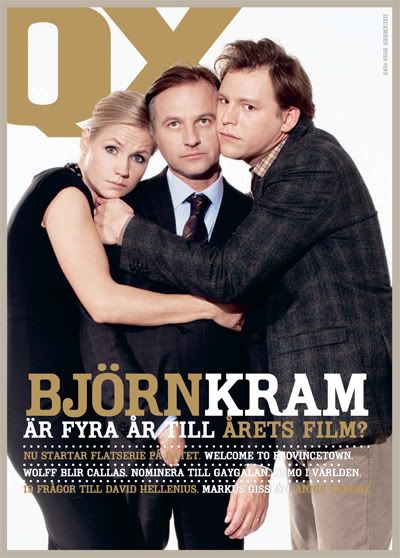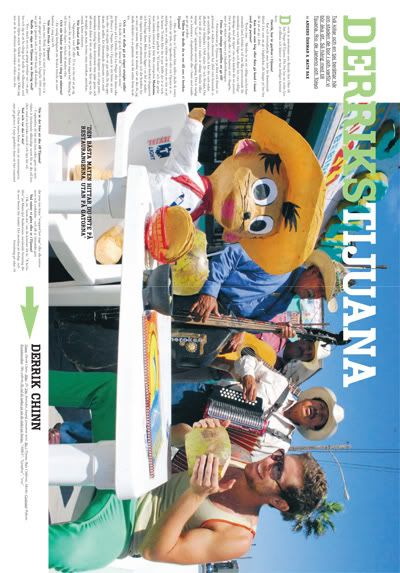 Turista Libre and gay Tijuana received a lot of love in Stockholm magazine
QX
's December edition of "Homos around the world," a series about gays talking about their cities and why Swedes should go there. Three pages of love, to be exact.
Derrik, how is gay life in Tijuana?
Fun and surprising, even though sometimes frustrating. Like walking in a pair of high heels, it all depends on how well you wear it.
Can you walk hand in hand with your boyfriend (or girlfriend) in the city without being yelled at?
Sadly, no. Because Mexico is a very machista society, lesbianism is not as blatantly offensive to people. But both gays and lesbians still must be very cautious in general about being openly affectionate in public with their significant others. It's not illegal or anything; you won't go to jail. But it's generally agitating to the general population. I went to jail one Halloween, technically for wearing a mask in public, which is technically illegal. But the real reason is because I was wearing a mask and a cocktail dress.
Are there a lot of gay places to go to?
Surprisingly, yes. Tijuana is first and foremost a bordertown, so its economy has always depended heavily on entertaining all walks of life after dark ever since the days of Prohibition when alcohol was illegal in the U.S in the 1920s and '30s. Over time that has led to creating a very diverse nightlife scene, and it's something that many locals cater to regardless of their personal identities. Many gay bars and clubs are all over downtown. It's common to see hetero couples in drag queen bars or male go-go bars.
Where would you take us if we wanted to go to a nice gay place?
Well, first we'd have to discuss the concept of "nice." Most of Tijuana's best spots are places that would probably cause much of the rest of the world to raise an eyebrow. They're otherworldly. Tijuana in general is otherworldly. A strange, random mix of the First World and the rest of the world, and much of it looks like it never left the '70s. But that's why it's beautiful. The city's oldest gay bar, El Taurino, plays cumbia remixes of songs by divas like Madonna and cowboy couples in boots and hats dance together alongside drag queens and butch lesbians. But it's in a part of town where the streets are lined with prostitutes and seedy hotels that rent rooms by the hour. Regardless, it's obviously a place that's worth seeing, somewhere I'd definitely take a visitor on his or her first night in the city.
And if we want to go to a straight place?
Then we'd go dance to norteño music downtown at La Estrella or Las Pulgas or salsa at Blanco y Negro. But I should really say that in Tijuana it's best to not necessarily seek out a gay place or a straight place, but to learn to enjoy it all. A very thriving alternative scene of artists, musicians, writers, designers and young party people in general exists downtown on Sixth Street, and for the most part it's a world that doesn't care if you're straight, gay, transgender, a man, a woman, Mexican, American, Swedish, Chinese, Martian, whatever.
When do people usually go out?
Somewhere around 10 or 11 p.m. is a good hour to be out on the streets looking for fun. Monday is more or less the only night of the week the city rests.
And when do they go to bed?
A typical Saturday night out usually leaves you in bed around 5 a.m.
When is Pride in Tijuana? (have you been there, do they celebrate it at all? If not, are they working on it?)
Pride happens in June, but the festival is on the smaller side. Even so, I read that this year's celebration, the city's 14th, was three times larger than the previous year's. There's a parade that loops around downtown, and it looks like any other pride parade. Drag queens, activist groups, muscle daddies. At least 1,000 people marched and some 10,000 attended the festival. A good site to check for info about gay Tijuana is bajamexgay.blogspot.com.
Would you say that Tijuana is a flirty kind of place?
In the sense that it loves to see outsiders feeling comfortable enough to live the city like a local, yes, very much so. Foreign visitors to Tijuana are not as common as in places like Mexico City or Guadalajara (which is ironic because Tijuana is so close to the U.S.), so seeing a group of Swedes out at a gay bar having a good time would be welcomed with extremely open arms.
When should we go there, what time of the year?
By September the hot summer has had most of its run but the weather is still warm enough to go to the beach with a cooler of beers and soak up the sun.
And when should we not?
Baja California may technically be Mexico, but it is still very much Californian. The weather is more or less always perfect. The sky is blue for 10 months out of the year; it rarely rains. So come whenever.
What should we eat and drink and where?
You'll find the best food for your money not in a restaurant but in the streets. Carts on every street corner sell bacon-wrapped hot dogs and tacos of all kinds. Chiles filled with cheese, goat, pork and nearly every part of the cow. Tongue, head, intestine. And it's all amazing. If you're out by the beach go eat a barbecue rib burrito at Tacos Sonora. If you're in the city go to El Taller (eltallerbajamed.com), by the old bullring, and order the mole pizza. Also, Ensenada, a port town 100 kilometers to the south, is an international hub for Baja cuisine, not to mention seafood heaven. Muelle Tres (downtown on the docks near the Black Pearl) and Barra Azul (barrazul.com) are good spots. Everyone says you have to eat a Caesar salad, which was born in Tijuana at Hotel Caesar's. But if you can get a ride out to Laja (restaurantelaja.wordpress.com) in the Guadalupe wine valley just south of the city, do so. Everything on your plate was raised in the restaurant's surrounding farm, be it salad or steak, and the wine is local, too.
What do we have to see? Or visit while in Tijuana?
The key to enjoying Tijuana is that you have to experience the city like a local. Americans have a bad reputation for partying in the city as if they were Pinocchio on Pleasure Island, as if they were in a land of sheer freedom with no consequences, and that usually leads to every American's Tijuana horror story. With added liberties (and Tijuana offers many) come added responsibilities. Like not pissing in the street. Or not carrying heaps of cash or all your credit cards in your wallet. Or not buying pills in a bar off some guy you've never met before who suddenly seems to be your best friend. "Ponte trucha," Mexicans say. Wise up.
Three must-dos while in Tijuana: A lucha libre (masked Mexican wrestling) match at the municipal auditorium on Friday or Saturday night; El Vergel (albercaselvergel.com), Baja California's largest waterpark and as far as I'm concerned the happiest place on Earth -- happier than Disneyland -- because of waterslides that would never fly on the other side of the border (it's a lawsuit nightmare ... but that's why it's so fun); and to the beach to see where the border fence actually trails into the sea. It's surreal.
Do people find it strange that you are an american who works in San Diego but prefer to live in Tijuana?
Mexicans find it admirable because it's not every day that they cross paths with foreigners who appreciate and understand their city enough to call it home, especially when San Diego, "America's finest city," is so close. Americans generally find it strange and unthinkable and probably assume I smuggle drugs or something. "Why else would anyone live in dirty, dangerous Tijuana?" they think. Which is sad, because few places in the world offer the chance to live in not just two countries but in two very different worlds -- Latin America and its English-speaking counterpart -- and speak two languages on a daily basis. But that's a reality that few people seek out.
Tijuana doesn't have the best reputation, do people have the wrong picture of Tijuana you think?
People do indeed have a distorted picture of Tijuana, and yellow journalism is to thank. Headlines about headless bodies swinging from bridges sell newspapers and shootouts between drug cartels sell newspapers. Headlines about a vibrant arts scene don't. I moved to Tijuana almost four years ago, and I've come to find that yes, terrible things do happen here. But they don't directly affect my life nor the lives of the majority of the people who live here. Tijuana has taught me to not live in fear despite what the TV tells me, which is often very difficult for Americans, and to find a sense of calm amid what is at times a very chaotic environment.
A year or so ago I'd finally heard enough one-sided criticism about Tijuana that I began Turista Libre (turistalibre.com), which means "free tourist." It's a series of monthly atypical day tours to show foreigners the sides of the city only its locals know. The fair, the circus, lucha libre, a soccer game, a concert, market or museum hopping, a bike tour of public art. The destinations sound pretty basic, but they're all sights that rarely occur to outsiders when they come to Tijuana. Each trek includes a food and a bar stop relevant to the theme. Anywhere between 20 and 60 people show up to any given tour. A pair of Swedish lesbians who happened to be visiting San Diego came along once, actually. On that trip we went to visit a 20-meter statue of a naked lady known as "La Mona" that doubles as her architect's home. For the most part everyone goes home with a very different, more well-rounded opinion of the city because they've been given the rare opportunity to see it for what it really is and to decide for themselves.
Why do you love Tijuana so much?
Because I had never planned to find myself living here and have wound up being very happy and productive. I moved for love, and with the intention of learning Spanish fluently. But what's kept me despite the city's bad rap is her people, her anarchy, her gritty Technicolor, her humble innovation. And her inexhaustible persistence to grow and thrive against all odds. Tijuana is very alive, and it's all very inspiring.
What would make you move away from Tijuana?
Little. Perhaps love again? Even if I do leave for whatever reason, I know I'll return one day. I was born more than 3,000 kilometers from here, in Ohio, but this is feels like my home.
Something special we should think if when visiting Tijuana?
People arrive with the idea that all of Mexico is like Puerto Vallarta, Acapulco or Cancun -- white beaches, margaritas, some tropical paradise -- so they're immediately let down when they come to Tijuana. Think of Tijuana more like a Mexican extension of Los Angeles (which was originally a Mexican city anyway) in terms of style and overall vibe and you'll have a great time.