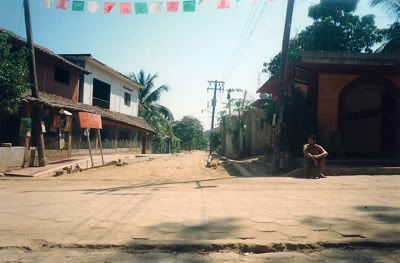 Crammed knee to knee with 12 or so in a Toyota combi collectivo, we rode for six hours south along the lone hairpin two-lane highway that connects the Oaxacan capital to the coast. The Aleve-Dramamine cocktail I downed before climbing aboard did all it could to ward off what was left of my hangover from the previous evening's romp at La Casa de Mezcal, along with any back spasms and wet burps brought on by riding out hellbent curves in a chair that seemed to recline no farther than 89 degrees. For much of the trek we literally drove through the clouds, and at one point shortly after dusk the driver asked the guy riding shotgun whether he could see the road.
As for subsiding claustrophobia in the packed Japanese church van, I pacified myself with visions of virgin beaches, waves the temperature of bathwater, shirtless and semishirtless living, and any other humid romanticisms I remember from "Y Tu Mama Tambien" that awaited on the other side of the Sierra Madre.
Midway through the ride, the rig pulled over in San Jose del Pacifico. The small mountain town serves as a stopover for backpackers in search of shroom benders, but we only stayed long enough to down a few roadside mole quesadillas and a terracotta bowl full of sweet coffee. Señoras in sweatpants cooked in their front yards atop upside-down oil drums covered with calcium hydroxide or simply "cal," the original PAM. A white powder that's rarely used in the north, it brands the tortillas with an earthier taste as if they were cooked underground. Some nearby boombox shrieked lo-fi Mexican Pentecostal music into the fog.
The combi took us as far as Pochutla, 10 kilometers or so from the beach. From there, we cabbed it to Puerto Angel. With nothing to do in the sleepy fishing village after dark -- aside from claiming a hammock at the hostel and swapping sweaters for shorts and open buttondowns -- we bought Victoria caguamas at the cornerstore and followed the unmistakable sounds of a party off in the distance. The music led us up a dark hill to a house, and what we found was more than just any party. A quinceañera. A Oaxacan quinceañera. Imagine crashing a sweet 16 in rural Alabama. Now throw it into a Latin American context.
"Que bailen los gueros! Que bailen los gueros! Dance, white boys, dance!" shouted the doñas from their cumbia circle. "Tell the birthday girl her guests are here," said some aunt sitting alongside me on the sidelines, sarcastically referring to us. When she finally appeared the birthday girl ignored us, working her miniskirt and high heels across the dirt yard to the seat of honor below a huge heart-shaped glamour shot of herself. It was framed with blue balloons. Meanwhile the menfolk just stared us down, probably thinking the northern infiltrators had good some old-fashioned raping and pillaging in mind. The truth is we just wanted to see a Oaxacan quinceañera; it's something we had hoped for before leaving Tijuana. The muxes stared, too, but they at least seemed capable of throwing in a few polite smiles.
A sidenote on muxes ("mushes"): It's common for Zapotec parents who have no daughters to raise one of their boys as a girl in case anything ever were to happen to Mom. What's more, mothers of muxes often refer to them as their favorite sons and overall they're considered more as a third gender rather than transgender or gay. It's a cultural fluke in Mexico's notorious reputation as a macho paradise that's particular to Oaxaca. I didn't photograph any muxes because in tourist-heavy zones like this, I guessed they have to deal with enough of that.
Not wanting to overstay the questionable welcome, we did the doñas right and danced for a few minutes, downed our beers and skipped out, heading home to learn that bathing in OFF before bed leaves many a window of opportunity for hungry jungle bugs.
In the morning we moved a few kilometers down the coast to Zipolite ("a nice place to do nothing," as per one hostel's sign) and set up camp at Posada Kiko, where 120 pesos ($10 or so) got us an upstairs room with a big window, two beds and two stained mosquito nets. Bob Marley or Sublime floods the air as soon as someone remembers to turn on the stereo, which seems to happen mid-afternoon, and signs in the shower stalls urge you to save water by saving sex for your room.
Oaxaca in October is on par with Texas in July, a climate that over the next four days caused us to breach a level of laziness so high that it was interrupted only to eat whatever we managed to cook off the hostel's communal death-trap gas stove, refuel the Carta Blanca supply, swim either in or out of our underwear, smoke and sleep. And to notice that the mosquito bites exponentially soared with each passing day. At one point I think I counted 30, mostly along my legs, all the while wondering if any of our trio would wind up unfortunate enough to win the dengue fever lottery.
Mosquitoes born in large quantities of standing water in the tropics often carry dengue, and symptoms only show up a week or so after being bitten. It's apparently so painful -- they don't call it breakbone fever for nothing -- that it leaves you waking up in the middle of the night wailing. Worst of all, the only cure is to just wait it out. One guy at the hostel who was now in his third month of Kiko living (visits to Zipolite commonly wind up taking more time than you originally planned, apparently) compared dengue to heroin withdraw.
If not trustfunders turned hippie junkies who compare tropical diseases to coming off hard drugs, Kiko's several long-term residents seemed to be former mara members. The mainstays bore gang tattoos and long scars, and they were quick to share knife fight or gunshot stories while helping us kill any newly purchased six-packs. Until the beer ran out, that is. Or a pair of unsuspecting, undersexed white ladies strolled into Kiko, at which point the mission of getting them back up to their room and getting their clothes off began.
Overhearing sex is no doubt one of the quintessential pillars of hosteling. Sometimes it's coming from the next room; sometimes it's coming from the next bunk. But overhearing orgies is purely Zipolite. So I can truly say I know Zipolite.
It all makes sense, really. Who wouldn't want to follow up thug life by mooching off foreign backpackers for beer and sex in a never-ending party of sunny lethargy?
I still slept with my wallet in my shorts and my shorts in my arms.
An hour walk down the road to Mazunte led to an even more secluded beach, and thankfully so. What got me through the six-hour minivan ride to the beach was a fantasy of tropical seclusion. No Bob Marley. No Sublime. No trustfunder hippies. No mara leftovers. No beer theft. Hot sand. Heavy sun. Bathwater waves. Shirtless living. Mazunte.
The SLR rarely made an appearance.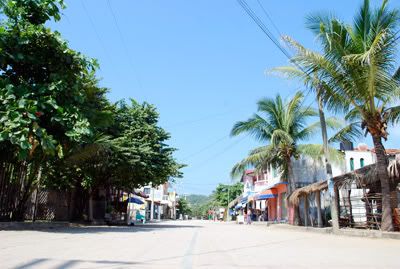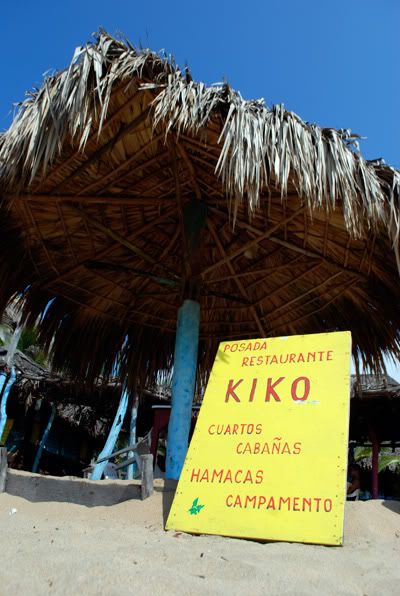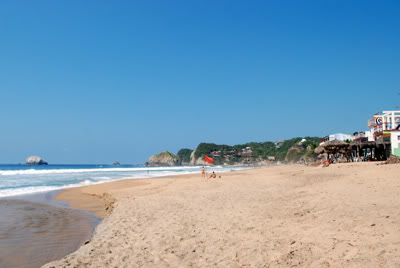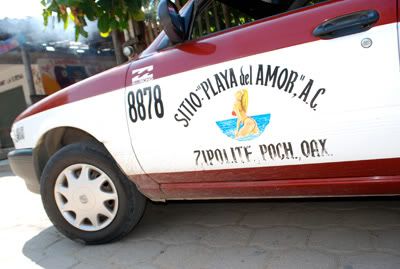 But the disposable water cam made a splash.