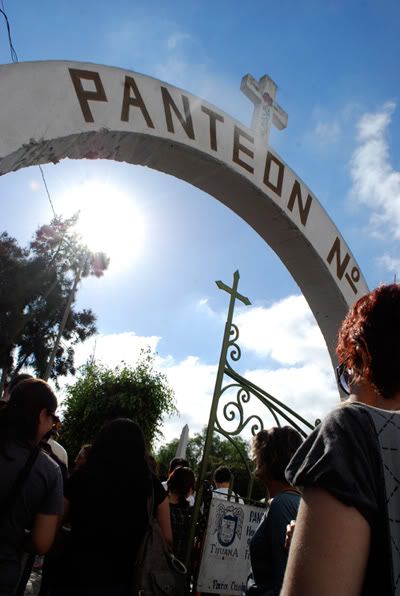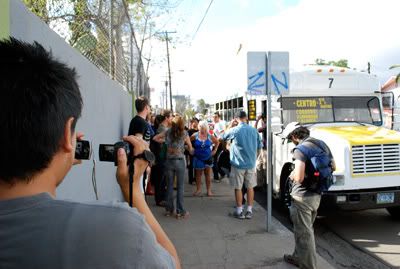 The annual passing of Dia de los Muertos called for a Turista Libre run to Puerta Blanca, Tijuana's oldest municipal cemetery and the resting place of its unofficial folk saint, Juan Soldado.
Official turista headcount: 37.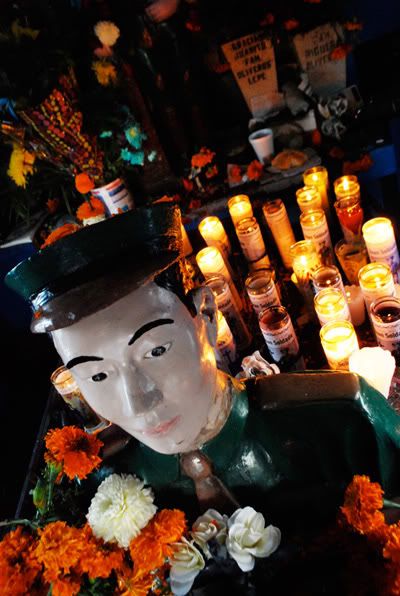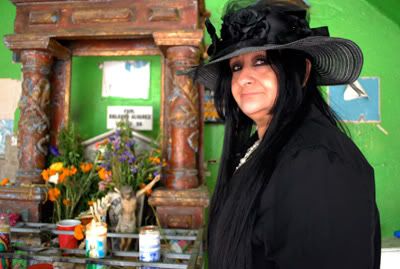 Waiting for us at the front gate was Martha Henke, a Tijuana historian who specializes in urban legends, to tell us his controversial tale.
Juan Castillo Morales was as a soldier in the Mexican army who in 1938 was accused of raping and murdering an eight-year-old girl. He confessed, was tried and was executed in the cemetery under "la ley fuga," in which a firing squad gives the convicted a running start before shooting. Needless to say, he failed to escape.
Common belief among his devotees, including Martha, is that despite his confession he was framed by a general -- allegedly a notorious pedophile -- who offered Juan his prized pistol in exchange for disposing of the girl's body.
Juan has since gone on to become the unofficial saint of undocumented immigrants looking to cross the border and the go-to man for Tijuana's old-school believers in times of need.
The cemetery sits directly in front of a now-defunct border crossing also known as Puerta Blanca. For many years before an official wall went up between Mexico and the U.S. it served as a waiting room of sorts for the undocumented holding out until dark to cross. Before being buried, Juan's casket was covered with stones, and it's said that a woman grabbed one before heading north, promising to attest to his innocence if he helped her to reach the U.S. safely, which she did. More than 70 years after his death, it's still customary to take a rock from near Juan's grave after asking for his assistance and return it once the miracle has come to pass.
A small chapel walled with plaques and handwritten notes thanking Juan for the miracles he's supposedly performed now stands on the site in the cemetery where he died, as well as another atop his grave.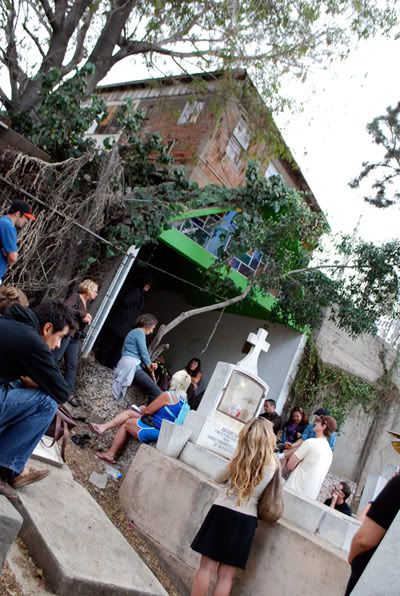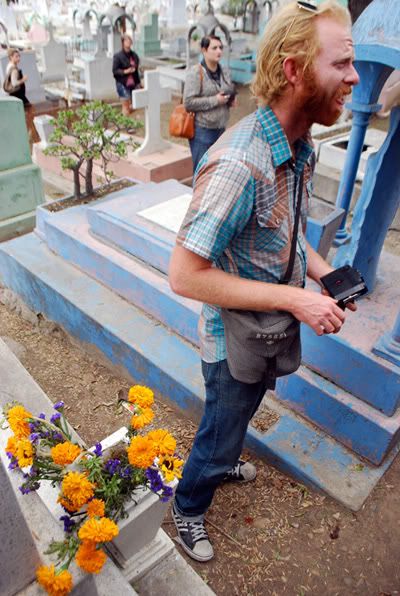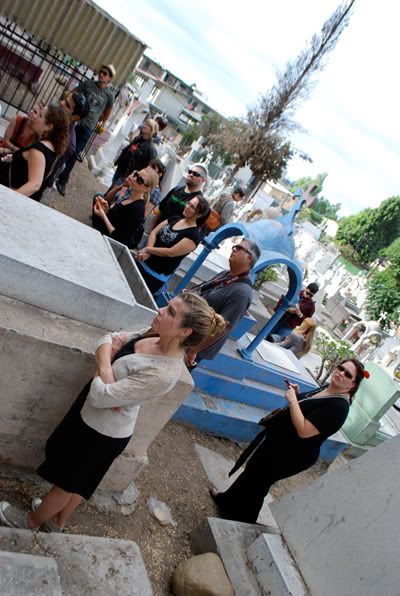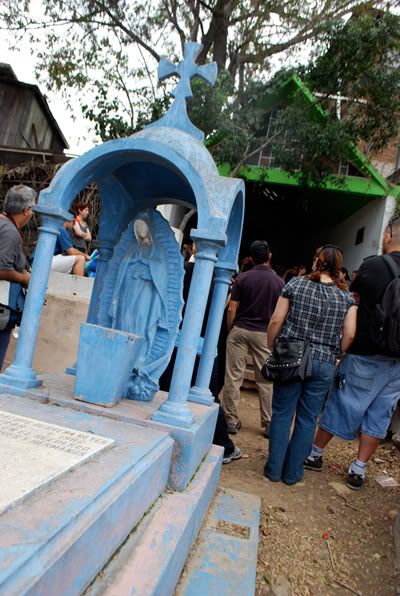 Formalities cleared and official tales told, Martha went on to share her one-on-one rendezvous with Juan. At this point it's only fair to mention that with Martha, the lines between historian, elementary school teacher (she demanded we all switch off our cell phones and stop taking photos of her), seasoned psychic, fashion warrior and stand-up comedian aren't exactly what you'd call solid. And thankfully so. She's a sweet woman, a John Waters muse who's decades in the making.
Years ago, she was hard up for cash to pay the bills, her kid's school tuition and fund her divorce but -- in her own words of autocarrilla -- without the body to rake it in. So she went to Juan's tomb to lay down the age-old offer between devout and deity: if you're real, you'll help. She was on her knees with her eyelids clenched, when the chapel windows slammed shut and the votive candles went dark. The room filled with the scent of roses and then, according to Martha, Juan spoke. "Now do you believe?" He gave his word that she'd come across more than enough to cover her expenses and even promised same-day delivery.
Martha claims to have found some $1,500 in cash and traveler's checks on the bathroom floor of a San Diego restaurant later that night. No jokes about thieving Mexicans, please. She tried returning it all. No go. Since then she's become one of Juanito's regular visitors.
Sure, coincidences are known to stretch mighty far, but who's to judge a ghost story that actually cashes in?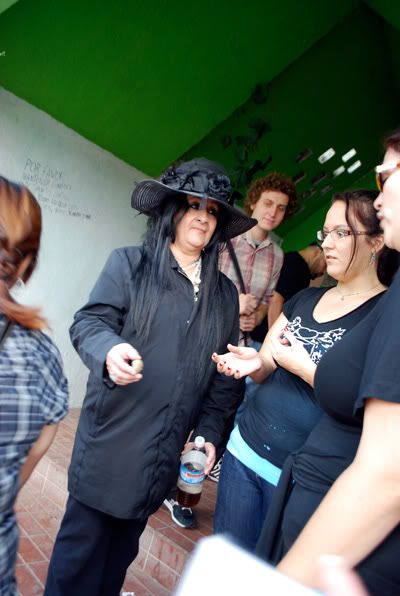 Next, over at the Gil family grave, came the story of Enriqueta. Tijuana's very own Juliet in the sense that she died for her Romeo, she was a rich girl who fell in love with a poor boy. When her father found out he locked her in her room, holding her captive for weeks until she stopped eating and drinking and eventually fell extremely ill. Pops offered to send her to Europe, buy her whatever, anything to make her well again. But her only want was the man she loved. Dad eventually conceded, but Enriqueta died shortly thereafter and was buried in what was to be her wedding gown.
Taxi drivers continue to tell accounts of picking up a young woman dressed in a wedding gown around midnight. She always asks to be driven to the cemetery and never says anything more. By the time the cab arrives at the graveyard and the driver turns around to collect, she's vanished.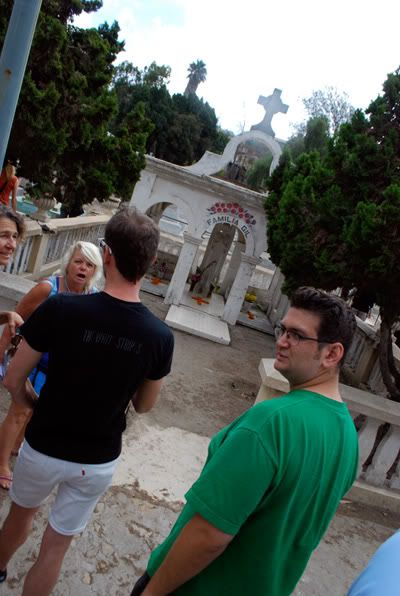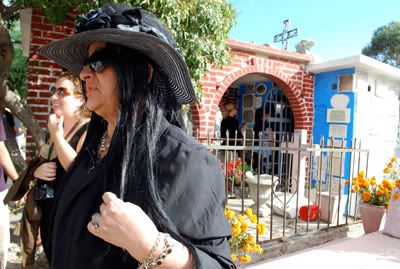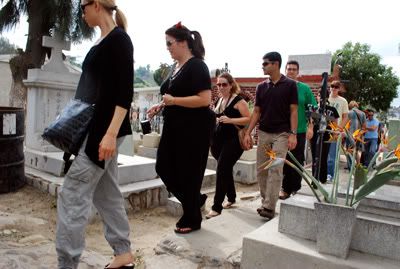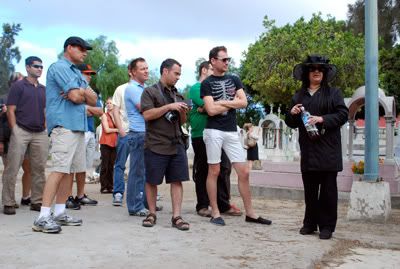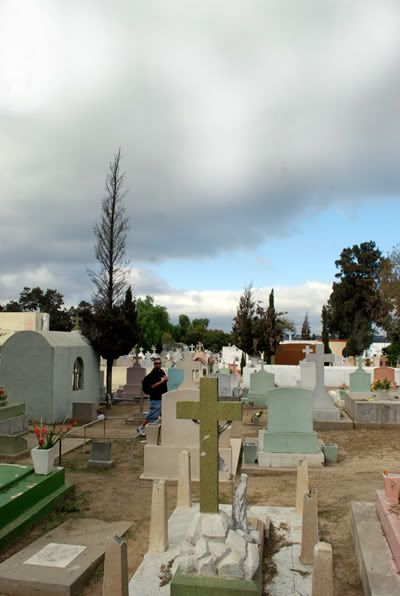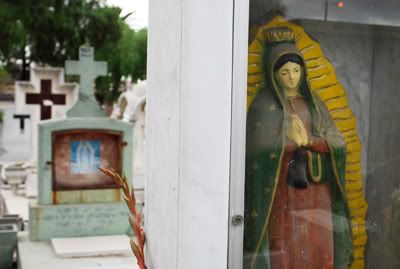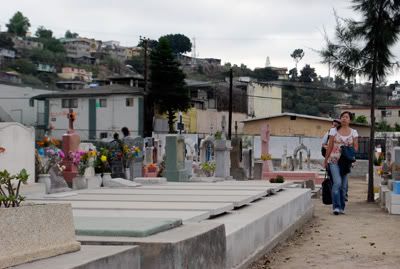 Afterward, the turistas chased the tales from the crypt with a botanica hop (the pharmacies of choice for Mexican mystics) at Mercado "El Popo" at Second Street and Avenida Constitucion, house of voodoo goods galore. Aerosol potions labeled "I dominate my man," "Anti-envy" and "Love honey." Bikini candles for trapping women. Juan Soldado and Santa Muerte miniatures. Ointments for hunchbacks and quick cash. Teas, pills, incense and candles to remedy life's most trying qualms. Problems the rest of the world would take to a priest or shrink.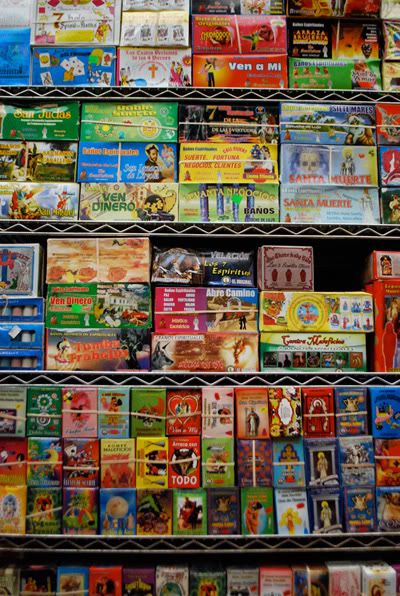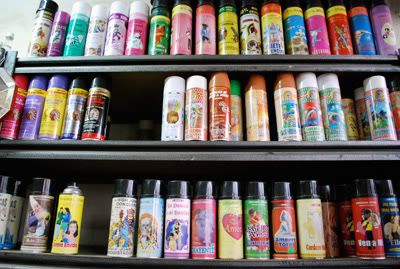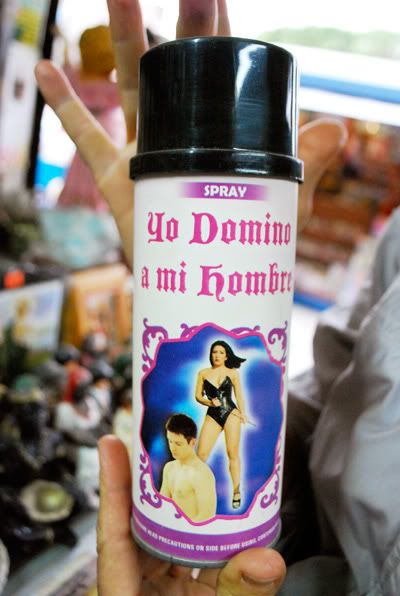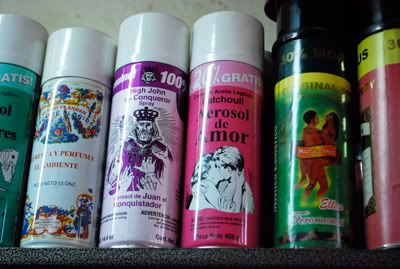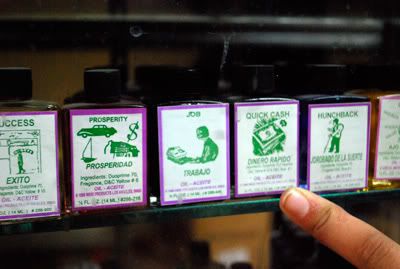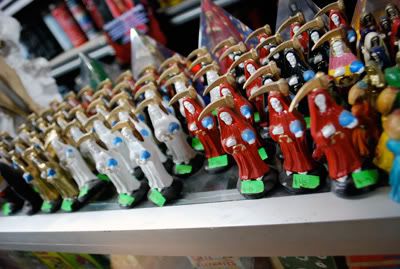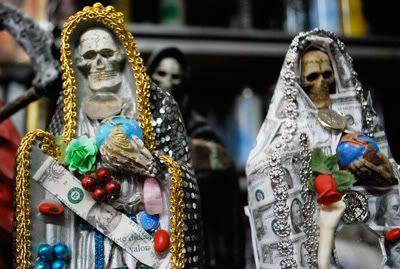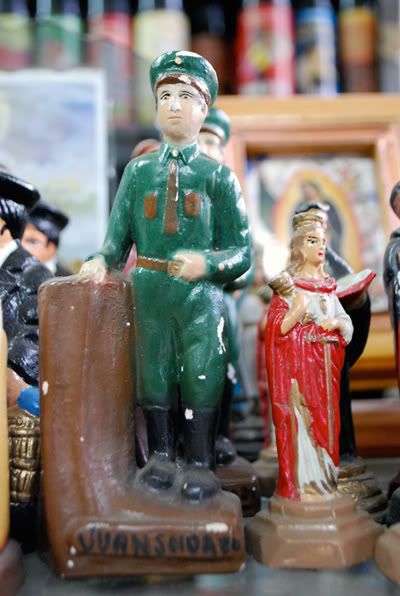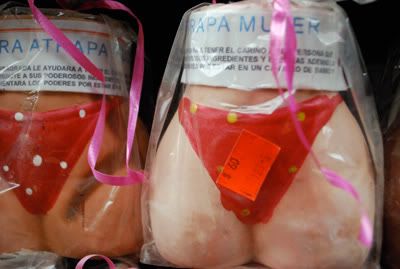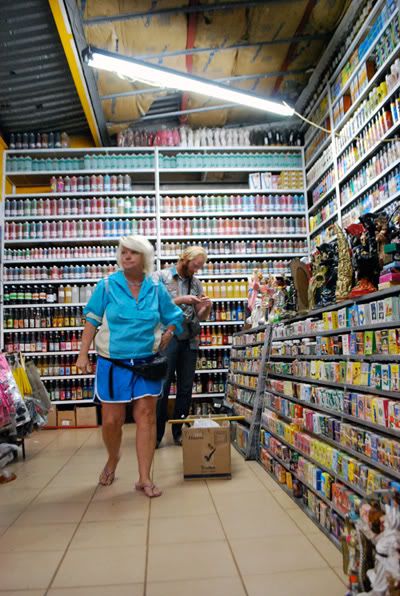 The six-foot statue of Death inspired a few Kodak moments, and before hopping back on the bus one turista managed to buy himself a copy of Mexican Playboy. And very proudly so.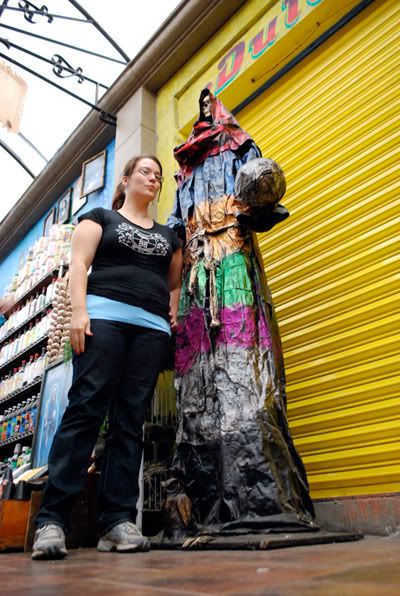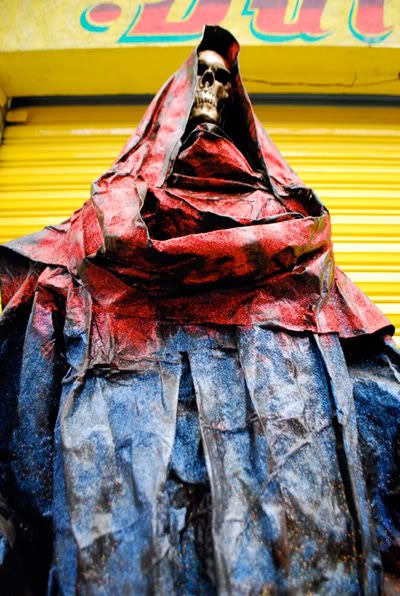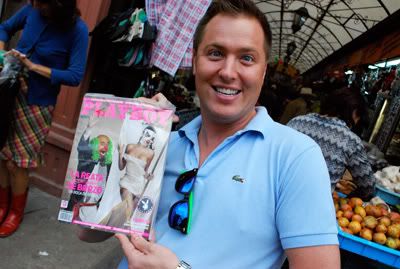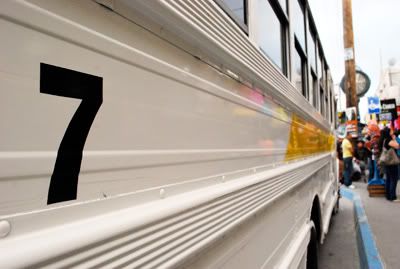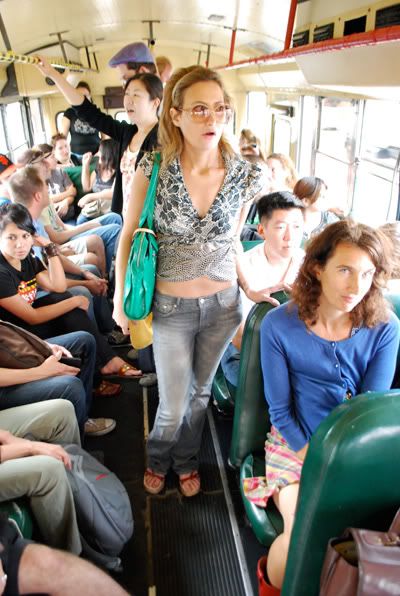 Next up was mole and arrachera pizza at
El Taller
, TJ's newest house of gourmet pies housed in an old screen-printing bodega in front of the old bullring ruins off Boulevard Agua Caliente.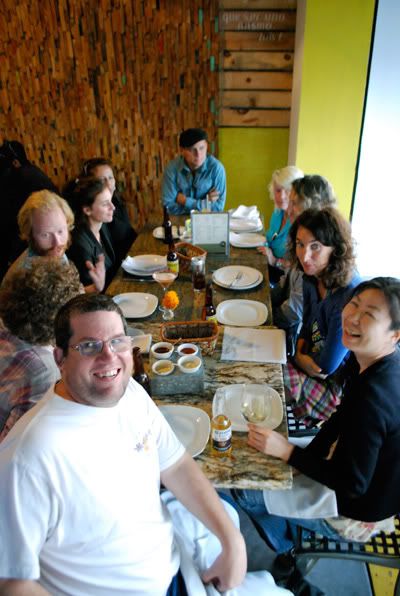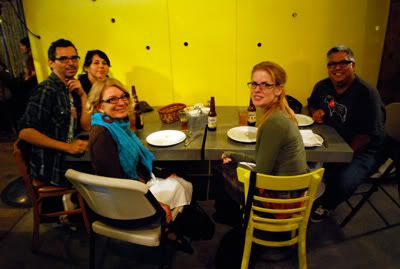 Then, keeping with the graveyard theme, we headed back downtown for a caguama nightcap at Panteon Del Taurino (The Bullfighting Cemetery) at Third Street and Negrete, a surreal dive that's been forgotten by time as well as the majority of town. Despite the fact that prime Saturday night drinking hours were well underway, the party consisted of three lone souls when we arrived. They were surprised for sure, but welcomed the unexpected herd of newbies from the north with free hugs nonetheless.
It's off the beaten path and on the other side of a door that you wouldn't exactly call inviting, one that many a corn-fed foreigner would most certainly fear to be the last he'll ever cross. So it's safe to assume that tonight was the first time flip cup had ever been attempted within PDT's walls. It just goes to prove that you can take the bro out of Gringolandia -- and occasionally all the way to Tijuana -- but Gringolandia is apparently for better or worse forever embedded in the bro.
Mil gracias to bartender Aguilar for his patience, multicultural tolerance of gabacho drinking games and all the extra plastic cups.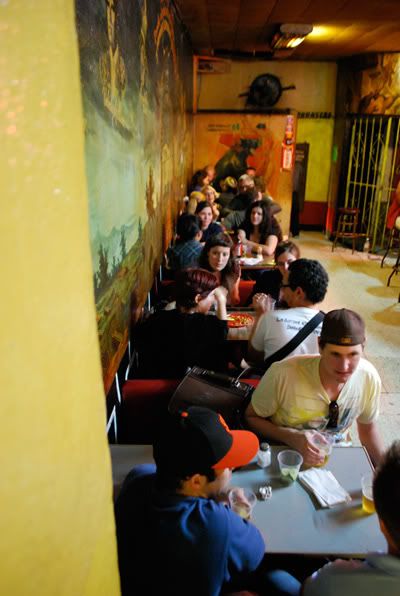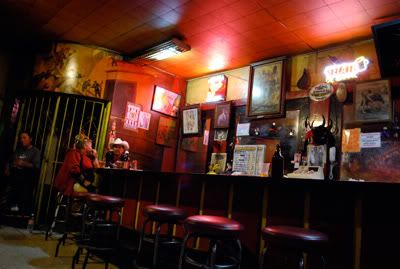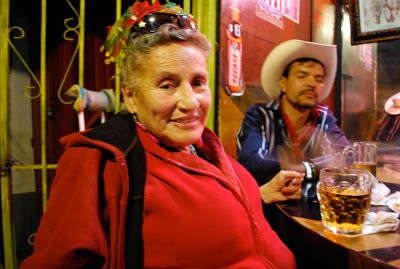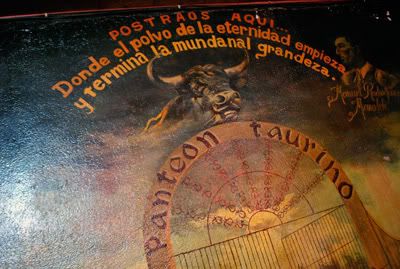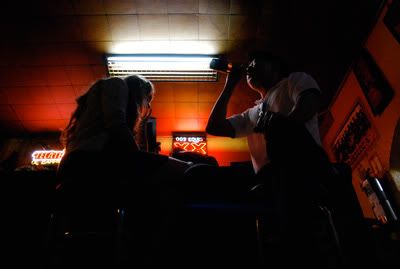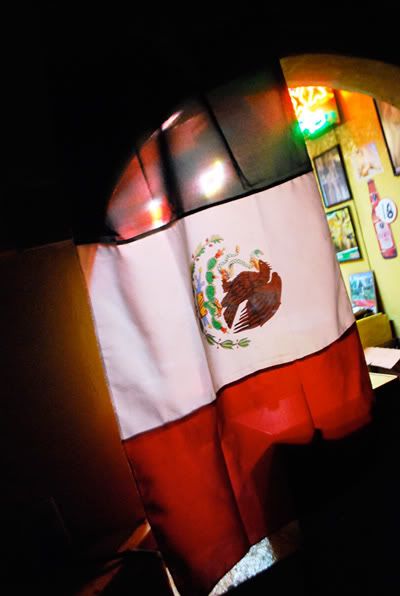 More photos.
More photos.
More photos.
More photos.
More photos.
More photos.
More photos.
More photos.
More photos.
More photos.
More photos.
More photos.
More photos.