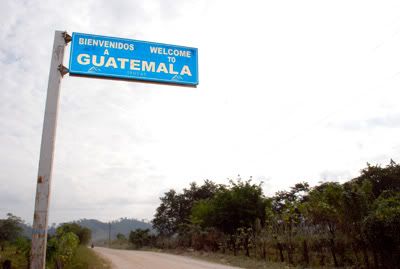 Twelve hours total on no fewer than four night buses left us in Tapachula, Chiapas, 30 kilometers or so from the Guatemala-Mexico border just shy of noon. The multitransfer ordeal was our fault for not mapping out the route before leaving Oaxaca. The rough plan called for a few days in Chiapas, Mexico's southernmost state, before crossing into Guatemala. But at the last minute the recessive smart genes kicked in and suddenly it made sense to head as far south as we had planned and work our way back to Oaxaca to catch our flight home.
A bus heading directly to Tapachula left minutes before coming to that decision.
We'd have gone to Guatemala in a fishing boat had the opportunity presented itself. Surely it would have been simpler.
Instead it was Pochutla to Huatulco to Salina Cruz to some other city whose name I can't remember -- all the while skimming the last rides of the day, praying we'd make it in time because Mexican buses seem to pull out of the station as many as 20 minutes ahead of schedule -- before boarding a bus headed for the border around 2 a.m.
Tapachula isn't technically a bordertown. But it's the closest major city to the border, so, being borderfolk, we figured information about how to cross and what to do once on the other side would be easy to come by in town. Once there we parked ourselves at an internet cafe across the street from the bus station to read up, only to find that info on the web is scarce. What's more, no locals seemed to know anything. No one in the bus station. No one in the internet cafe. No one in the restaurant with yet another toilet with no toilet seat where we ate scrambled eggs and beans for breakfast. Not even the name of the town on the Guatemala side of the river.
Tecun Uman
.
Despite their general disdain for Tijuana and the fact that most don't speak more than 10 words of Spanish, San Diegans at least know the name of the city immediately on the other side of the border and can point you in the general direction of the right train to take to get there. If anything, the absence of common knowledge suggests there's even less interaction between Mexican-Guatemalan border cities than their northern counterparts despite the fact they speak the same language.
Cross the Suchiate River in the north and your only option is actually by boat. More on that later. Cross in the south, at Ciudad Hidalgo, and you're in Tecun Uman, Guatemala, after a five-minute walk across a two-lane bridge.
A cab finally offered to take us to the river for 200 pesos ($17 or so), but knowing that was a ripoff we waited around on a corner for a collective taxi to pass by. Just a few blocks down from the bus station, we crammed into a Toyota van with 18 other people, three or four perched on after-factory jumpseats rigged into the aisle, and rode a half hour or so from Tapachula to Ciudad Hidalgo for 20 pesos a piece.
Setting out to cross the bridge into Guatemala, someone shouted from a nearby hut. A Mexican customs agent wanted to see our passports and visas. Foreigners traveling in Mexico need a tourist visa, which you can get at any port of entry for 260 pesos ($23 or so). It's good for six months. The actual visa is a passport-size piece of paper that bares the same dated stamp that goes in your actual passport. First you fill out your visa with a customs agent. He or she sends you with the visa to the neighboring bank to pay (there's usually a bank on site at Mexican ports of entry because government officials are technically unable to accept payment for anything). The bank gives you a receipt, which you take back to the customs agent next door to prove that you paid. They stamp your passport and visa card. And that's that. You're good to go in Mexico for six months.
I left my receipt at home. Because that's what you do with receipts. You leave them at home. But the agent at Ciudad Hidalgo swore my stamped, dated and signed visa was invalid because I had no receipt. Let alone the fact that his counterpart in Tijuana would have never stamped, dated and signed it had I not shown him my receipt. According to him, I would have to buy another visa that he would then immediately confiscate into his tinted, air-conditioned lair of red tape because tourist visas must be surrendered when leaving the country even if before the six months are up, and I would have to buy yet another visa when reentering Mexico from Guatemala. That's all nonsensical bullshit. But no matter how hard we tried to convince him as politely as possible what complete nonsensical bullshit this was, that never before has any official asked to see a receipt after my visa has been stamped and that it would have never been stamped in the first place had I not paid, he refused to budge.
So we stepped back, huddled and concluded that Mexico could technically do nothing to stop us from walking into Guatemala. If anything, the Guatemalan customs agent would send me back for not having a Mexican exit stamp in my passport, and I'd wind up having to pay up anyway. I had nothing to lose for now, and nothing to worry about until reentering Mexico in a few days. We tossed a peso to the bridge troll -- a metro turnstile -- and started walking.
In bordertowns, life immediately along the actual frontier tends to be at its most surreal and reckless. Walking into another country for the first time is often stressful and unnerving. What waits immediately on the other side, if you're not in the middle of the wilderness, is usually a mix of utter chaos comprised of poverty, crime, urban neglect, overpriced vendors, currency exchange traps, gullible tourists who have little idea in which direction they're looking to go and everyone else preying on said gullible tourists.
Walking into Tijuana, yellow cabs line up to charge obvious first-timers $6 or so to take them less than a mile to downtown. Meanwhile, a block away blue and white buses will do the same for 75 cents.
Ironically, amid the utter chaos exists the possibility for pockets of calmness. The few backstreets of Tijuana's overlooked Colonia Federal immediately south of the San Ysidro border crossing, home to some of the city's oldest residents, prove this much.
But after a certain amount of exposure, all this becomes normal. Natives often unintentionally overlook it altogether. But for transplants to Tijuana, the reality that you live perched on the edge of Latin America and its English-speaking counterpart never leaves the nest. Still, you wind up having to think twice to register the sights, sounds and smells that once upon a time were so otherworldly. Dented cars tangled in traffic, disregarding lane lines and stop signs. Fire jugglers and candy peddlers at traffic lights. Beggars shamelessly bearing their full catheter bags or elephantiasis limbs. The unmistakable blend of raw sewage, diesel exhaust and street tacos. All this becomes ordinary.
As residents of the otherworldliness that is the northern Mexican border, experiencing its southern counterpart was important to us.
Walking across the muddy Suchiate into Guatemala, tin-roofed lean-tos smothered the foreground. One had a new Mini Cooper parked out front. Black smoke sat heavily in the air. Down the river a way dozens of makeshift rafts were crossing people between the two countries illegally, blatantly. Later, back in Tijuana, I'd hear rumors about a wall going up on the Mexican side of the river, a project funded by none other than the U.S. government that would come as another hurdle for undocumented migrants headed north.
In the small office on the far end of the bridge, a Guatemala customs agent stamped my passport with no fuss. She must have noticed my missing Mexican stamp because she flipped through it for a while, looking and looking. The air conditioner was probably to thank for keeping the mood in the room light; outside it was easily in the 90s. But sugary words and toothy smiles saved the day, as we each paid our 10 quetzal ($1.50 or so) entry fee. Just make sure you get this stamped again before you leave Guatemala, she said.
Once officially in, every aesthetic of tiny Tecun Uman seemed only a slight shift from southern Mexico. The whole "same but different" phenomenon. Like deciphering middle American cities from their Canadian counterparts. Milwaukee and Winnipeg. But with all due respect the trio's lone Mexican attested to feeling a little closer to India. The swarms of bike taxis -- three-wheel carts rigged with shaded plywood seats in front -- ready and waiting everywhere surely inspired that comparison. Much of what filled Guatemala's first blocks -- small shops, restaurants and pharmacies -- was painted with the colors of the country's blue and white flag. Blue and white plastic flags crisscrossed the streets. Instead of Tecate and Indio were signs for Gallo, the Guatemalan national brew, and murals advertising Tigo cell service in lieu of Telcel.
We walked a bit while asking around for the bus station, huge backpacks calling attention to our already too pink faces like red flags dipped in red glitter and rimmed in red neon. For Central and Southern American migrants, this is the front door to Mexico, the last chapter in their odyssey to the U.S. It's not really a place that sees a lot of folks going the other way.
Succumbing to bad directions, maplessness and fear of running into the mara around the next corner, we finally took up a bike taxi's offer on a lift. A taxista who looked to be my age peddled my weight plus the weight of my overpacked bag a kilometer or so to the station before collecting his 30 quetzales ($3.75 or so). In a few minutes, I'd be on a bus headed to Antigua, the old capital seven hours away, shirt open, shoeless, sweating in the rain that poured through the roof vent above my seat, eating banana chips and drinking x-ray-treated water out of a plastic baggy sold to me by a six-year-old girl.