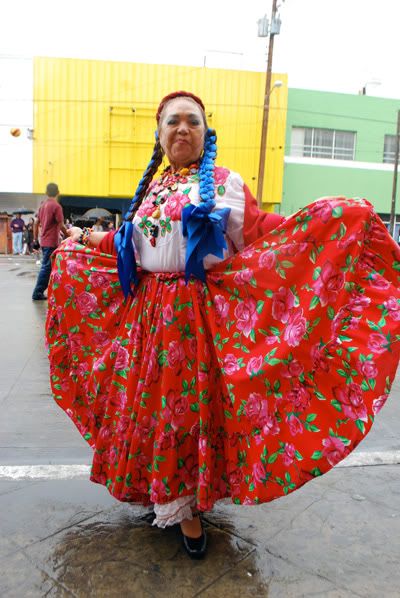 Cold rain, the early hour (8 a.m. on a Saturday, for real?) and a friend's Facebook status: "you don't
celebrate
the anniversary of a war" in which at least 1 million perished. That made for almost enough reason to blow off Tijuana's celebration of the 100th anniversary of the Mexican Revolution, Francisco Madero's uprising that ended Porfilio Diaz's nearly 40-year dictatorship in 1910.
But a parade's a parade, and rarely does a parade haul out the bells and whistles like a Mexican parade. Even though I didn't make it to the sidelines until 11, the people train still had a good three hours to go before calling it a day.
Starring were doñas dressed to the nueves, soggy beauty queens in the back of pickups, folkloric dance troupes atop semi trailers, buffed Mustang gangs, football teams from half the town's major high schools, rappellers falling from cranes, acrobats flipping over cars and through rings of fire below the old city building (which wound up dealing outgoing Mayor Jorge Ramos a mouthful of fire extinguisher fumes) and an impromptu speech by
La Maguana
, arguably Tijuana's most iconic street person, in which she more or less told Ramos and surrounding governmental goons to go fuck themselves.
Viva Mexico.