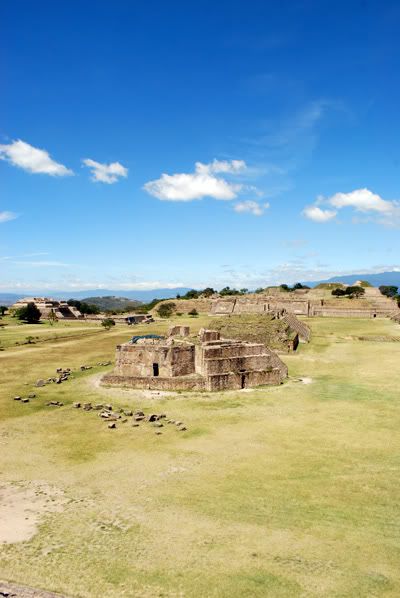 The plane that left Tijuana at 1:45 a.m. landed in
Oaxaca
at dawn. Thus began our three weeks in southern Mexico and Guatemala.
By 10 a.m., after ditching the backpacks at a hostel downtown near the 20 de Noviembre market, our gringo-paisa-gringo trio had made its way to the ruins of Monte Alban, 10 kilometers outside the city.
Some 600 pesos ($55 or so) left us with the keys to a yellow VW Crossfox, which is just a bit smaller than a Golf. Cute car. Almost too cute. Honey bee cute. Most certainly too honey bee cute. It's for sale only in Latin America anyway. Split between the three of us, renting a car wound up being about the same as seats on a guided tour that'd only leave us with an hour or two to roam around the remains of one of Mesoamerica's first cities.
Monte Alban is believed to have been uninhabited until 500 BC but by 300 BC was home to some 5,200 people and 17,200 by 100 BC. The Zapotec city thrived as the region's capital until around 1000 AD when overpopulation caused dozens of sects to split off and found their own autonomous cities, leaving Monte Alban abandoned until the arrival of the Spanish conquistadors in the 1500s.

Aside from the general impressiveness of having hauled in hundreds of thousands of blocks, the Zapotecs leveled the entire mountaintop to construct the city 400 meters above the valley. They included two ball courts and a maze of underground passageways, rooms, drainage and water storage systems.

Zapotecs commonly used head braces to flatten their foreheads for aesthetic purposes, and they were one of three early cultures to practice brain surgery. The sloped skulls with holes drilled into them are probably the most enticing reason to go into the small museum at the city's entrance. Those, plus a few carved stone tablets known as danzantes. They're portraits of prisoners, some of them ejaculating and others genitally mutilated. More than 300 have been discovered at Monte Alban, but most have been shipped off to other museums. Some of the actual ruins bear carvings, too, but they're few.

Ironically, locals have taped handmade anti-junk food posters to all the vending machines out front by the bathrooms. Modern-day danzantes, if you will. Neon-pink ones.

I'm not sure if it's because it was so early in the day or because it was a Thursday, but few people were wandering around Monte Alban that morning. For that I was thankful. In the rare occasion that I'm surrounded by pyramids, I'd really rather sit alone in what is essentially ancient urban rot and absorb the bittersweet impermanence of a fallen wonder.