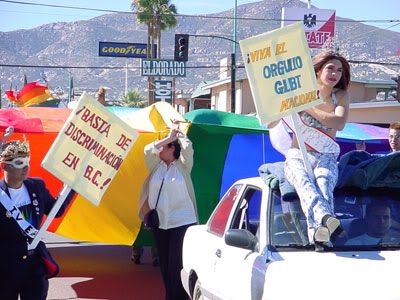 From
wockner.blogspot.com
:
Equality California Executive Director Geoff Kors has joined calls for municipal councils in Mexico's Baja California state to reject a state constitutional amendment that seemingly bans recognition of same-sex marriages.
Meanwhile, local LGBT activists are organizing marches on Oct. 16 in the U.S. border city of Mexicali, the Baja state capital, and on Oct. 24 in the border city of Tecate.
The unicameral state legislature, the Chamber of Deputies, voted 18-1 on Sept. 29 to amend the state constitution to seemingly prohibit recognition of same-sex marriages, despite the fact that the federal Supreme Court ruled this year that all 31 Mexican states must recognize gay marriages from Mexico City, where they are allowed.
The vote came on the final day that the right-leaning National Action Party (PAN) had control of the legislature. On Oct. 1, the left-leaning Institutional Revolutionary Party (PRI) took control of a majority of the chamber's seats, following elections that had been held in July.
The marches in Mexicali and Tecate will be combo pride and protest marches. Mexicali's march is Saturday, Oct. 16, at 3 p.m., starting at Avenida Colón and Calzada Justo Sierra. Mexicali sits on the California border 120 miles east of San Diego. Tecate's march is Sunday, Oct. 24, at 10 a.m. at Parque Central. Tecate sits on the California border 40 miles southeast of San Diego.
More info.
Photo: Rex Wockner