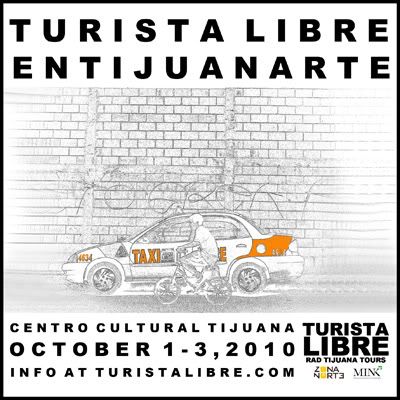 What's billed as the most important art festival in northwestern Mexico happens in Tijuana this weekend.
Celebrating its sixth consecutive year,
Entijuanarte
is three days of more than 250 visual, video, performance, theater and contemporary dance artists from Mexico, Argentina, Paraguay, France and the U.S., not to mention an expected audience of 60,000, outside
Centro Cultural Tijuana
.
Joining manos with borderland urban design label
Zona Narte
and intellectual property firm
MINK
, Turista Libre will present a nine-meter coloring book mural of iconic Tijuana cityscapes which festivalgoers will fill with words and phrases inspired by the theme "Forget the stereotypes. Tell your Tijuana." Think: super-sized paint-by-numbers meets open letter to the world's most misunderstood city.
October just so happens to be Turista Libre's first birthday, which calls for presents. For you. To commemorate a year of getting to know Tijuana like true tijuanenses, a FREE LIMITED EDITION TURISTA LIBRE T-SHIRT designed by Zona Narte goes to any turista who stops by throughout the weekend. Just stroll up and say, "Yo soy Turista Libre."
While we usually meet up at the border before diving into a day in Tijuana, this trek involves no official meeting time nor official meeting spot. Get to CECUT on Paseo de los Heroes in Zona Rio however, whenever you can. It's a five-minute, $5 (if even) cab ride from the pedestrian border crossing. Or a 15-minute walk. For anyone willing to cross the Taurus, there's plenty of guarded parking nearby, too.