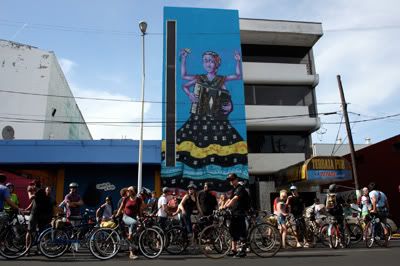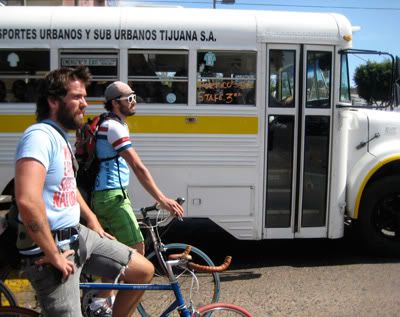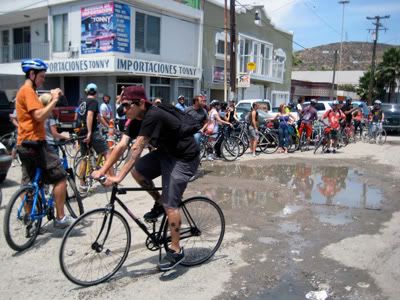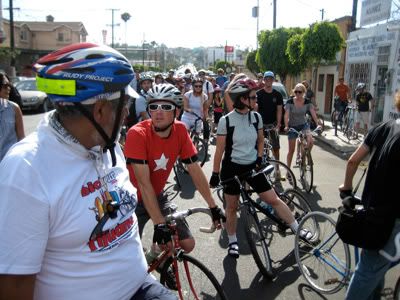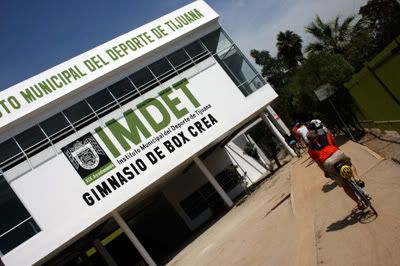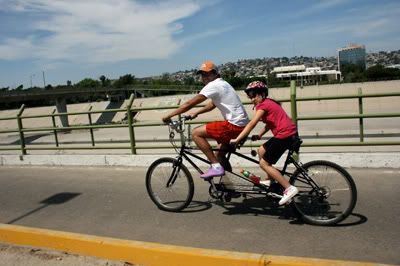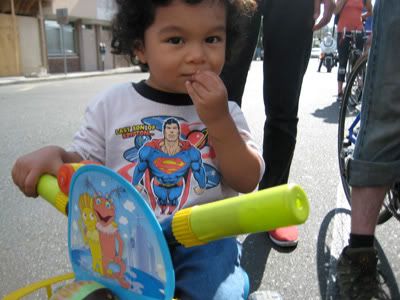 The ability to pedal your bike into another country is just one of the underrated perks of living in a bordertown. God only knows many hipsters would give up PBR for at least a month just to be able to Tweet, "Today I rode my fixie into Latin America." But it's something that the San Diego coolie clan undeniably takes for granted.
That said, Turista Libre teamed up with San Diego creative collectives
Sezio
and
Set & Drift
for a two-day, binational street art bike tour to coincide with the
Museum of Contemporary Art San Diego's "Viva La Revolucion" exhibit
.
Some 50 turistas from both the U.S. and Mexico turned out for the Tijuana leg on Saturday. The San Diego ride followed on Sunday.
The pack started in Colonia Federal with a misquoted line from "The Picture of Dorian Grey," painted by Tijuana artist Marcos Ramirez Erre: "The nineteenth century dislike of realism is the rage of Caliban seeing his own face in the mirror." (The original bit goes, "The nineteenth century dislike of romanticism is the rage of Caliban not seeing ... his face in a mirror.")
Next came a lap of the Transferencia houses, sandwiched by a pit stop at La Casa del Tunel art center. Sponsored by La Casa del Tunel, "Transferencias" is an urban intervention of residential exteriors by Tijuana artists Zacarias, Lizardo, Daniel Castellanos and Alfredo Gutierrez. The artists based their designs off the personalities and characteristics of each house's occupants as well as those of the entire neighborhood.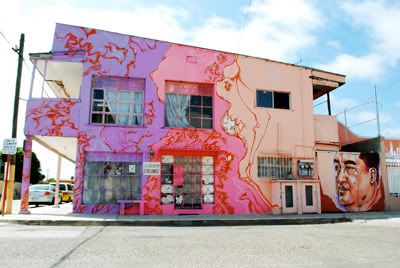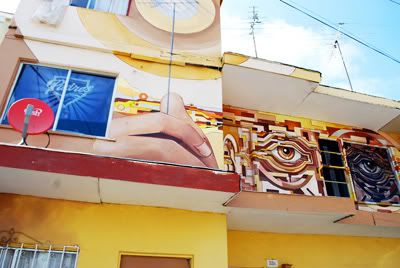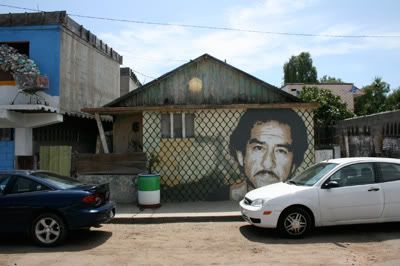 Before heading out of Federal we stopped by a pair of alleyway works by pirate muralist Poco Floro ("Poco Floro pirates and disseminates," one of the two reads). Then it was off to the rotulista (sign painter) oddities that cover the borderline underpasses: doubleheaded unicorns, aliens, clowns and what appears to be a true-to-scale blue whale. Tijuana businessman Jose Galicot first hired rolutistas before inviting artists like Victor Sandoval to continue the project.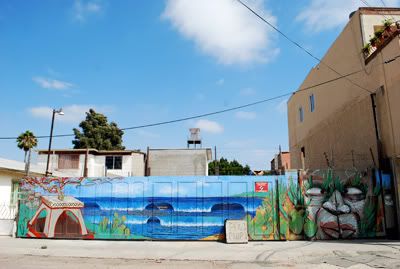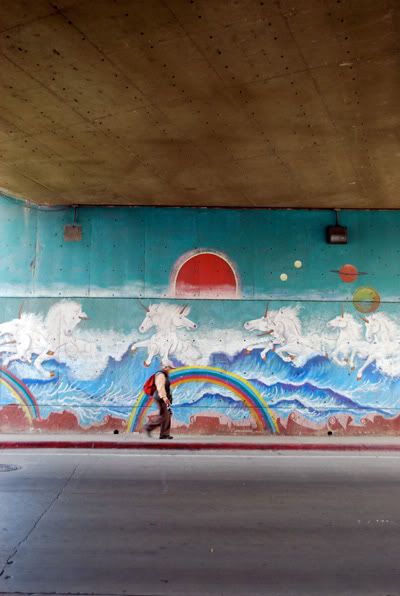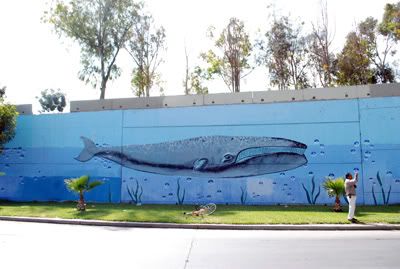 After pedaling through Tijuana's Municipal Recreation Center, the pack rode along the Rio Tijuana riverbank, where a giant love letter reads in Japanese, "Princess, I love you," thus proving
Google Earth has replaced the sea as the modern-day reciprocal for messages in bottles
.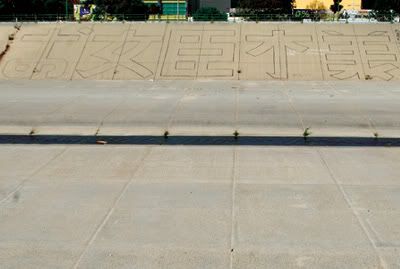 Moving farther into the city, we met up with
Reaccion Tijuana
in Colonia Marron. "Tijuana improves if its people do so," reads the organization's new five-panel mural at Boulevard Agua Caliente and Camino Nuevo, a joint effort with Universidad Autonoma de Baja California art students.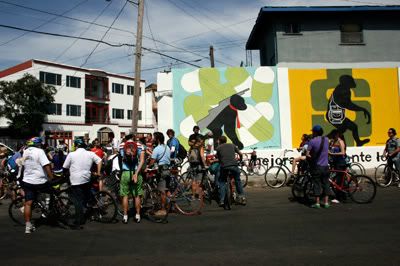 Downtown, Fidel-friendly propaganda towers over a mechanic shop on Ninth Street. Among its many slogans: "Mexico and Cuba are brother countries," "To defend Cuba from the American empire is to defend Mexico and Latin America," and, "Only the village can save the village."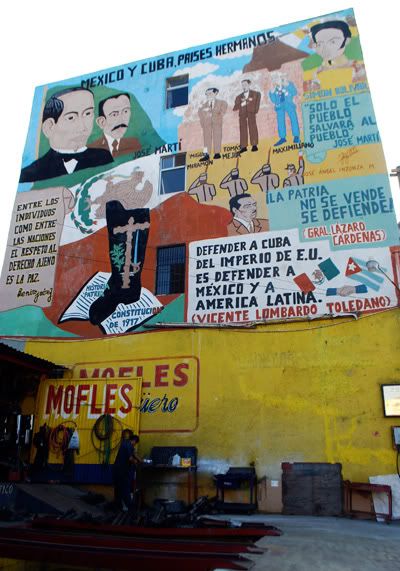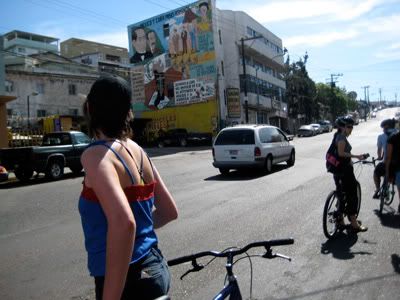 Stenciled graffiti marks the stairs on Fourth Street that connect downtown to La Casa de Cultura in Colonia Altamira, part of the "Heart of Tijuana" project by
Accion Social
. The political group says it aims to recover "trouble spots" in the city center by raising awareness via socially conscious graffiti.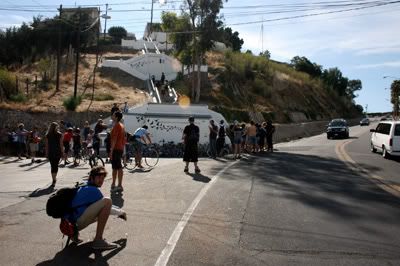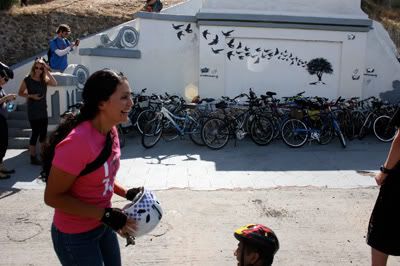 All along Sixth Street is a multiblock homage to native Baja California tribes Kumiai, Cucapah, Cochimies, Pai-Pai, Kiliwa and Guaycuras by Alfredo Gutierrez, Shente, Spel and Chorboogie, among others.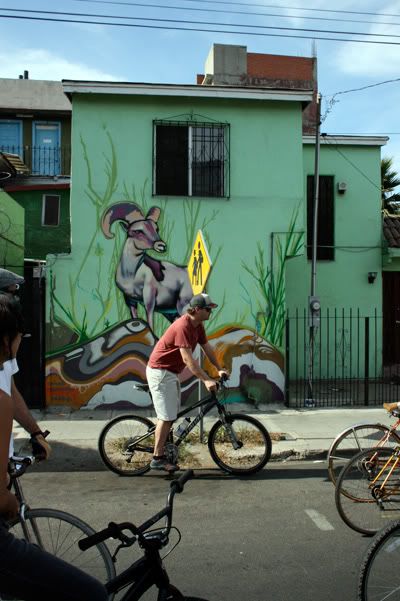 The ride came to a close at the 13-meter, Hindu-inspired Julieta Venegas mural by Néstor Mondragón and Israel Elizondo on Sixth Street between Constitucion and Revolucion avenues. The afterparty happened just across the street at Pop Diner, where shrimp and goat cheese burgers, fries and well-deserved beers were waiting.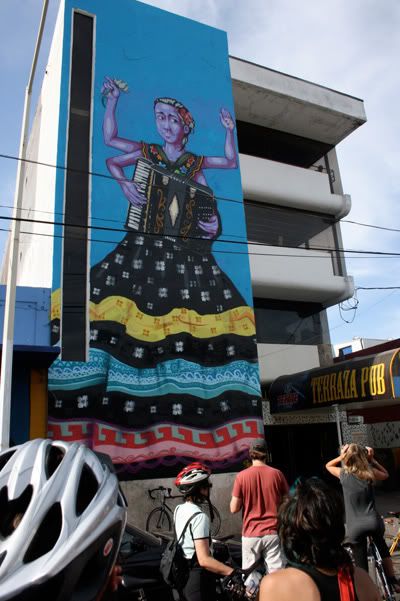 Photos of the San Diego leg at
sezio.org
and
setanddrift.org
.