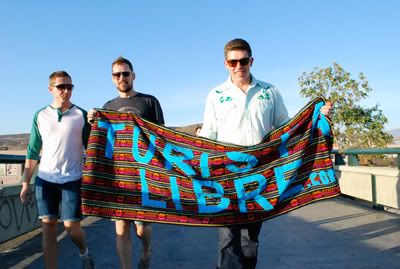 No Mexican summer would be complete without a night under the Big Top.
So, off to the wagon circle of fuchsia semi trailers in the vacant lot across the street from Mercado Hidalgo we went, most of us oblivious to the fact that to visit a Mexican circus (at least this particular Mexican circus) is to step into the ultimate fantasy of a Mexican tween girl.
One of the more popular traveling circus troupes in Mexico, Circo Rolex may be more famous for its daredevil acrobats in snug Marvel Comics superhero costumes than anything that would set off the PETA alarm. Google "Franccesco y Apolo" and see for yourself.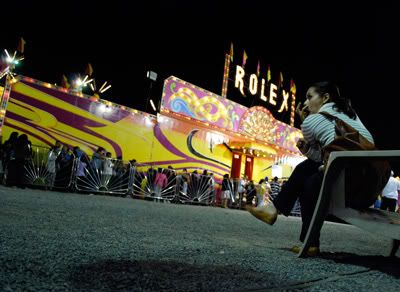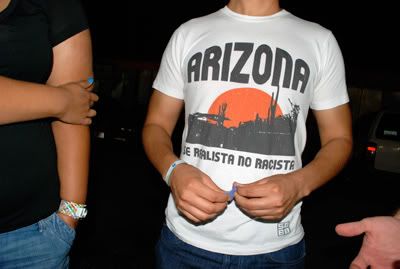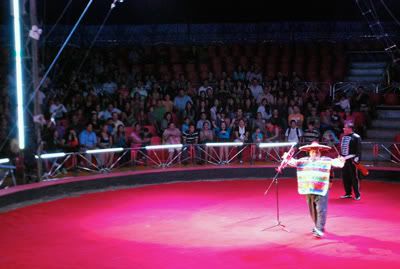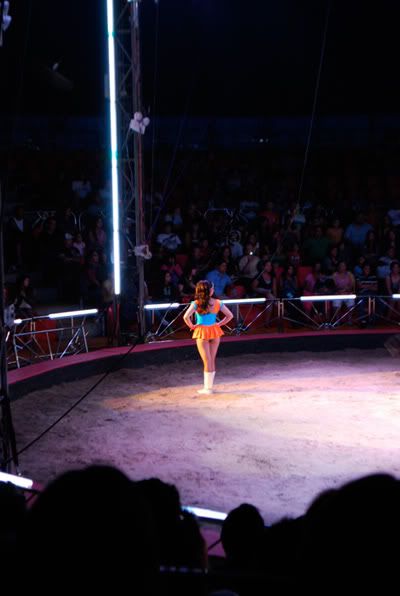 Franccesco, the show's star, is a 15-year-old, fourth-generation circus performer from Sinaloa. He debuted with Rolex as a clown when he was two. By seven he had become the only kid in the world, according to his bio at
franccesco.com
, to turn backflips on a galloping horse, which still part of the act. At 13 he won the Mexican reality show "Los Cinco Magnificos" and the little feathered-haired cherub was catapulted into official B stardom.
He wears a blue bodysuit, complete with red undies and a little midriff cape that goes as far as the small of his back, and goes by the alias "El Superboy."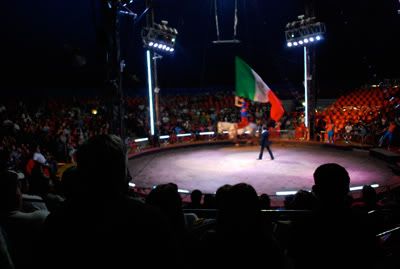 Apolo is a nalgon of a Colombian tiger tamer whose aviators match his goatee. His slogan says it all: "Domadores hay muchos, pero ninguno como Apolo." There are a lot of tamers, but none like Apolo. The flimsy lines between circus act and Chippendale strip tease bend like string cheese when he steps into the ring.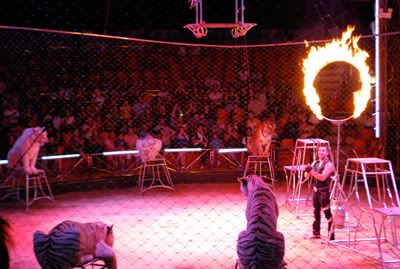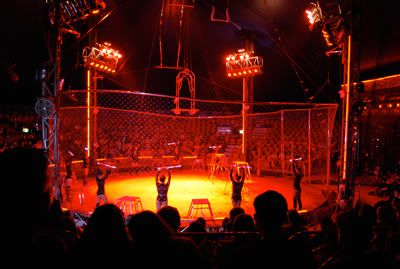 Other highlights of the two-hour spectacular that don't have to do with sexed-up jovenes: the trumpeter clown in sequined sombrero and serape and his apprentice Peter in sequined Chucks, who played Celine Dion's "My Heart Will Go On" on finger harmonicas. And, of course, when Dustin and Jason forked over 100 pesos for a horseback photo opp with Francessco at halftime.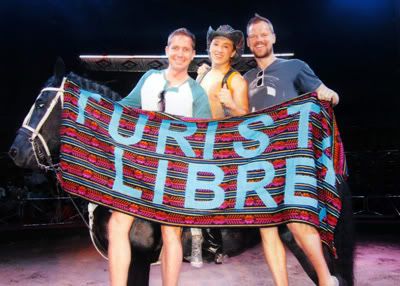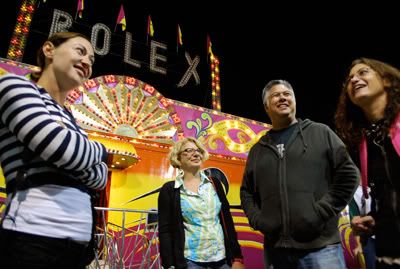 The evening's aperitivo en la calle took place at Tortas De La Sexta, a five-stool sandwich shack on Sixth Street. It's manned by Marcelino, who never tires in his quest to create the ultimate torta. He's currently perfecting some shrimp, beef and chipotle ordeal. But the true tortassieurs find it hard to veer from the house special: ham and lomo, a sort of marinated beef that's been roasting for God only knows how many hours and padded by bread so soft chewing really isn't a big necessity.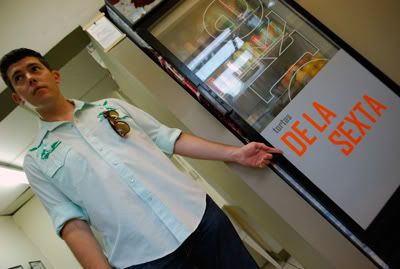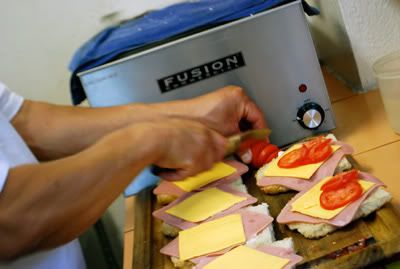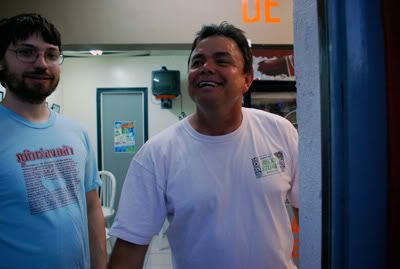 The turistas
fueled up for the show with beers at a bar also on Sixth that's dedicated to TJ's very own circus icon, the zebra (or better put,
a donkey in chintzy zebra drag).
Zebra Mexican Pub is
a sort of neo-iberobierhaus where bottles of Mexicali craft brew Cucapa fill wooden picnic tables, pink neon lighting washes the walls, something random like "Predator" is in the projector and a showdown between the U.S. and Mexico is always ready to go down over on the vintage foosball table.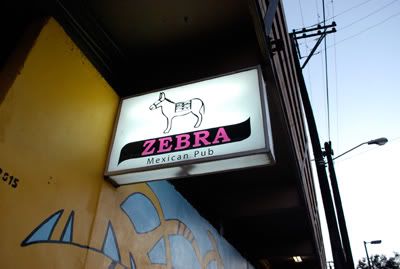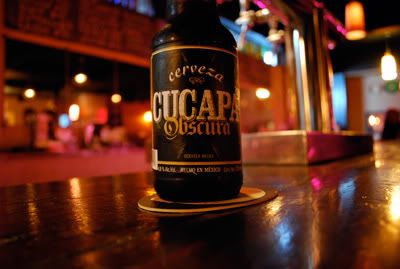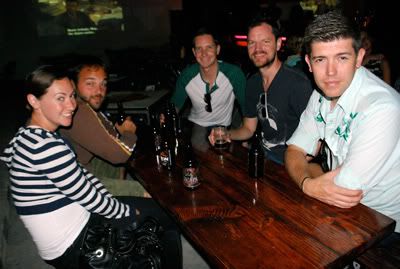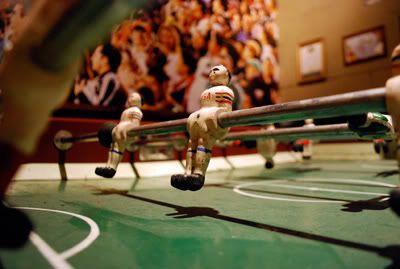 Afterward we wound down back on Sixth at Don Loope, where heavy goblets of TJ Beer eventually led to an intergalactic Italo disco dance party.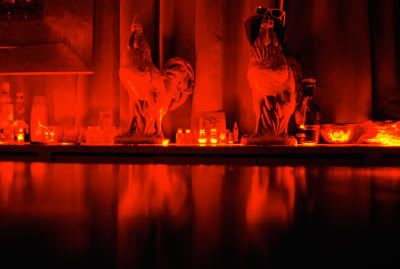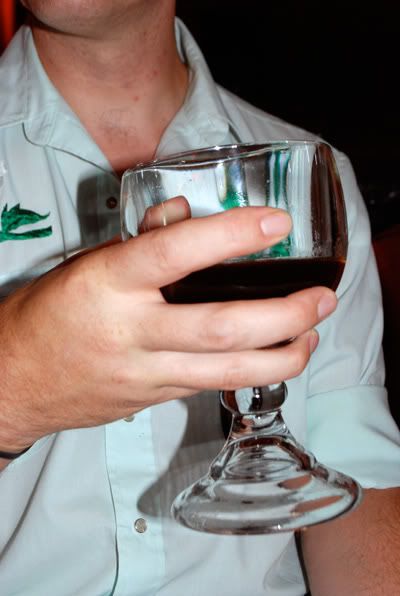 Then, at the unofficial after-after-party at Premier, the town's newest house of male strippers and freak drag on Revolucion under the arch, we befriended Paco. Fresh off the stage, Paco was wearing red fishnets on her arms, red and black striped hose and a mohawk wig made of neon orange pipe cleaners. When she heard where we'd spent the evening, Paco had some news.
"All those Rolex guys come in at least twice a week," she said.
Big surprise.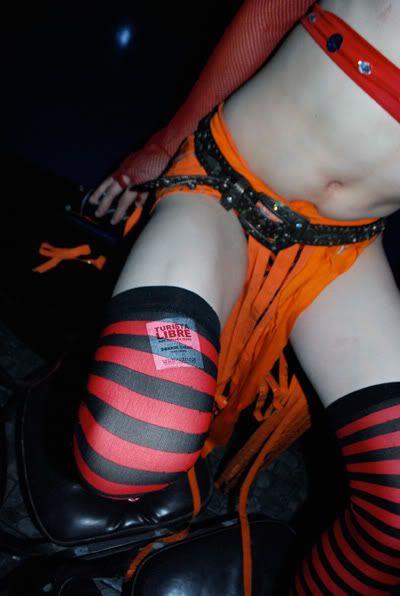 More photos here.