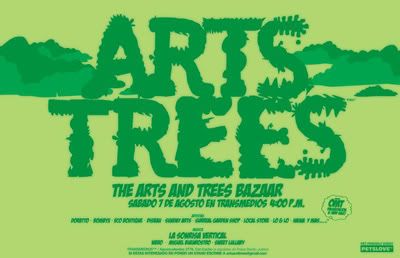 Transmedios Cafe's semi-secret back garden sets the scene for the third installment of Arts & Trees, a trunk show of clothes and crafts made by independent Tijuana designers happening Aug. 4. On the bill are Doratto, Miss Pantera Design (Mchcan), Bombyx Eco Boutique, Newborn Creations, Disbau, Colibri, Sunday Arts, Surreal Garden Shop, Local Store, Lo & Lo and Haina.
Yeah, it costs to shop, but the music's free:
La Sonrisa Vertical
,
Wero
, Miguel Buenrostro,
Sweet Lullaby
.
Any artist or designer wanting to sell, email artsandtrees@gmail.com.
More info.