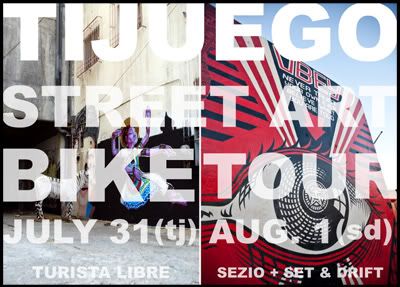 Join
Sezio
,
Set & Drift
and Turista Libre for a bicycle-powered Tijuego (Tijuana + San Diego) street-art photo scavenger hunt. All scavengers will get half-price admission to the MCASD exhibition "Viva La Revolucion" on Sunday, Aug. 1. The two most prolific photo collections uploaded to Flickr win memberships to MCASD and Sezio, plus a Victoria caguama from Turista Libre.
TJ ride // Saturday, July 31 // 1 p.m.
Meet at the gates on the south side of the pedestrian border crossing in Colonia Federal. After-party at Pop Diner.
Route map!
SD ride // Sunday, Aug. 1 // 11 a.m.
Meet at Urban Outfitters, Hillcrest by the OBEY mural. After-party at Super El Camino in Little Italy.
Route map!

We're encouraging all participants to document this ride, and the art we'll experience along the way. After the weekend, upload your photos to Flickr and email the set link to info@sezio.org. We'll choose two winning albums, one based on quantity of photos and one based on quality photos. Each winner will be granted a one-year membership to Sezio and to MCASD, along with gift certificates to El Camino and El Take It Easy.
Border Crossing Details
We recommend taking the trolley to the border. If you choose to drive, park at San Ysidro and cross through the first turnstile into Mexico. Walk down the promenade with a mural on the right and a row of official-looking teller windows on the left. Soon thereafter you'll come to a fork where you can keep going straight or turn right. Turn right, go through the second turnstile, and we'll be right there on the other side waiting for you.
Bike to the Museum Day @ MCASD
The SD Ride corresponds with Bike to the Museum Day at MCASD's downtown location. A free bike valet will be provided at the TNT location (across from the museum). Your bike valet ticket will be good for 1/2 price museum entrance and for a 2-for-1 drink special at the El Camino after-party.