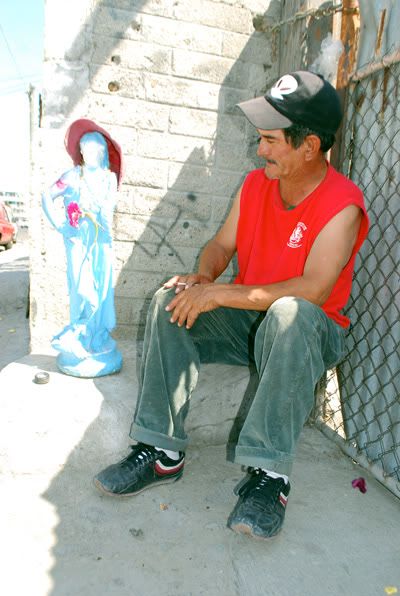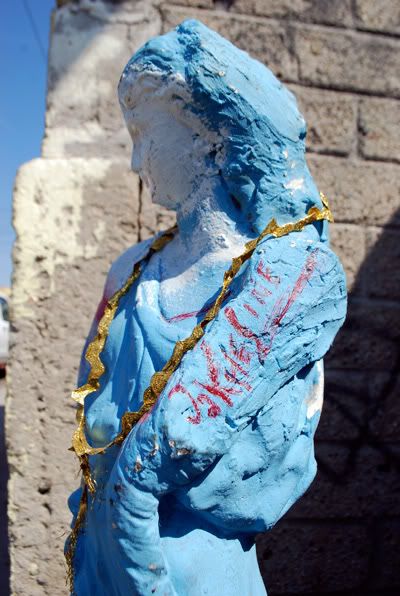 He was squatting in the midday shadows with a crusty paintbrush and a statue that he named after his daughter, Jacqueline.
Pockmarked and half blue with red eyes, she looked like something out of the first "Batman" movie, when the Joker trashes the Gotham art museum to the tune of Prince's "
Partyman
." Tattooed on her arm in red pen was "Jakheline." The colloquial spelling, obviously.
The scene on Pino Suarez was solemn, quiet, almost melancholic, heavy with paternal nostalgia. Jakheline is most likely somewhere far, far away. The displacement and division that globalization has caused Latin American families could make for an entire nation of statues like these.
But then again, who knows. Maybe Jakheline isn't in some far-off place, still stuck in El Salvador or cleaning houses in South Dakota. Maybe Jakheline actually lives in Los Angeles, but dad has no papers to cross the border. Or maybe she's just down the road, but Jakheline's mom -- inspired by who knows how many Paquita la del Barrio songs -- threw Jakheline's dad's drunk, cheating, jobless ass to the curb a decade ago, and now Jakheline won't have anything to do with him. That's not my business.
Regardless, Jakheline, en donde seas, deberias saber que tu papa te ama.
"She's gonna make me famous!" he announced when the camera came out. What really mattered to Jakheline's dad was that someone noticed long enough to stop and take a photo, probably the pair's first.