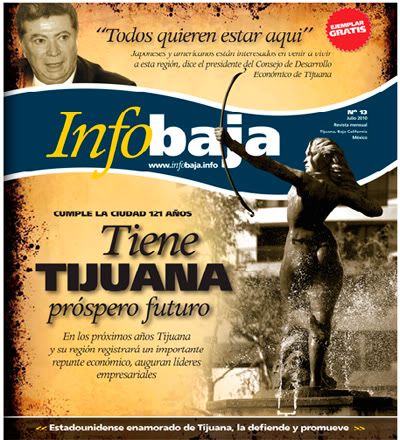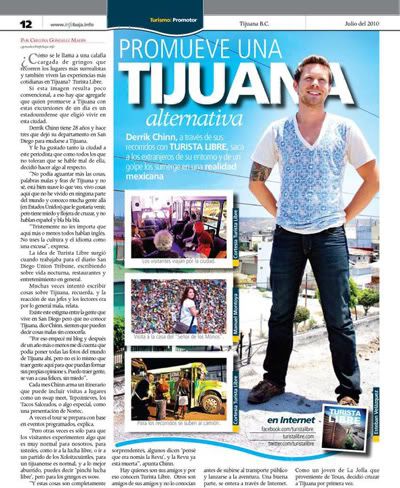 Local monthly news magazine
Infobaja
dedicated its July issue to all that Tijuana has to celebrate on its 121st birthday, with stories about tijuanenses making a positive impact around the world, the tale of entrepreneurial wunderteam Gonzalez-Fernandez leading the Sixth Street revival with places like Pop Diner and a couple pages dedicated to Turista Libre, too. Cristina Gonzalez Madin's piece is the first to mention the Tijuana alternatourism project in the Mexican media. Here's the first chunk translated:
"What do you call a short bus full of gringos that go to the most surreal places and also live the most everyday experiences in Tijuana? Turista Libre.
"If this image seems a little conventional, it's because the one promoting the city with these day trips is an American who chose to call this city home.
"Derrik Chinn is 28 and it's been three years since he left his apartment in San Diego to move to Tijuana.
"And the journalist likes the city so much that he, like everyone else who can't stand people talking bad about her, decided to do something about it.
"'I couldn't take the ugly, bad words about Tijuana and, I don't know, it's really sweet what I see. I experience things here that I haven't experienced anywhere else in the world and I know a lot of people in the United States that would like to come but they're afraid and don't want to deal with the hassle of crossing the border, and they don't speak Spanish and blah, blah, blah.
"'Sadly it doesn't matter to them that everyone here more or less speaks English. Don't use culture and language as an excuse,' he says.
"This stigma exists between people who live in San Diego but don't know Tijuana, says Chinn, they feel they can say bad things without knowing the city.
"'That's why I started my blog and after a year or so I realized that I could put all the photos of Tijuana in the world on there, but it's not the same as bringing people here so they can form their own opinions. I can bring people, they go home happy and not afraid.'
"Every month Chinn prepares an itinerary that can include visits to places like a swap meet, Tepoznieves, Tacos Salceados or something special, like a Nortec concert.
"Sometimes the tour is prepared based on scheduled events, he explains.
"'But other times it's only so that the tourists experience something that is very normal for us, for you, like going to a lucha libre match or to a Xoloitzcuintles game. For a tijuanense it's normal, and maybe boring. You can say, 'damn lucha libre,' but for a gringo it's 'wow.'
Read it all (in Spanish) on page 12 here.