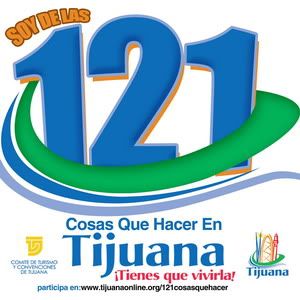 In honor of Tijuana celebrating its 121st birthday this month, the Tijuana Committee of Tourism and Conventions came up with a list of
121 things to do
in the city. It's a lot of eating, drinking, strolling and Kodak moment making. But hey, that's typical tourism for you. Even in atypical Tijuana, whose essentials also apparently include visiting "one of the city's internationally acclaimed ophthalmologists, dentists or plastic surgeons" and buying duty-free perfume.
Prove you did all 121 by August 10 and you're entered to win 20,000 pesos' worth of prizes.
Here's the list in English. And a
Google map
.
1. Take a photo with one of the famous zonkeys on Avenida Revolucion.
2. Try the six types of beer at Ceveceria Tijuana.
3. See a movie on the IMAX screen at CECUT.
4. Visit the 13 destinations on the City Tour route.
5. Bet on a greyhound race at the Caliente Casino.
6. See a bullfight at Plaza de Toros Monumental in Playas de Tijuana.
7. Enjoy "Angel Kiss" ice cream at Tepoznieves, home of all-natural "casero" style ice cream.
8. Eat a cactus salad at la Diferencia, one of the city's best gourmet Mexican restaurants.
9. Buy a piñata in Mercado Hidalgo.
10. Play a round of golf in front of the sea at Real del Mar Golf Resort.
11. Spend a night in a Tijuana hotel or motel.
12. Try a local custom: a coconut with chile and lime at the beach.
13. Eat a spicy shrimp taco at El Mazateño taqueria.
14. See an exhibit at El Cubo, the new public art gallery.
15. Visit the wax museum, one of only two in Mexico.
16. Check out the best Mexico makes in embroidery and guayabera shirts at Hand Art on Avenida Revolucion.
17. Eat a molcajete at Los Remedios.
18. Enjoy a concert at El Foro/Palacio Jai Alai.
19. Take a yoga class and then have lunch near the ocean at Yogurt Place, a restaurant and yoga studio in Playas.
20. Be a kid again at El Trompo Interactive Museum.
21. Eat at Tacos el Gordo, a famous local taqueria with locations in San Diego, too.
22. Eat a torta at Tortas Washmobile, one of the city's oldest food stands.
23. Taste a slice at Pastel de Crepas de Tijuana, in Rincon San Roman, founded by one of the
most famous chefs in Tijuana.
24. See a Xoloiztquintles soccer game at Caliente Stadium.
25. Eat beet carpaccio and blue cheese at La Querencia restaurant, home of Baja-Mediterranean cuisine.
26. Eat grilled octopus, the speciality of the house at Villa Saverios, a Mediterranean fusion restaurant that was established more than 20 years ago.
27. Savor Baja California wines at L.A. Cetto wine bodega and tasting room.
28. Try a new way of drinking beer with Clamato at Hipodromo Clamatos next to Caliente Casino.
29. Go to the Artisans' Market and buy a jarron de barro water jug made of clay, and taste the delicious flavor the jug gives the water.
30. Eat a taco of your choice with one of the gourmet salsas at Los Salseados.
31. Stop for a game at Baja Paintball, on the road to Rosarito.
32. Play pool at Pockets, a new sports bar.
33. Dare to sing a song at Cafe del Mundo karaoke bar.
34. Go bowling at Bol Bol.
35. Try dulce de leche ice cream at Argelato.
36. Take a photo at the Tijuana arch monument, a symbol of the link between Mexico and the United States, located on Avenida Revolucion.
37. Enjoy live music, a cup of coffee and the view of the sea at Cafe Latitud in Playas de Tijuana.
38. Take a yellow taxi on Avenida Revolucion and get to know Tijuana without the stress of driving.
39. Drink a beer at Dandy del Sur, a typical bar located at Sixth Street and Avenida Revolucion.
40. See a mime show at Plaza Rio mall on a Sunday afternoon.
41. Enjoy a Mexican breakfast at El Potrero, a restaurant shaped like a sombrero on Boulevard Agua Caliente.
42. Fill yourself with culture and contemporary art at an exhibit of Baja California artists at La Caja gallery.
43. Try Chinese food at any of the city's Chinese restaurants.
44. Relax with a massage at Vivamex Day Spa.
45. Take a photo at the Diana Cazadora statue in Zona Rio.
46. See a contemporary dance performance at Lux Boreal.
47. Eat paella and other Spanish dishes at Chiki Jai on Avenida Revolucion.
48. Check out the work of talented artists both Mexican and international at Entijuanarte.
50. Visit the Tijuana cathedral, where you'll be able to appreciate the traditional architecture of New Spain.
51. See a Baja California Symphonic Orchestra concert in CECUT.
52. Get some exercise with a bike ride on the Rio Tijuana bike path.
53. Visit Mariposario Le Papillon, a butterfly preserve on Boulevard 2000 Poblado Cueros de los Venados.
54. Order a caramel "Frapuccinode" at DeVolada, Tijuana's first coffee chain.
55. Observe the 62 pieces by the famous Mexican painter Raul Anguiano in the Palacio de la Cultura.
56. Eat a real caesar salad at Hotel Cesar, where the famous dish was invented.
57. Hear live mariachis from your car at Plaza Santa Cecilia.
58. Take a photo with Frida Cowlo from Cow Parade 2008, on display at the Anador Peatonal on the Mexican side of the pedestrian border crossing between San Ysidro and Tijuana.
59. Try the delicious chilaquiles at La Espadaña in the restaurant district.
60. Enjoy the view from La Casa de Cultura one of the most beautiful Spanish style buildings.
61. Visit the grave of Juan Soldado, a Mexican soldier who is now revered as a saint.
62. Make your mouth burn with Tacos Gobernador at Los Arcos restaurant.
63. Go jogging at CREA, a public sports complex where athletes from all over the world come to practice for marathons.
64. Hop on the tourist train to Tecate.
65. Visit the zoo in Parque Morelos.
66. Ride go-carts or play mini golf at Mundo Divertido.
67. Enjoy Brazilian food at Pampas Do Brasil.
68. Go for a stroll along the lake in Parque de la Amistad.
69. Visit the Tijuana Fair in August and September, a traditional fair that celebrates Mexico's independence with singers and artists from all over the country.
70. Take some time to enjoy a delicious slice of cake in Cafe de la Flor.
71. Enjoy the unique architecture of the Torre de Tijuana and later visit the athlete hall of fame.
72. See lucha libre in the municipal auditorium.
73. Buy an authentic lucha libre mask downtown.
74. Try an exotic red apple martini at Cheripan restaurant.
75. Visit one of the city's internationally acclaimed ophthalmologists, dentists or plastic surgeons.
76. Take a photo on the boardwalk in Playas.
77. Play racquetball in the new Club Rio Racquetball.
78. See the best of Mexican artisanship on Avenida Revolucion like leather goods, talavera pottery, Oaxacan alebrije figures, fine silver and stained glass.
79. Visit Tinta Distinta, a tattoo studio that started the international tattoo expo in Tijuana.
80. Smoke a cigar in Casa de Habano on Avenida Revolucion.
81. Enjoy a traditional Baja California fish taco at Tacos Jr.
82. Have fun at the Patines de Plata roller rink.
83. Take a photo with Abe Lincoln on Paseo de los Heroes, a gift from the U.S. government.
84. Pair your tequila with live mariachis at La Vuelta restaurant.
85. Observe the Moorish architecture at El Foro/Palacio Jai Alai.
86. Invent your own dance moves at one of the many dance floors at Las Pulgas.
87. Play dominos in Bar Ruben Hood on Boulevard Agua Caliente.
88. Enjoy the ocean view on the freeway between Tijuana and Rosarito.
89. Buy traditional candies at Mercado El Popo.
90. Enjoy Cuban trova music and have a bohemian night at El Lugar del Nopal,
91. Enjoy one of our artistan wines at Vinos G Salinas.
92. Take a photo of the Minarete Tower, an architecturally unique piece on Paseo de los Heroes.
93. Visit the Hope Monument that's located in the Otay industrial zone.
94. See a movie in any one of our cinemas.
95. Learn more about the city's history in the archives at the Palacio de la Cultura.
96. Try mescal in La Mezcalera.
97. Try a delicious croissant with a cafe au lait at Cafe Francais.
98. Enjoy a coffee, an independent film, an art exhibit and concerts at Casa de la 9 art cafe.
99. Swap opinions with local artists at alternative art spaces Casa del Tunel and Lui Velasquez (now closed) in Colonia Federal.
100. Visit the Museum of the Californias at CECUT and learn more about the history of Baja California.
101. Buy duty free perfume at Saras London on Avenida Revolucion.
102. Take a photo of Christ of the Alamos, located on the top of the hill, with a view of the whole city in Colonia los Alamos.
103. Enjoy the urban and culture environment at Callejon de la Sexta.
104. Enjoy Opera en la Calle in Colonia Libertad.
105. Take a photo in the Centro Comercial Galerias Hipodromo mall.
106. Delight your palette with a typical Mexican beverage, an artisan tequila, at the Tequila Expo in October.
107. Sign up for a sports class at the Centro de Alto Rendimiento.
108. Come and sing "Happy Birthday" to our beautiful Tijuana at Palacio Municpal.
109. Visit Zona Norte and its nightlife spots.
110. Play to the rhythm of the water fountain in Macro Plaza.
111. Visit the Artisan Expo, an event with an important display of artisan work from the entire Mexican republic, in April.
112. See a "Vale Todo" fight, a 100 percent extreme sport with a lot of adrenaline.
113. Take a photo at the "Mojonera" icon that divides Mexico and the U.S. in Playas.
114. Delight your palette with a delicious tea en La Casa del Te art house in La Cacho.
115. Taste a delicious mojito in Bar La Habana at Real del Mar hotel.
116. Take a photo at the giant Mexican flag in Colonia Morelos.
117. Go for a moonlit stroll on the beach in Playas.
118. Enjoy a piece of delicious bread from La Panaderia la Mejor.
119. Enjoy a historic walking tour downtown on a Sunday.
120. Take a photo at the Monument of the Two Californias.
121. Get your "Be a Tourist in Your State" card and get discounts from participating stores.