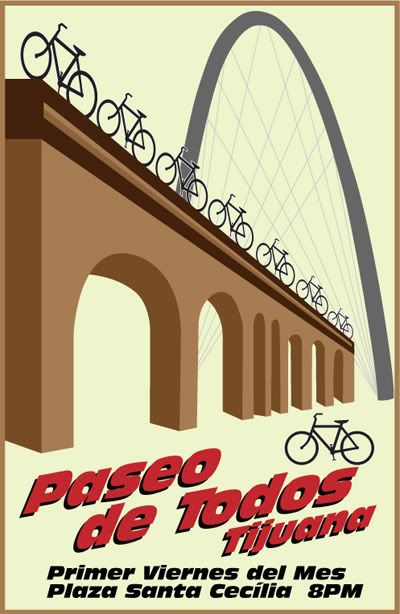 I could just be overly anxious in assuming that I'm seeing more and more 10-speeds traveling alongside cars downtown, but it seems like bicycle culture is really catching on in Tijuana. The first round of the monthly "Paseo de Todos" fun rides pedals out from beneath the Clock Monument at 7:30 p.m. Friday, July 2.
Looking to prevent this from becoming another installment of the infamously reckless Critical Mass, organizer Arturo Viazcan has thrown down Miss Manner's dream list of ground rules on the event's
Facebook page
.
"
Avoid shouting slogans that can attack the integrity of persons. Avoid littering the streets.
Avoid drugs and alcohol during the trip."
The don'ts stop short of "no riding through airport terminals," an oh-so fond memory of a recent San Diego Critical Mass. But Critical Mass antics are destined to happen on the last Friday of the month anyway. This is the first Friday. So no assholisms, people.
Viazcan's group also pulls out of the CECUT at 3 p.m. the first and third Sundays. A ladies-only ordeal departs the JumboTron side of CECUT at 7 p.m. Mondays. And yet another ride leaves from the Abraham Lincoln statue in Zona Rio at 7 p.m. Thursdays.
Specifics for Friday's Tour de Tijuana:
route map,
Facebook page.