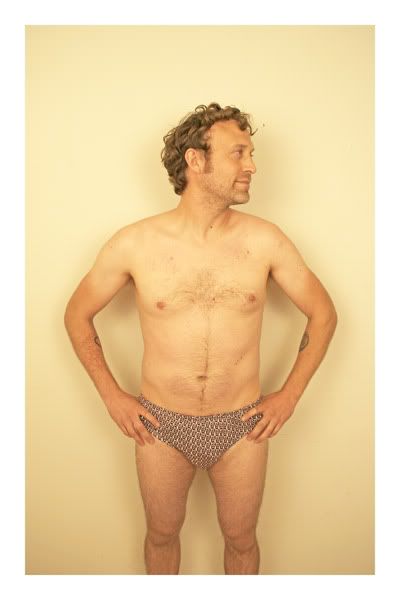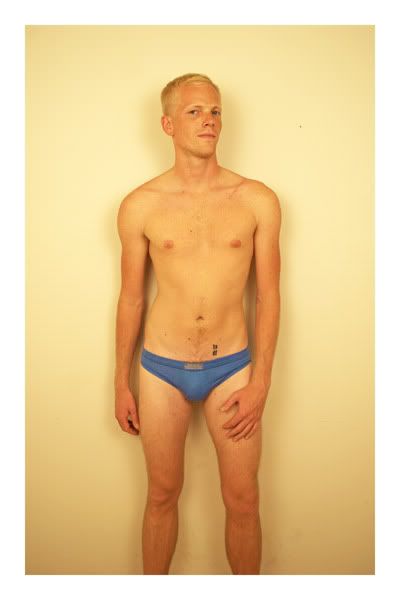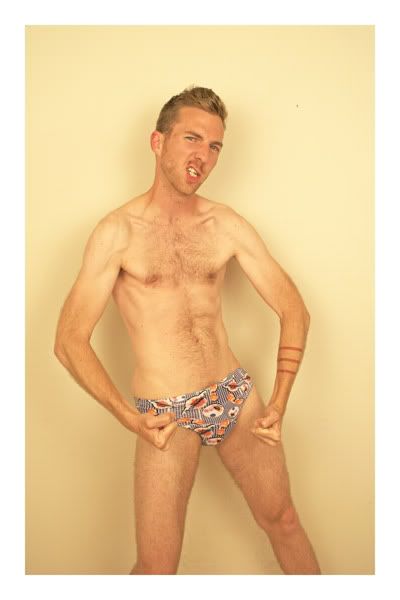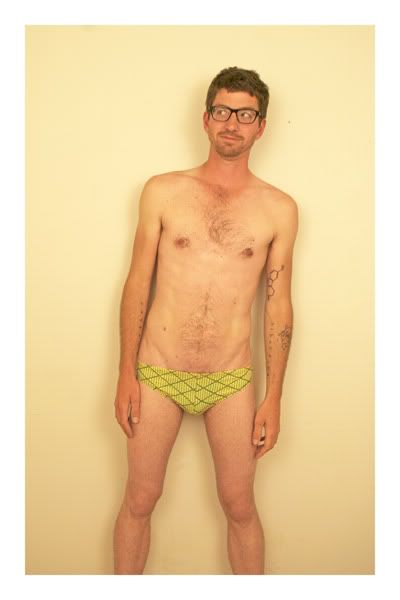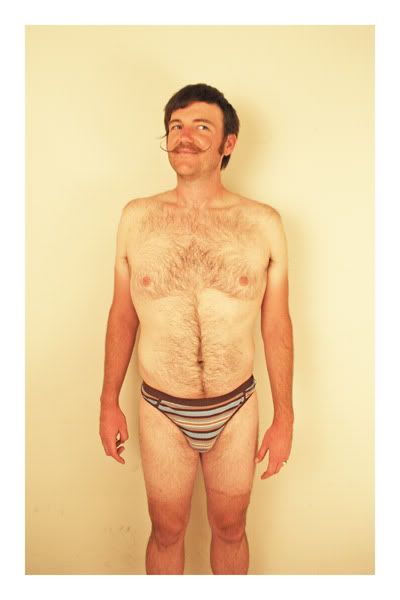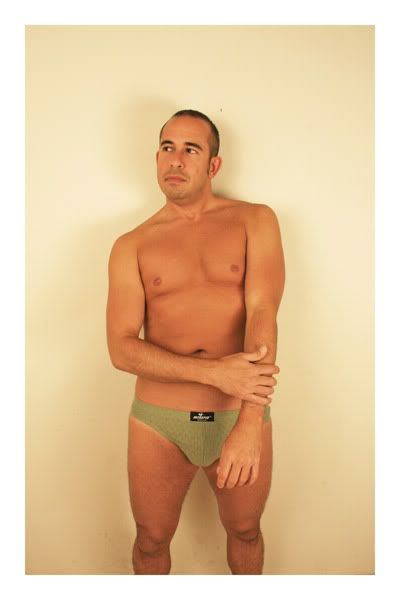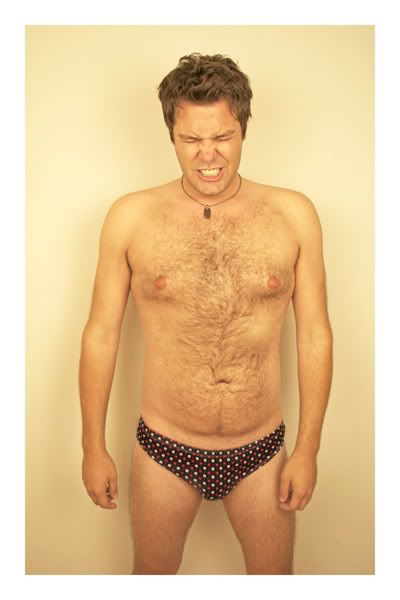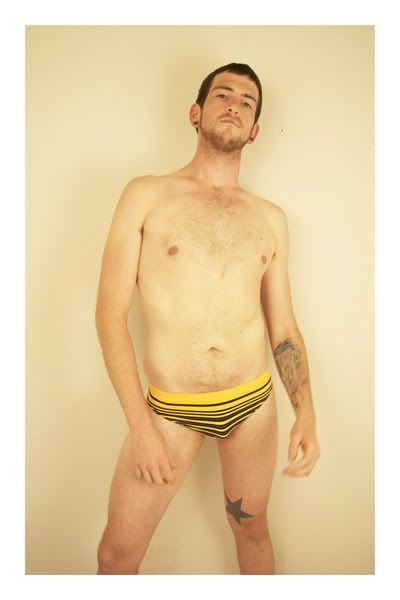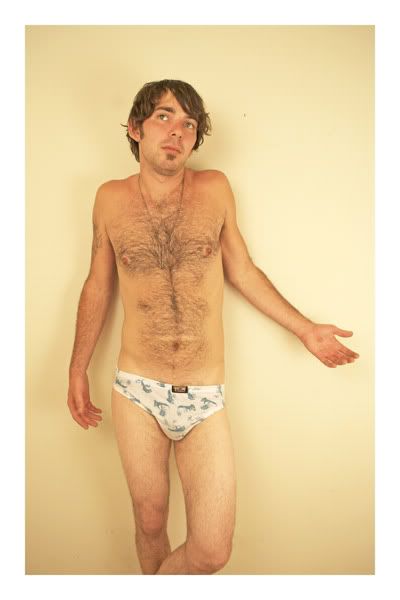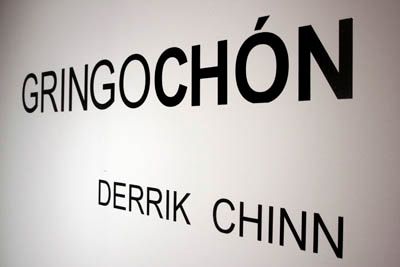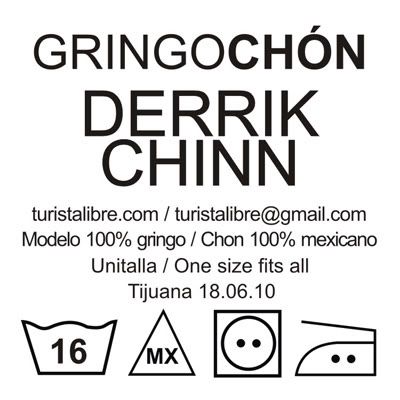 Gringochón
is a series of portraits of American men dressed in Mexican underwear. The photos were shot over a span of two months in Tijuana, requiring the subjects to physically remove themselves from their country, language and culture -- some for an hour, some for an afternoon, some for several days -- and ultimately forfeit their clothing in exchange for what they came to know as "chones mexicanos." Smaller and thinner, with random patterns and colors, the underwear could be considered uncomfortable, restrictive, emasculating, feminine or homosexual by mainstream American standards but are ironically ordinary to the average Mexican man, who traditionally resides amid a heightened sense of machismo and homophobia whether forcedly or by his own will.
The men, who vary in body type, age and sexual orientation, were given minimal direction and permitted to express themselves at will. Unsure of how to compose themselves in a foreign setting that's so close to what they consider home, some expressed embarrassment, shame, worriment, fear or awkwardness. Some immediately adapted to the situation with humor, sexuality, voyeurism, confidence or overconfidence. Others remained neutral by showing boredom or indifference, be it genuine or a device to mask their discomfort. Regardless, an obvious sense of vulnerability is present in each portrait.
The subjects' temporary migration, combined with their blatant physical objectification, exemplifies an intensified take on the thrills, potential perils and assumed implications that collectively construct the contemporary gringo experience along the northern Mexico border.
Gringochón
es una serie de retratos de hombres estadounidenses vestidos con calzones hechos en México. Las fotos fueron tomadas en un lapso de dos meses en Tijuana, que requieren los subjectos que físicamente se aparten de su país, idioma y cultura - algunos por una hora, algunos por la tarde, algunos durante varios días - y, finalmente, renunciar a sus prendas de vestir a cambio de lo que llegó a conocer como "chones mexicanos." Más pequeños y más delgados, con patrones y colores aleatorios, dichas prendas pueden ser consideradas incómodas, restringentes, castrantes, femeninas u homosexuales a juzgar por los estándares comunes estadounidenses, pero irónicamente son comunes al hombre mexicano promedio, que tradicionalmente vive en medio de un elevado sentido del machismo y la homofobia, ya sea de manera forzada o por voluntad propia.
A los hombres retratados (que varían en tipo de cuerpo, edad y orientación sexual) se les dio un mínimo de instrucciones y se le permitió expresarse como quisieran. No estando seguros de cómo se comportarse en un entorno foráneo que está tan cerca de lo que consideran su casa, algunos expresaron pena, vergüenza, preocupación, miedo o incomodidad. Algunos inmediatamente se adaptaban a la situación con humor, sensualidad, voyeurismo, confianza o incluso exceso de confianza. Otros se mantuvieron neutrales al demostrar aburrimiento o indiferencia, ya fuera real o como un dispositivo para ocultar su malestar. De todos modos, un evidente sentido de la vulnerabilidad está presente en cada retrato.
La migración temporal de los sujetos, combinada con su descarada objetivación física, ejemplifica de manera intensificada las emociones, los peligros potenciales y las consecuencias que, en conjunto supone la construcción de la experiencia contemporánea gringa a lo largo de la frontera norte de México.
More photos here.