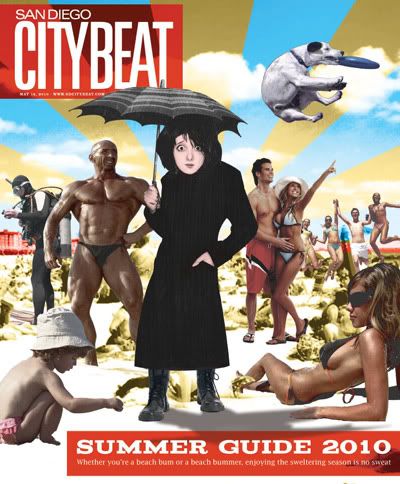 In its much-anticipated 2010 summer guide, out today,
San Diego CityBeat
compiled a this-vs.-that list of local summertime to-dos, the obvious versus the alternative. Big museum shows vs. intimate gallery exhibits. Star-gazing vs. star-spotting. Big, decadent burritos vs. big, less-decadent burritos. When it came time to pit Old Town against Tijuana, associate editor Kelly Davis ran through all the shiny rhinestones of the oft-overlooked San Diego tourist trap and then passed the mike to Turista Libre:
Old Town vs. Tijuana
To native San Diegans, Old Town's kind of a foreign land. Really, when was the last time you went there for more than cheap margaritas? But amid the restaurants con queso and tourist shops are some unexpected finds. In Fiesta de Reyes, check out The Tinsmith, which, as its name implies, specializes in tin goods. Head to the back of the shop, where light reflecting from dozens lamps creates a mini light show. If you're looking for south-of-the-border goods, Centro Artesano carries ceramic piggy banks, funny-looking little dogs, lots of pottery and chimeneas. Gum Saan specializes in things like reprints of old Cultural Revolution posters, handbags made from vintage saris and jewelry made from mah jong pieces. The Plant Man (2615 Congress St.) carries dozens of varieties of succulents, all packed into a small patio and can tell you anything you need to know about them. Near the intersection of Juan and Harney streets is Heritage Park, to which seven historical Victorian buildings were relocated. A few are undergoing renovation, but they're awfully pretty. Also worth a stop is the El Campo Santo Cemetery (San Diego Avenue), where as many people were buried inside the cemetery as outside. Down the road is the Church of the Immaculate Conception, a 1919 Mission-style building remarkable for its simplicity. And The Whaley House does monthly nighttime ghost-hunting tours. Don't believe it's haunted? Go to whaleyhouse.org and click on "haunted house."
But if that isn't your thing...
Derrik Chinn, a gringo who's lived in Tijuana since 2007, takes brave friends and total strangers on his Turista Libre (turistalibre.com) tours of the Tijuana that lies beyond Avenida Revolucion. We asked Derrik to describe his perfect day in TJ, in his own words:
Breakfast: a fruit salad covered in cottage cheese and smothered with agave at the Pepto-Bismo-colored Fruteria La Manzana in La Cacho or huaraches and a papaya-banana licuado in the market at Second Street and Constitucion. Then an obvious cliché: a photo atop a burro rayado—those donkeys painted up like zebras—followed by a photo below the giant Mexican flag in Colonia Morelos. A coffee break at La Statzione (Ave. Tapachula 5-C, off Boulevard Agua Caliente), a Milan-worthy café by the Hippodrome, then shopping for TJ-made threads around the corner at the HAHA Store (Calle Zitácuaro No. 47—if it's indeed still open). Or, if it's Sunday, the Francisco Villa swap meet in Colonia Altamira, whose random vendors (produce, puppies, turtles, Peugeot Hot Wheels, pirated DVDs of rare Mexican classics, paisley bikini briefs) make Kobey's look like a 7-Eleven. Then off to wave hey to La Mona, the 55-foot naked-lady statue hidden in a valley off Boulevard Cuauhtemoc. And definitely to Playas, where the border fence trails into the waves. We'd eat tacos de marlin and wash them down with a coconut, or sprawl out with barbecue-rib burritos in Parque Morelos, Tijuana's equivalent of Central Park. Then a round of rickety rides at Mundo Divertido (www.mundodivertido.com.mx). Once night falls, a lucha libre match at Auditorio Municipal, sitting ringside with giant beers and plates of carne seca, mere meters from the stretchy-pants'ed technicos (the good guys) and rudos (the bad guys). Afterward, a copita or four of mezcal, then a dance to an obscure Ace of Base cumbia cover at La Mezcalera (Sixth Street at Revolucion). A dose of Mexicali craft brew, Cucapa, next door at the neon-pink-drenched Zebra, then off to scream along with Amanda Miguel drag queens as they belt out "El Me Mintio" (a sort of Joan Jett-Cher Argentine hybrid) at Hawaii in Plaza Santa Cecilia. But not before ducking into La Estrella, a blue-collar dance hall where people my parents' age sweat to cumbia and norteño until dawn. Then, a chile relleno taco at the corner of Fifth Street and Constitucion and bed.

Read more here.