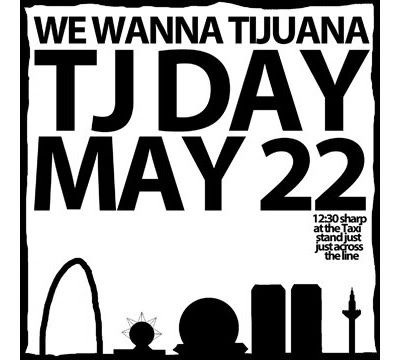 Following the U.S. State Department's travel warning for Mexico,
the California State University launched a travel ban
earlier this month that forbids San Diego State students from taking Tijuana-related classes, going on field trips to the city and participating in cross-border internships and research. For SDSU graduate students, this means sitting through their semester-long seminar called "The Border from the Mexican Perspective" without stepping foot into Mexico.
The students are responding by extending an open invitation to the public for a locals-only lap of Tijuana on Saturday, May 22. Here are the details:
12:30 Press Conference
We will meet at the taxi stand directly across the border. After crossing through the first turnstile, head straight and cross through the second one. That's where we'll be! There will be a brief press conference, then our TJ Day begins.
1:30 Teniente Guerrero Park
We will commandeer a local bus at the border and take it to Teniente Guerrero Park in a quiet corner of downtown Tijuana, where we will stake out a patch of grass, throw down some blankets, drink Mexican coke from the bottle [you know it tastes better there, right?], eat tostilocos, paletas, cotton candy, and beat a piñata until it bleeds Mexican candy.
This isn't the type of park where people go jogging. You won't find tracksuits here. It's the social center of Tijuana, where old ladies gossip, where teens hold hands, where toddlers seem to never tire of their unsuccessful pursuit of pigeons.
So pull up to a bench and catch up with all the Tijuana's chisme, sing a ranchera classic on the karaoke system, or get a pick up game of soccer going with the kids. We'll just take it all in. There is always something going on in the park. It's hours of endless fun.
3:30 Pasaje Rodriguez
After a couple of hours in the park, we will take a stroll through the city, and head to
Pasaje Rodriguez
, an new alley of full of galleries, bookstores and cafes. After tourism sector collapsed, the city's art community got together and transformed this nearly abandoned alley into a happening cultural space. So, grab a coffee, look at art, intellectualize with the Tijuana's smart set, or flirt with its hipsters.
4:30 Plaza Santa Cecilia
Named after the patron saint of musicians, Plaza Santa Cecilia is a perfect place to hear some great tunes. There are dozens of musicians roaming around, just waiting for you to request a song. If you like mariachi or norteño music, you are in luck. We'll request a few numbers, and sit back and take a listen. Come with a set list in mind!
5:00 Dinner

From street tacos, to the internationally recognized restaurants doing Baja cuisine, Tijuana is a food lovers paradise. We are still figuring out the details, but rest assured, it's going to be good.
6:00 Say Goodbye, or Don't
We realize that many of you have things to do and people to meet. If you want to cut out at this point, we will be a stones throw from the border, and you can make a graceful exit.
But if you want to continue to experience Tijuana, you are more than welcome to stay around. Tijuana is becoming known for its after dark goings on, with NYLON Magazine recently devoting a spread to the city's emerging hipster scene. The nightlife here in unrivaled.
We will begin by eating chapulines, or as they are known in English, fried grasshoppers, and wash them down with a shot of one of the dozens of mezcals at La Mezcalera, Tijuana's coolest bar. From there on, the night is ours, and we will see where it takes us.