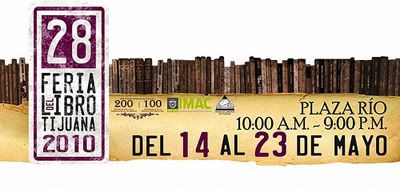 Pulling into
the Rio Tijuana mall parking lot Friday just across the street from Centro Cultural Tijuana
is the 28th annual Tijuana Book Fair. Coincidentally, the mall turned 28 last summer, too.
Among the some 60 titles making their formal debut in Tijuana are "
Santo, the Man in the Silver Mask
," a photo homage to the Mexican wrestling icon, and Carlos Reyes Ávila's "
Travesti
" ("Transvestite"), last year's binational Border of Words youth novel award winner. It's about the adventures and misadventures of drag queens in Coahuila. That's the one I'll be taking home.
The book fair goes nightly until 6 p.m. through May 23; each author is slotted to present his or her book over the course of the week. For "Santo," they're staging a lucha libre demonstration. That happens at 7:45 p.m Thursday.
Here's the full book roster.

Here's the author presentation schedule.
More at
feriadellibrotijuana.com.