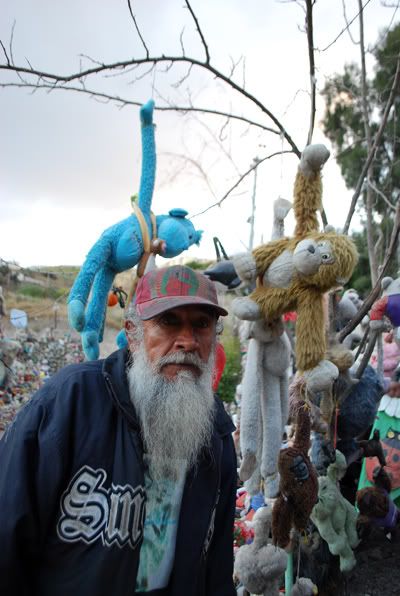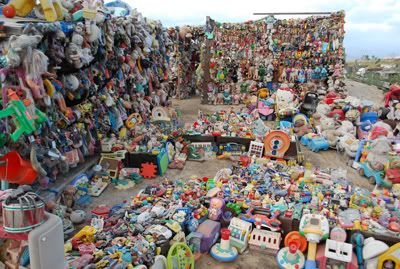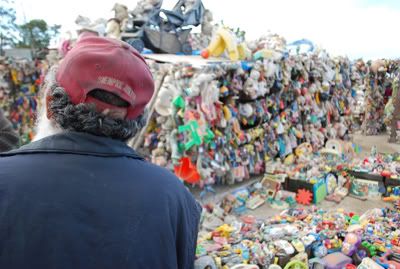 Welcome to the home of Jose Gomez Hernandez, a Tijuana urban legend better known as "El Señor de los Monos." The Toy Man. He's 67.
He and his wife began gluing toys to the walls of their house in southeastern Tijuana eight years ago to win the Guinness world record. Once the walls were full, they moved to the ceiling. Then to the roof. Then to the yard. Then to the fence. And finally to the car, a 1980something Chevy Spectrum that has become his main tool for gathering more toys. (Apparently, the neighbors tired of contributing to his cause long ago, so now he drives the mobile landmark into other parts of town and kids and adults alike bring him donations.)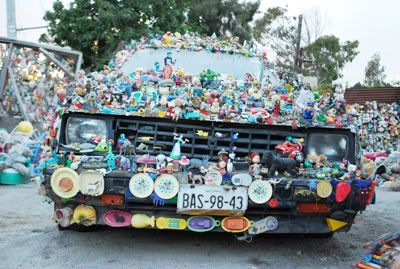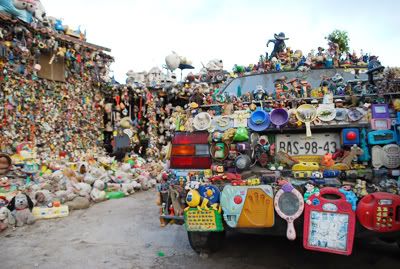 After his wife died two years ago -- followed by his son, a 28-year-old elementary school teacher who fell victim to narco warfare a year later -- Gomez kept going. He now shares the home with his grandson.
Toys dangle from the ceiling. Toys hang where there would be windows or doors. A labyrinth of toys surrounds the house. Toys sit in neat rows where grass would grow. The cracks of the scrapwood walls sweat toys. Toys hold down the roof.
Barbies. Hot Wheels. Bratz. Stuffed animals. Dust-caked Furbies. No-name miniatures. Sun-bleached monstrosities.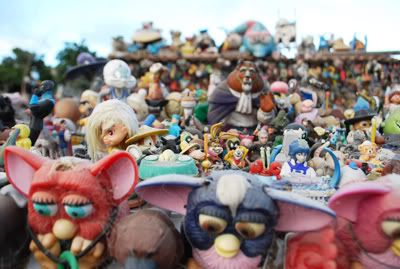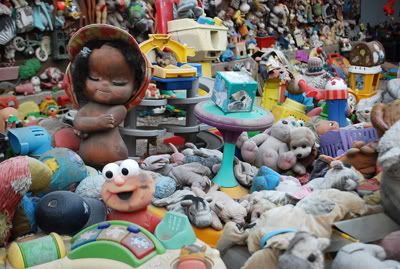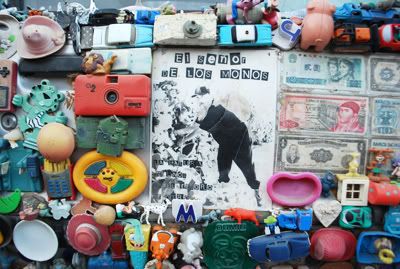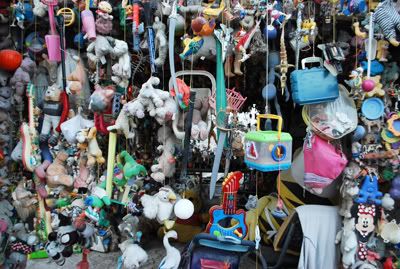 Gomez claims his collection has grown to more than 31,000 (the last estimate I'd read was a mere 15,000). To reach the record, he needs 37,000 (I wasn't able to find who currently holds it on the
GWR website
).
Why toys?
"I never had toys as a kid," he said. "I was a bastard child." He said he grew up with the last name Medina, but when he finally learned who his father was as an adult he changed it to Gomez.
Tracking him down involved five hours of roaming around and stopping to ask no less than 30 people if they'd ever heard of the man who's supposedly covered his house with thousands of toys.
This 2008 article
says the house is in
Granjas Familares la Esperanza
, an unpaved outpost that's mere miles from the northern edge of Rosarito where horses are more common than cars. Turns out, in typically inexplicable Tijuana style, there's another colonia that's also called
La Esperanza
, a neighborhood off Boulevard Sanchez Taboada on the southeastern edge of the city. Had it not been for the friendly cholos hanging outside the rehabilitated addicts' center in Esperanza No. 1 who pointed out Esperanza No. 2 on the map, well, who knows.
When asked if he would mind a group of visitors some Saturday afternoon, all Gomez asked was that we bring him toys.
So, Turista Libre 1.7 is set for Saturday, June 12. After visiting with Gomez and unloading as many toys as we can possibly round up, we'll hop back in our rented calafia and head to
La Sirena
,
La Mona
architect Armando Muñoz Garcia's new voluptuous labor of love in Puerto Nuevo. Y claro, luego comemos langosta. ¡Arroz!