Perhaps no modern music embodies the spirit of Tijuana as precisely as that of
Nortec Collective's Bostich and Fussible
, aka Tijuana natives Ramon Amezcua and Pepe Mogt. Ever since the release of their Latin Grammy-nominated "Tijuana Sound Machine" in 2008, they've been on a nonstop tour around the world, playing for sold-out crowds of thousands from Montreal to New Zealand.
For Turista Libre 1.6, we lent a hand in helping some 2,000 townsfolk welcome them home.
Armed with the finest homemade Turista Libre propaganda (whose neon orange spraypaint wound up looking more like Cheetos dust), we hiked from the official Turista Libre meeting spot near the border in Colonia Federal across Rio Tijuana, where we crossed paths with the man who is perhaps Tijuana's most famous newspaper vendor. Every day he wears a different mega-super-extreme hat like the Hamburglar ordeal you see here.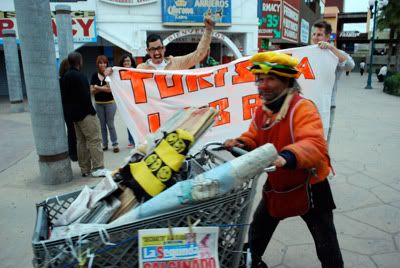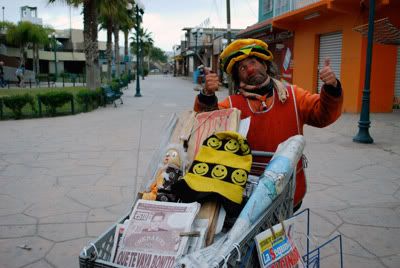 When asked if he would stop for a photo with los turistas, he noticed the banner, realized we were a herd of mostly Americans and, taking us for a band of picketers of some sort, announced, "It's a protest!" along with some other jumbled jargon. Then he shimmied away. Ni modo.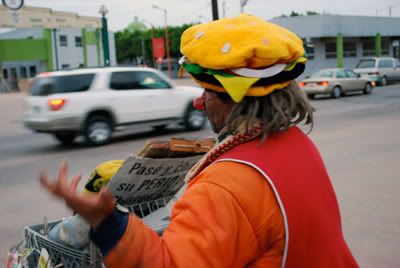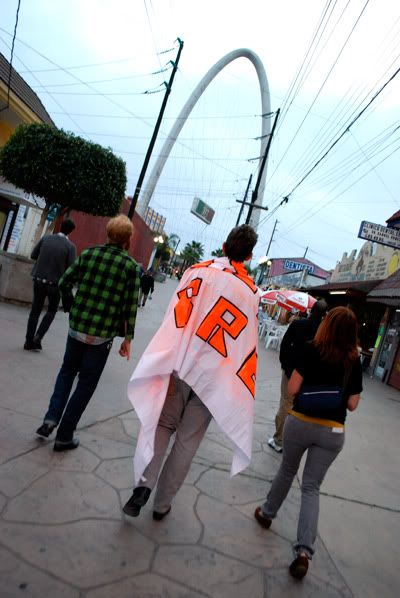 Cultural picketers indeed, the turistas crossed the threshold of an eastbound Ninja Turtle city bus, our limo to dinner at
Los Arcos
.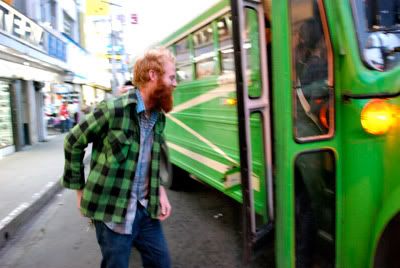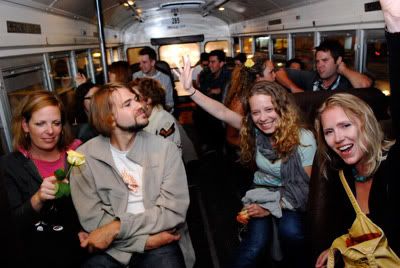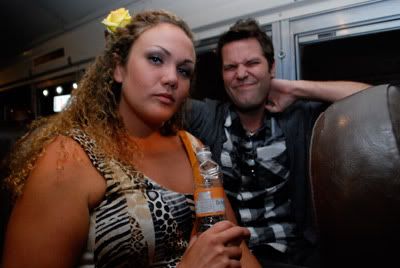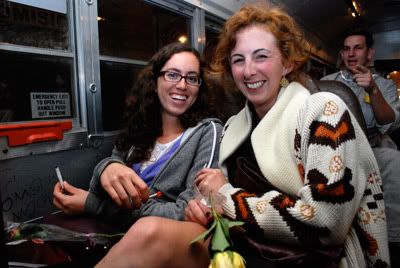 House of swordfish steaks, shrimp drowning in mole and other toothsome sea life, it's such a Tijuana mainstay that a year or so ago it was able to open up shop north of the border in Chula Vista.
On the stage was a pair of lounge singers belting karaoke-worthy renditions of songs like "Funkytown." On the side of the stage was a table for 30 or so: us.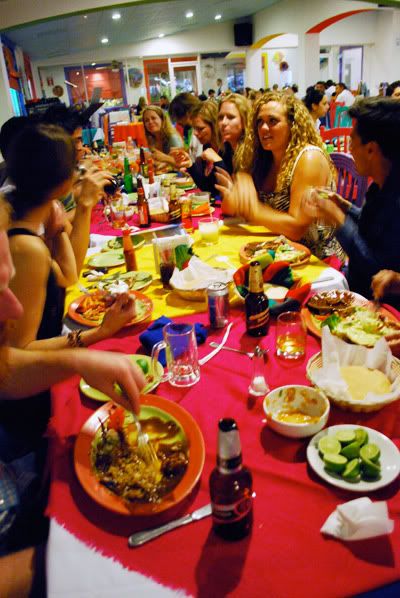 Folks come for the food, but they stay for the rattlesnake-infused tequila digestifs.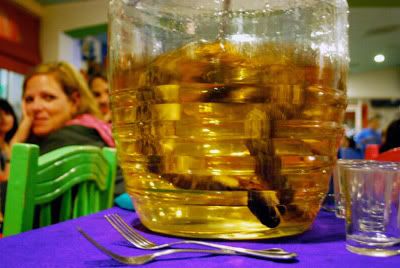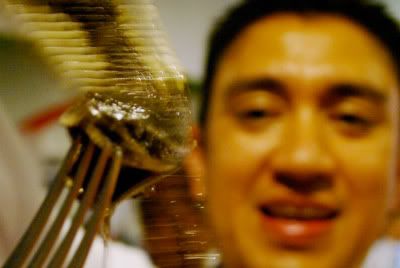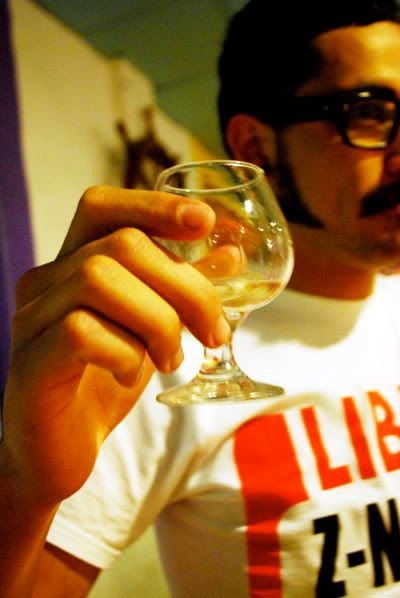 Unannouncedly making its way around the table during the meal was a goblet full of wadded up pieces of paper: the house lottery, in which three turistas won Los Arcos aprons.
Then came the second installment of what's soon to become a Turista Libre dinnertime tradition: the mock birthday.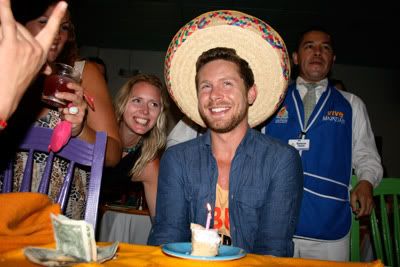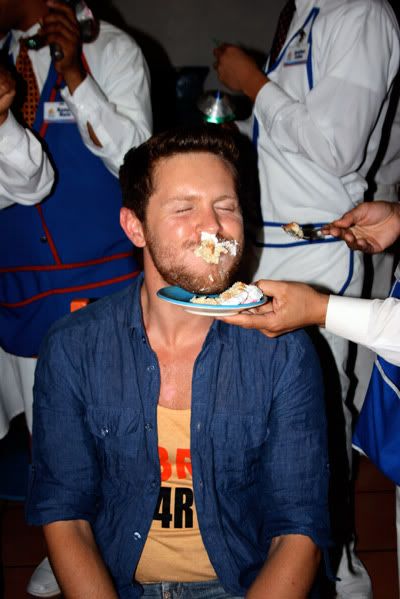 Back downtown, it was nearing Nortec time as we neared the Jai Alai palace. Also known as El Foro, it's one of Tijuana's few remaining historical structures, built in 1947.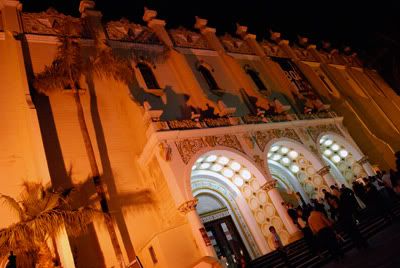 Inside, the turistas bypassed the raver merch table for
Reacciona Tijuana
, a nonprofit that in light of the ongoing narco war has scattered the city with billboards bearing oneline love letters to the city like "Tijuana needs to hear and think positively" and "I'm going to make Tijuana the city of my dreams."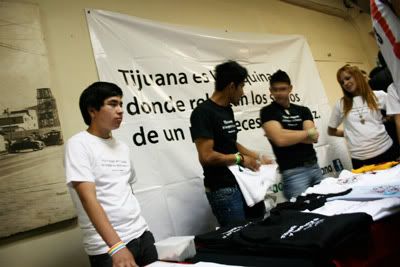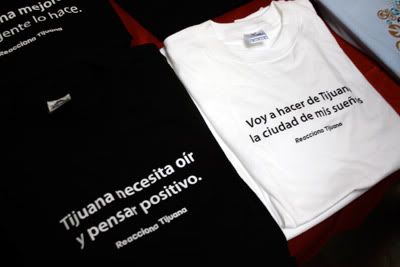 A quick stop at Tecate tent, and then we played the waiting game.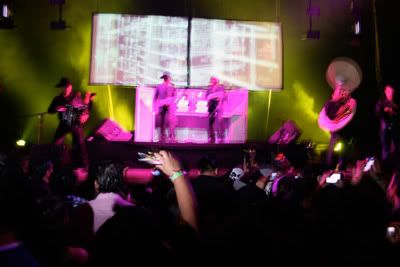 Nortec fuses atypical electronica with the sounds of a live norteño band in front of massive collages of TJ-inspired video art -- mobiles of Tijuana street scenes, disco vaqueros, '80s Ford wagon taxis. It's a combination that makes for the perfectly reckless border-town dance party. If "Grand Theft Auto" ever decides to release a Tijuana edition, the soundtrack is ready and waiting.
You've never experienced a true Nortec show until you've seen them on their home turf in Tijuana, in the city that is undeniably their muse. The energy is so incomparable, there's really no sense in attempting to tell rather than show: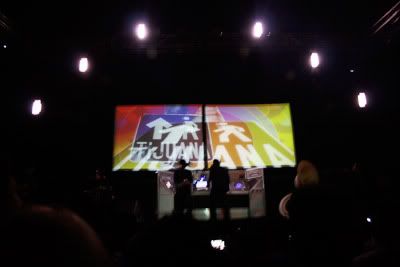 Not surprisingly, the music has mirrored effects on both Americans and Mexicans. At least when heard in Tijuana.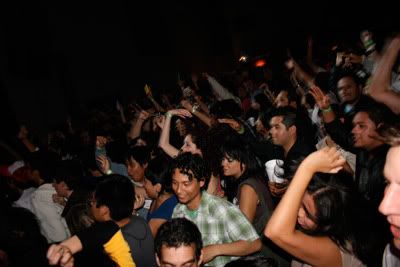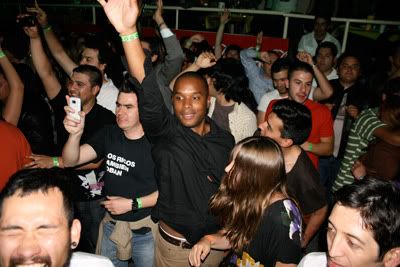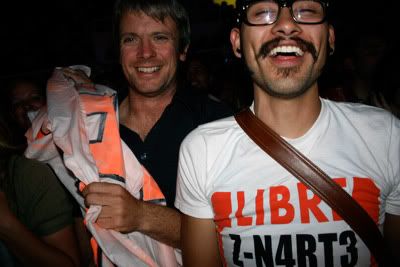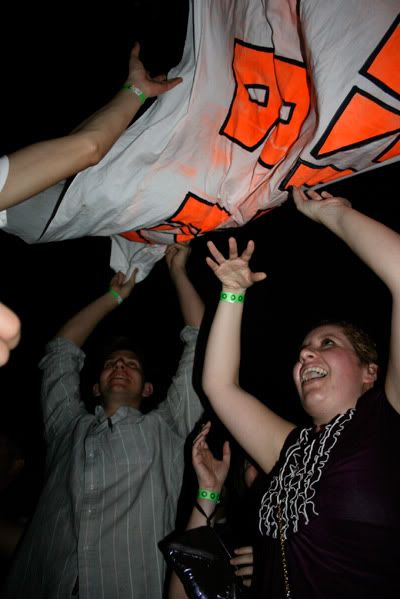 Although some of us wind up sweating more than others.
The afterparty happened at
La Estrella
, a blue-collar dance hall on Sixth Street where the crowd sweats to cumbia and norteño until dawn. But thanks to T.J.'s new 3 a.m. curfew, the remaining turistas were forced to sneak the remainder of our bucket of Sol out the door.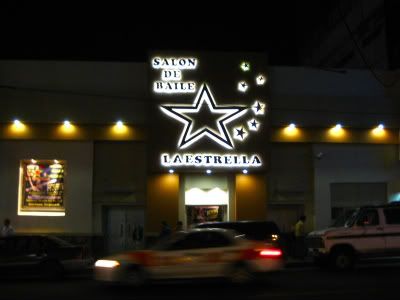 But not before a $5 instant photo op.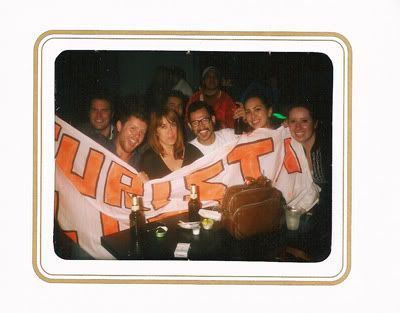 More photos here.