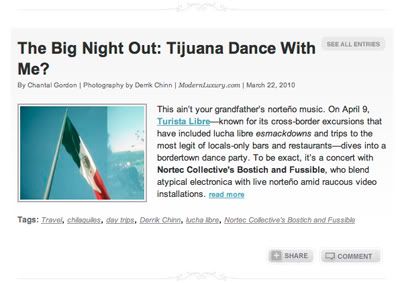 Mira que showed up on
Riviera's travel blog
.
"This ain't your grandfather's norteño music. On April 9, Turista Libre—known for its cross-border excursions that have included lucha libre esmackdowns and trips to the most legit of locals-only bars and restaurants—dives into a bordertown dance party. To be exact, it's a concert with Nortec Collective's Bostich and Fussible, who blend atypical electronica with live norteño amid raucous video installations. Née Ramon Amezcua and Pepe Mogt, the Latin Grammy-nominated pair are Tijuana natives who draw sold-out crowds from here to Russia to New Zealand, and will have their April 9 homecoming inside the city's historic Jai Alai palace. Pre-concert dinner will be at Restaurant Cenaduris, which doles out chilaquiles, mole and chiles rellenos like abuelita used to make — and for the afterparty? Turista Libre will descend on the new and neon-pink Zebra bar.
"In coming months, look out for a transborder trek to a soccer match with T.J.'s pro team, a visit to the city's Opera in the Streets festival, and—wait for it—a T.J. roller skating party.
"'I was intrigued by my hunch that San Diego and Tijuana are two cities that could be—and should be—considered one, despite the international border that separates them," says Turista Libre founder (and T.J. resident and unofficial ambassador) Derrik Chinn of what drew him to live in Mexico. "We're all aware of all the ways in which the two are so terribly connected. People deserve to learn the positive ways by which both are bound, too.'"
More here.