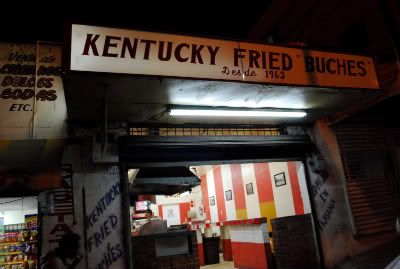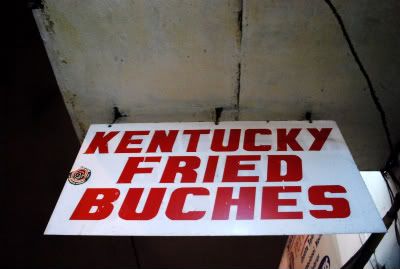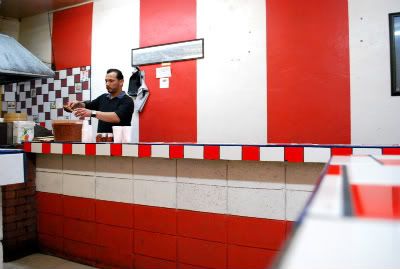 Buche (boo-chay) is neck meat and comes in beef, pork or chicken varieties.
Kentucky Fried Buche is housed downtown on First Street amid the hooker-heavy corners of Coahuila and, if the novelty of a name didn't give it away, serves the chicken variety. I've been meaning to go for a while because I grew up on the Ohio-Kentucky border, and ever since setting up camp in Mexico I've thought of Tijuana as being to San Diego as Kentucky is to Ohio.
The former is where Latin America and its Anglophonic counterpart meet. The latter is where the Ohio River divides the United States' northern and southern regions, which once upon a time was the final hurdle in a slave's journey to freedom. Both are now fluid boundaries across which two distinct cultures uncontrollably bleed together, and neither side of either pair adheres 100 percent to its expected characteristics and aesthetics. San Diego is more Mexican than the guide books would lead you to believe, and Tijuana more gringo than the rest of Mexico. The same concept applies to southern Ohio and northern Kentucky. Both have more in common with each other than the rest of their respective states. Case in point: When it comes to culture, borders, unless completely closed and heavily militarized, are pointless.
In operation since 1963, Kentucky Fried Buche's orders pack five pieces, each a few inches in length and a bit thicker than your thumb, plus a fried bean taco. Of my five buches, I finished three. They tasted as though they had taken a dip in the fryer at least four times. Coke has never been so refreshing.
Chicken neck is dark meat, the sort most little KFC-conditioned boys and girls shun. Step one is chomping through the scabby skin. Step two is gnawing off as much of the small slivers of flesh as possible. Step three is spitting out the vertebrae like little baby teeth, being all the while careful not to choke on what could be used to make Flintstone jewelry. All this, to the click-click-click of clear high heels outside on the job.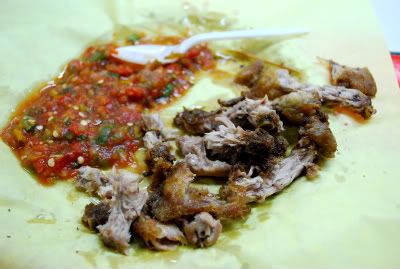 Yeah, buche sounds gross. I'd be lying if I were to say that I planned to return. But unless you're prepared to never eat another McNugget for the rest of your days, let alone know all the gruesome details about what they're actually made of (corn, petroleum-based antioxidants), it's probably best to just shut your buche hole.