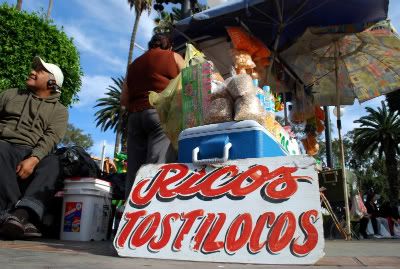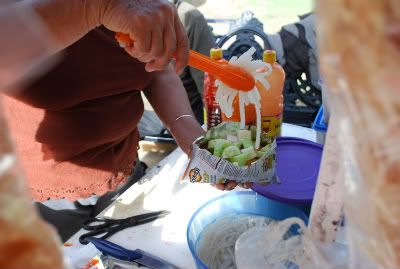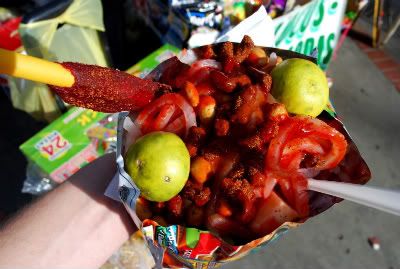 Tijuana may go down in history as being the birthplace of the Caesar salad, but as far as iconic edible miscellanies go, Tostilocos would be without a doubt the true star. Basically, it's a nacho-nut-fruit-lard salad. You usually eat it at the park, the beach, the street fair, the lucha libre match, the soccer game, the bullfight or the mall.
Assembly is a simple surgery.
The good doctor grabs her scalpel and makes a head-to-toe incision down the spine of a snack-size bag of Tostitos, after which the bag serves as the bowl. She introduces cucumber chunks, apple slices, Japanese peanuts and a decent heap of cueritos, slivers of pig skin that have been marinated in vinegar. They're the color of raw fat and taste questionable. I particularly care more for the Japanese peanuts, as they're my favorite free bar food. They're basically Planters, but with a thin crunchy shell that's been sprayed with soy sauce.
In go a few other chewy odds and ends, some sweet, some salty. Then it's doused with chile sauce, chamoy and lime juice and garnished with a giant straw that's been dunked in tamarind and chile powder.
Voila.