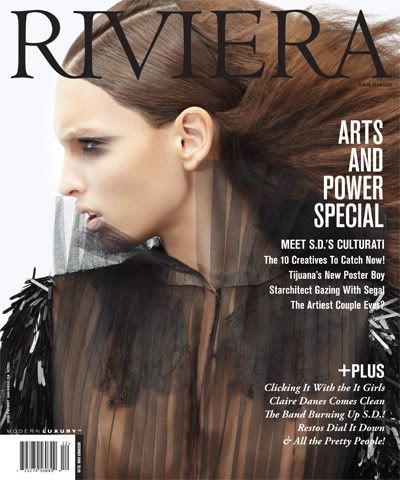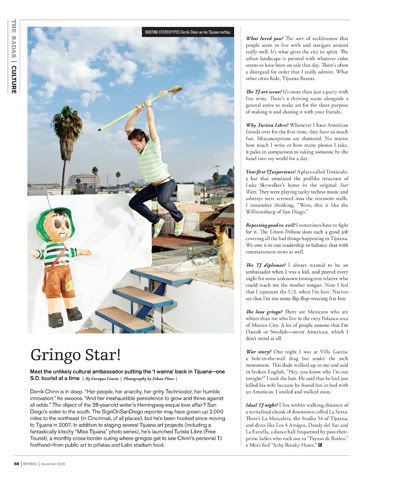 Riviera
, San Diego's installment of
Modern Luxury
magazines, is tossing me name tags like "Gringo Star" and "Tijuana's new poster boy" in the December issue. Words like that make for a fruit basket of sweet talk, and all that's been going down with Turista Libre is namely to thank. But the chocolate orange of it all is writer Enrique Limon happily naming me an honorary Mexican. That, and the fact that the word "Tijuana" appeared on the cover of the Rolls Royce of San Diego glossies. Not the neutered, desensitized "TJ" but rather the whole word. Ti-jua-na.
"Derrik Chinn is in deep. 'Her people, her anarchy, her gritty Technicolor, her humble innovation,' he swoons. 'And her inexhaustible persistence to grow and thrive against all odds.' The object of the 28-year-old writer's Hemingway-esque love affair? San Diego's sister to the south. The SignOnSanDiego reporter may have grown up 2,000 miles to the northeast (in Cincinnati, of all places), but he's been hooked since moving to Tijuana in 2007. In addition to staging several Tijuana art projects (including a fantastically kitschy 'Miss Tijuana' photo series), he's launched Turista Libre (Free Tourist), a monthly cross-border outing where gringos get to see Chinn's personal TJ firsthand -- from public art to piñatas and Latin stadium food."
Read it all here, on page 58.