For round two of Turista Libre we paid a visit to one of Tijuana's most iconic pieces of public art, the 55-foot, 18-ton concrete statue known as La Mona.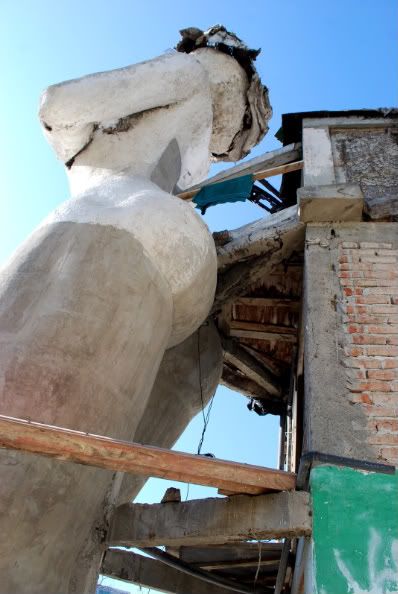 Standing alongside the empty pool that sits at la Mona's feet, architect Armando Muñoz Garcia spoke a bit about the statue's story. Built back in '89 as a 100th b-day present to Tijuana, it was modeled after his girlfriend at the time, who continues to swing by for the occasional visit and never fails to joke about giving her weathered concrete counterpart a makeover. (Muñoz is actually in the process of smoothing out her pockmarks with a new layer of cement.) The right finger in the air symbolizes Tijuana, which is what Muñoz calls the geographic "pinky finger of Mexico." And the bluish ribbon that we all thought was an old tarp holding her arm together represents the preciousness of the city's scare water supply that comes from the Colorado River. Then we scoped out the inside of the statue, which connects to Muñoz's live-work space, an opportunity that's rare even for Tijuana natives.
Afterward we gorged ourselves on otherworldly spicy shrimp tacos at El Mazateño, followed by beers and Depeche Mode singalongs at Sotano Suizo in Plaza Fiesta.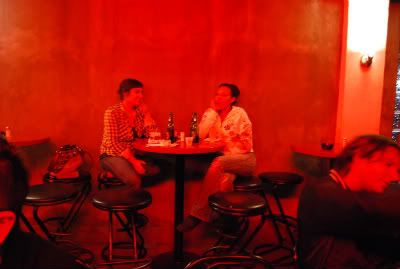 The route was scattered, so rather than piece it together with public transport, we rented a calafia, better known to Americans as the ever-smirk-inducing short bus. It was equipped with a black light, stuffed bonobos and the mother of all sound systems, a combination that wound up making for quite the party wagon. Especially when a couple cases of Tecate miraculously appeared out of nowhere.