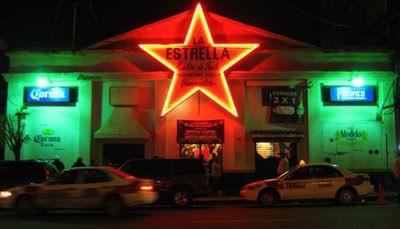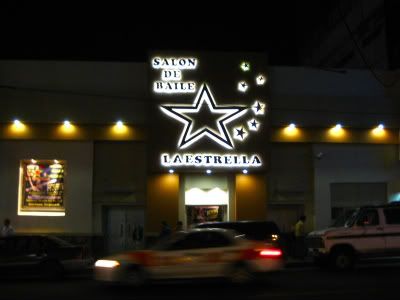 Gringafication is an unspoken concept that's especially popular along Mexico's northern border. It mandates that all of yesteryear's quirky fixtures, signs and general architectural techniques be exchanged for a Wal-Mart-approved version of their predecessors, in an effort to keep up with whatever the white folk on the other side of the fence are currently into.
Chastising modernization puts me at risk of criticismo picante, but it's the lack of taste for which my people are so famously known (and of which they're unaware) that I fear will infect the starry-eyed minds of Mexican copycats.
La Estrella (The Star) recently succumbed to gringafication when the red neon star that had crowned the club's forehead for decades was replaced by a 21st century upgrade. A blue-collar dance hall where people who are my parents' age sweat to cumbia and norteño until dawn, it was (once upon a time, or so I'm told) the only bar on the block. Then came the rest: Dandy Del Sur, Los Cuatro Amigos, Chips, Tropic's and most recently La Mezcalera and El Chez. Collectively, the dive loop is the Sunset Boulevard of Tijuana. American Apparel's arrival a few months ago officially christened the barrio as a hipster cesspit. Since then, it seems like half the town's deep-V-necked population empties its wallet to Tezcatzontecatl (god of booze and fertility) here on a nightly basis.
Sam Walton supernova aside, the innards of La Estrella are the same: the wraparound conga line mural, ashtrays carved into chipped Formica tabletops, Iron Maiden jean vests. Please, Tezcatzontecatl, let it stay that way.
Ladies, stand too close to the dance floor without your nails clasped around another waist and it's only a matter of minutes until you'll be kidnapped by some mustached papi and hauled out to dance. He'll of course assume you know the steps to whatever's being barked through the speakers. But even if you don't, there's no need to fret. Just go limp, keep your weight off your heels and let him drive you around. I have to admit, it makes me jealous. The man always leads, whether he knows what he's doing or not. In my case, I do not. So in the rare occasion when some woman shyly asks me to dance (she's usually someone who could pass for an ex-con), she has no idea that she's about to undergo the most awkward three minutes of her evening in which she'll have to shout ONE TWO THREE ONE TWO THREE ONE TWO THREE over and over and over and squeeze my finger whenever she wants to be twirled.
Sadly, I value my life too much to thrust social progression on the natives by showing up in drag.
Nevertheless, on nights when I don't care to ponder why the female audience members are the only ones who are permitted to shove their hands down the strippers' G-strings at the gay megaplex around the corner, La Estrella tends to serve as the end of the line.